Critic's Review
Note that this place is no longer owned by Valentino's. It's now owned by Mondolfo, LLC; Attilio Reale and Jesus Catalani are listed as the owners.
Valentino's has closed their restaurant at this location and will be opening down the road shortly. They've re-opened this location as a more wallet-friendly Pizzeria, where all menu items are from $9 to $16, with specialty pizza as the main attraction. Why do you close down a place with an average ticket of over $50 to open a place where a couple shares a $14 pizza? It's called chef arrogance. Every Italian chef wants to open a pizzeria, to prove he can do it better, without concern of whether it can be a profitable business.
The place looks about the same inside. Apparently they don't have an office, or room behind the counter, as they have a table up front set up as an office and the "register" is accessed from the dining room rather than from behind the counter.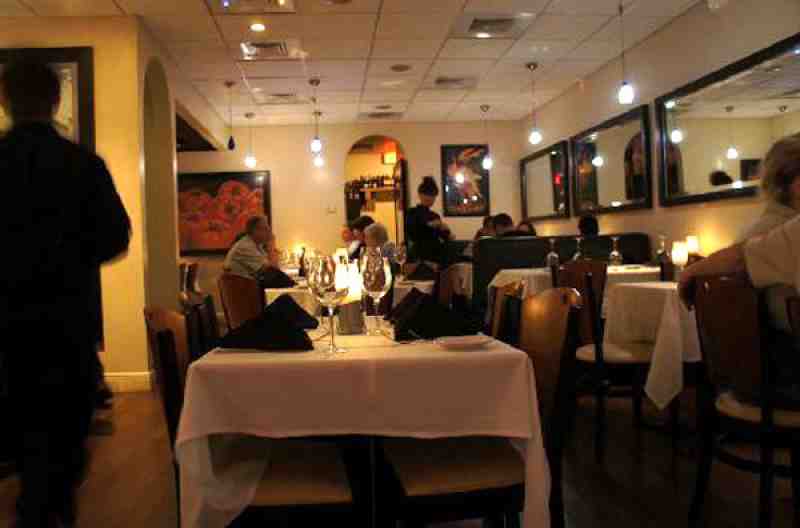 There's nothing wrong with a nice pizzeria, but to me, pizza is a take out food. This is one of those places that only has fancy Italian pizza, like Panaretto and Rossopomodoro. The only one on the menu I would consider is the plain margherita, and I can't get excited about a plain margherita pizza. They have a Diavola, which they call "spicy salami" or pepperoni to us American folk. I noticed that they have a sausage and brocolli rabe white pizza, so I figured I'd ask if they's sub out the salami for sausage. It wasn't easy; apparently the chef here is pretty finicky about changing recipes. But they said they'd make it.
When I got there it was ready; I wasn't sure what size I was getting, but I saw the small box and I knew is was just a 12 incher. The gave me the bill, and I noticed that they charged me an extra dollar for the sausage. I was surprised, as usually pepperoni and sausage topping cost the same. Maybe it was an administrative charge.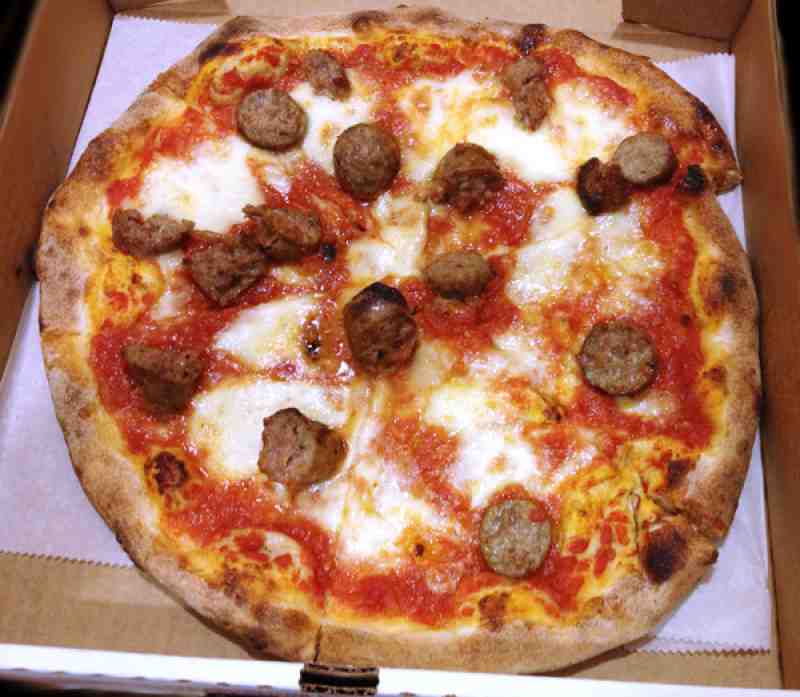 Acqua Farina Pizza
You can tell that the pizza maker wasn't really into making this pie; as the sausage was roughly chopped and tossed on top. I had to take it off, slice it appropriately, and put it back on. As you can see, this is a magherita pizza with sausage on it. So it effectively cost $3 for the sausage.
It was a pretty good pizza with a good crust. A very light tomato sauce. Nothing crazy good or bad about it.
To be fair, I often argue with a friend that paying $15 for a 12 inch sausage pizza at Big City Tavern is ridiculous, which is just about the cost here. While it's a little bit better, it's still not worth $14 to me. A 12" pie is just over 3 slices of a large pie. As an ex NYer, I'm used to getting top notch pizza for under $3 a slice.