Critic's Review
It's time for them to tear this place down; the Green Fish has closed.
***
This cursed location has yet-another owner, which sounds about the same as the place before it. This place was Daryl's, Boo Riley's, Chowderheads and now Green Fish. Thankfully, they painted over the eyesore mural that the previous owner had painted on the roof. Boo Riley's started the trend and then Chowderheads put up an even uglier one.
I'd never been inside the place before, and I'm not sure why I decided to try it now. I can't say that I'm glad that I did.
They have a sign up claiming to have a $5 lunch, so it seemed like a minimum investment. When I got inside it was bigger than I expected; the bar area is pretty big, but I didn't want to sit at an empty bar. There aren't many tables. They have two booths that were both occupied and a couple of tables in what I'd call a mud room. I was seated with a great view of some junk.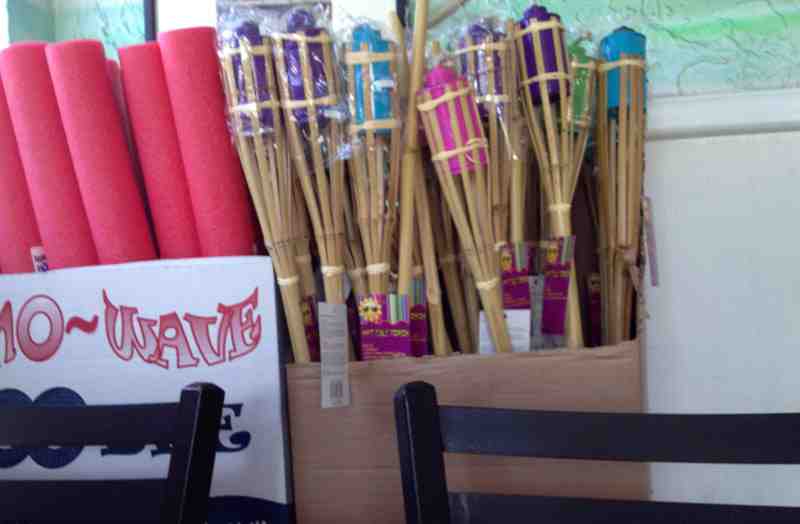 Green Fish view from my table
The decor of the place is pretty rough; this is an ugly old building that's been painted over. The "dining" room feels more like a storage room than anything else.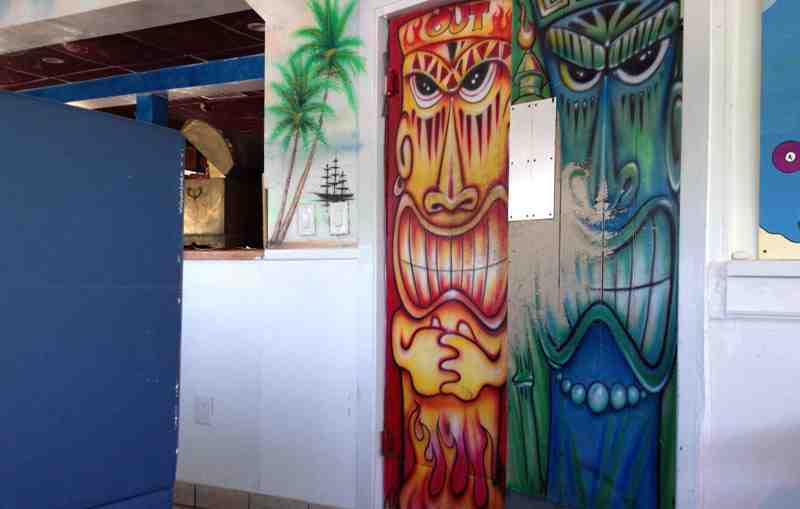 Green Fish Interior
My server was a pretty blonde which is the only positive thing I can say about the place. She gave me a menu, and asked if I wanted something to drink. When she fetched my iced tea, I looked for something close to the $5 advertised price, but even the apps were $8. I asked about the sign, and she said "Oh, that's the Fish and Chips". Thanks for telling me.
I wondered why I should pay $15 for snapper in a place like this, so I figured I'd play it safe with the Jerk Chicken. You can get decent jerk chicken in some pretty dumpy places. They don't have Splenda here; Bob Marley and Jimmy Buffet dominate the air play. No wireless, but I had a decent 3G signal. No bread here; it's not a real restaurant. When they put the chicken in front of me you can image what my expression must have been.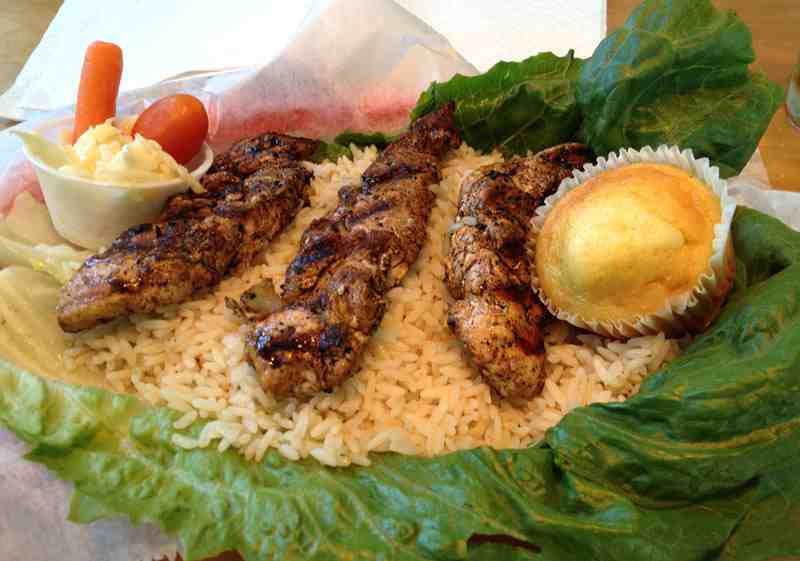 Green Fish Jerk Chicken Tenders
There are 10-12 chicken tenders to a pound, so we're looking at about 80 cents worth of chicken in this $10.99 dish. The "cole slaw cup" is a thimble of Cosco big jar cole slaw with a grape tomato and a raw mini carrot stick. The "Plate" consisted of a plastic basket with a sheet of wax paper covered with lettuce leaves; not exactly a good foundation for cutting a piece of chicken. The rice was plain and unseasoned; no pigeon peas or beans.
The chicken itself were "chicken tenders", and to add insult to injury they didn't bother to trim the tendon. It was just some brushed on jerk seasoning, and not a very jerky one either. I ate the chicken and just tasted the cole slaw and rice to determine that they weren't worth the calories. I called over my server, she seemed unfathomed by the fact that I didn't eat most of the food or that my glass was empty. No refill was offered. You'd think that when a customer obviously didn't like their lunch they would at least offer them a refill. $17 for this. Are you kidding me? And the cherry on top; they don't take AMEX. Perfect.
The problem with Green Fish is that the place is priced about the same as Bistro Mezzaluna without the ambiance and with food that you might expect to get at a bad picnic. It this were a stock, it would be a Strong Sell, if you catch my drift.