Critic's Review
I was meeting someone for lunch up in Plantation/Davie, and I needed to find a place that wasn't fast food or a chain. I'd never been to Ye Olde Falcon Pub before, and I've wanted to give it a try, so I thought this might be a good opportunity. She was an early luncher, so we got there at Noon.
The place was empty, not unexpectedly, but was was unexpected what that half of the lights were off. The dining room was very dark. We grabbed a table in the back and they turned on a few lights and brought us menus.
The place is a typical, old style, one room pub, with a bar and wooden tables; no booths. Probably not uncomfortable when it's filled with people drinking, but kind of cold when it was empty.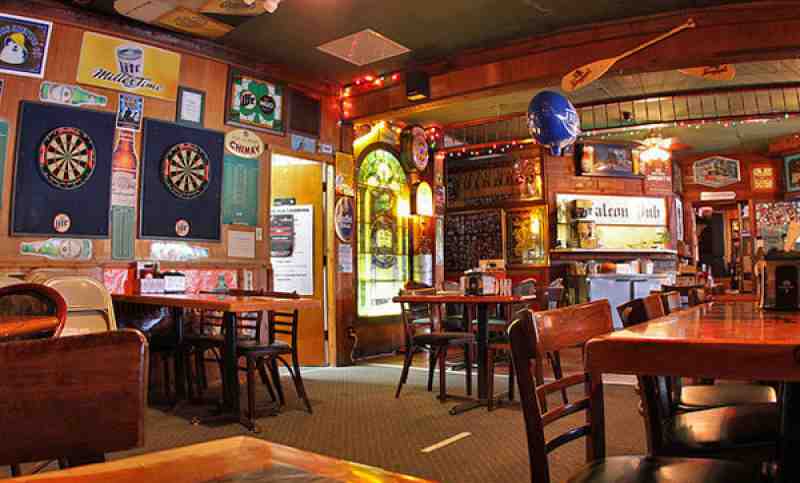 Ye Olde Falcon Pub Interior
The server asked us if we were ready to order before we even opened the menu; We ordered soft drinks and went over the menu; they have a few Irish/English pub dishes like bangers and mash and fish and chips, but I ordered the skirt steak, medium rare. It comes with potato pancakes; a nice change from the usual fries; I specified no applesauce, which usually gets me a double amount of sour cream. My companion ordered the grouper sandwich, grilled and plain on the bread; no lettuce or tomatoes.
My iced tea arrived with extra lemon as ordered, and I noticed that they only had sugar and equal; no Splenda. I asked if they had any hidden, but to no avail.
There's little ambiance; just the servers blowing up balloons with a machine. I feared that there was a kiddie party coming in, but they just have balloons. The food came out in about 10 minutes; a glance at the plate deflated any ideas I had that this was going to be any good.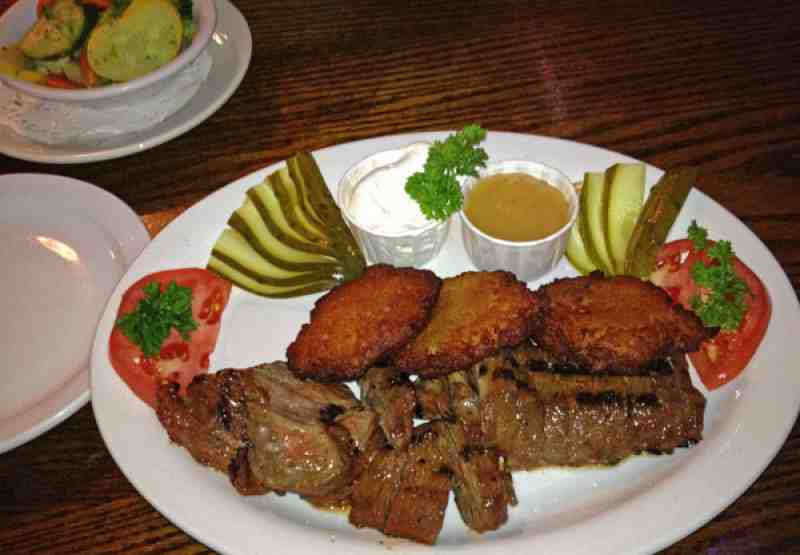 Ye Olde Falcon Pub Skirt Steak
The steak was medium, at least, and it was pre-sliced, which wouldn't have mattered too much if it was sliced correctly across the grain. But it was sliced with the grain. The vegetables were overdone and waterlogged; reminiscent of how vegetables always were served in restaurants in the days before people started caring about well-prepared vegetables. The steak was heavily marinated; it had a lot of flavor that wasn't beef; it would have been a lot better cooked medium rare. The potato pancakes certainly weren't authentic but I enjoyed them; they were probably packaged but they're better than fries. The tomato was a decent slice; I didn't eat the vegetables.
When our server brought out the sandwich, she said "He didn't make it right; he put lettuce and tomatoes on it". Well if she noticed that it was wrong, why bring it to the table? Fix it. She had to pick off the lettuce and tomatoes herself; the cole slaw that came with it wasn't even worth trying. The sandwich was a skinny filet on bread that was just too big for a fish sandwich.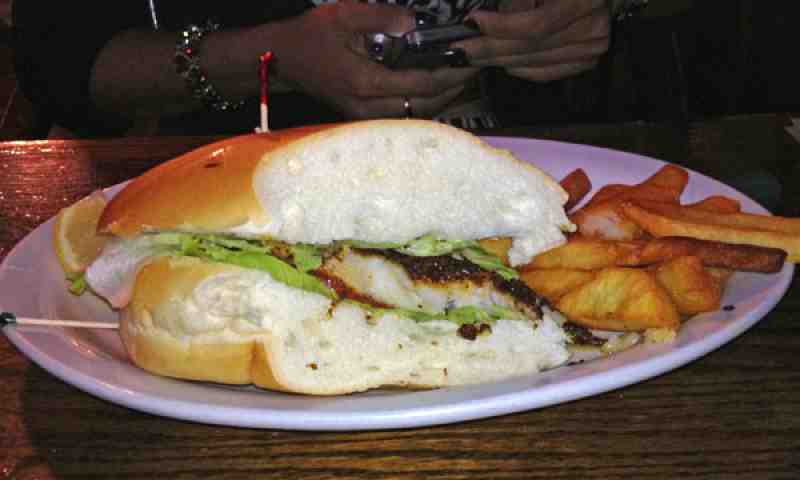 Ye Olde Falcon Pub Grouper Sandwich
She also got a big load of steak fries that she didn't want, but such things are expected at a pub. I think that $15 was too much for the sandwich.
You can tell by the presentation that this place has been serving the same stuff for 20 years, and they've never really learned to cook. It's unfortunate that nothing we got was made the way we ordered it. And I don't really think that they care. These people are typical restaurant owners who don't understand that when they screw up an order they ruin someone's meal.