Critic's Review
Until a short while ago, I didn't even know this place existed. It's a big place on the water; from the outside appearance and the reviews I saw on the internet, It seemed like it might be some crusty old leftover like Sea Watch. But it was worthy of a try. I was headed out the Boca and as I reached Hillsborough I decided to head east and check it out.
With waterfront places like this, the outside patio on the water is the pull, but when it's 92 degrees and windy, I prefer the indoors.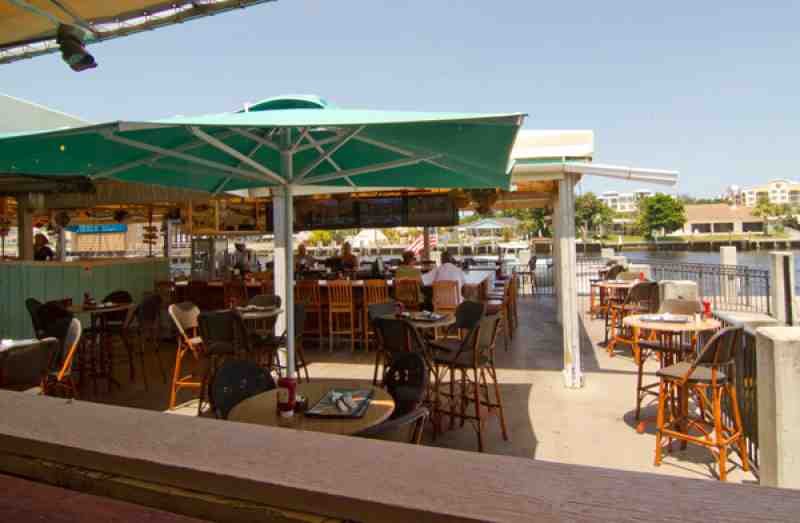 Two Georges Patio
As you walk in the restaurant, they have some old planks reminiscent of the big old crusty places of yesteryear, but as you get inside, things change considerably. They have a bar with big flat screen TVs, and a big bright dining room with lots of tables and booths.jump-->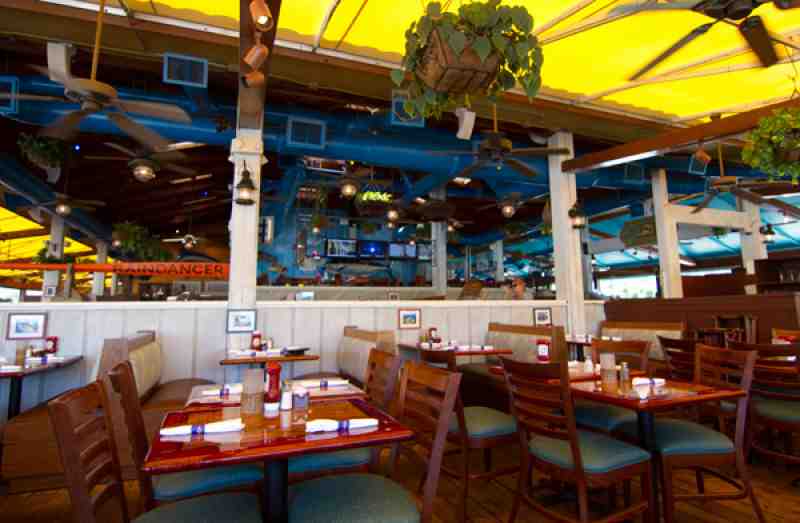 Two Georges Interior
As I sat down a server offered to take my beverage order. They have the full menu plus a few daily lunch specials; some salads and sandwiches for about $10 each. No big pull. I decided that I was going to have seafood at a place like this. They don't have an extensive fish menu. They use Haddock in their fish and chips (I prefer cod). No Flounder or Sole. I was on my cheat day, so I decided to go for the shrimp scampi, which comes with 8 shrimp for $18.99. Considering that shrimp cocktail is usually around $14 these days, it seemed like a decent deal.
While my server was flying around the dining room, I kept expecting her to drop off some bread, but apparently there is no bread at the Two Georges, at least not at lunch. I shared a big booth with an iced tea for about 10 minutes; a runner brought out the food.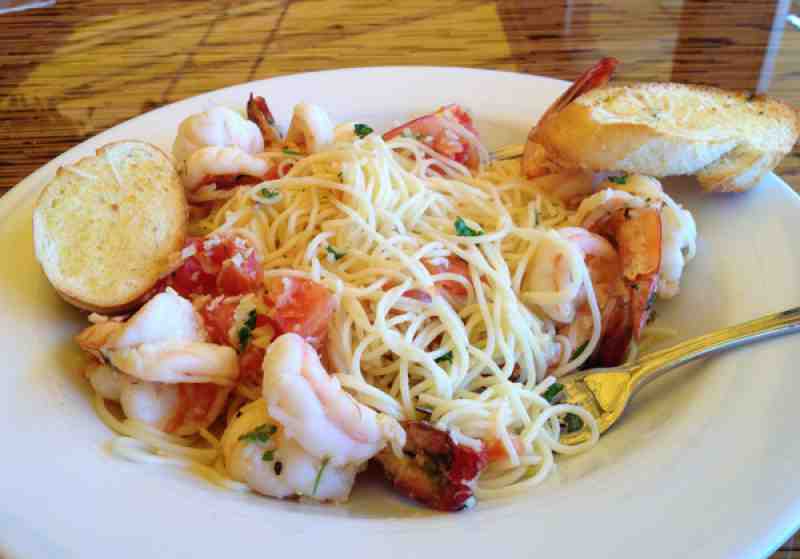 Two Georges Shrimp Scampi
Now sometimes Shrimp Scampi can be an ugly mess, but this was pretty well organized. 8 butterflied shrimp, a big mound of angel hair pasta, and a couple of skinny slices of bread. The pasta and the shrimp were cooked just right; it was actually a very nice dish. My only complaints were that there wasn't enough scampi sauce; just a thin puddle in the plate; it would have been better to be able to dip the shrimp in sauce and to have enough to fully coat the pasta. There was only a light taste of the garlicky sauce. Also it should come with better bread. You need bigger, thicker slices with a dish like this.
From what I read on the "other" review sites I had completely the wrong impression of this place. They could be more generous with the bread and ingredients, but overall a pretty good experience.