Critic's Review
There are 4 or 5 Quarterdeck restaurants around, and I can't say I'm a fan. They're all a bit different, and I don't find any of them appealing. I'd never been inside the one on Las Olas, mainly because they have a small parking lot and you usually can't get a spot. Today I checked their website and saw that they had a half rack of ribs for $5.99 today, so I decided to try them.
The beauty of off season is that I actually got a spot in their lot, so I saved a couple of bucks on parking. Inside, there were only 2 tables occupied, and they just said "sit anywhere", so I grabbed a booth where I could see a big TV showing the olympics. They dropped off a menu and I ordered an iced tea, which came out right away in a big plastic cup.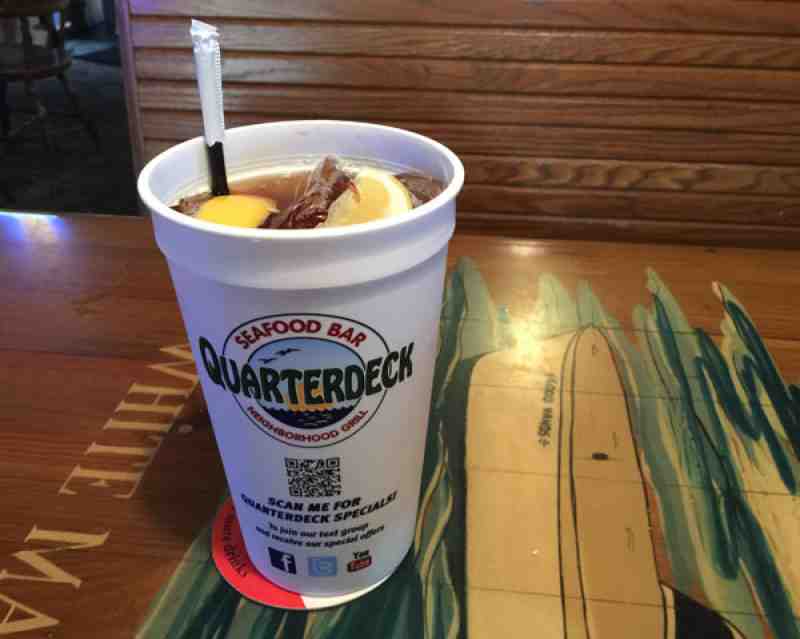 Quaterdeck Large Soda Cup
The cup is really just an advertisement for their app and their website; everyone thinks that they need an app. Do people really expect us to load an app on our phone for every restaurant in town? Am I really that interested in Quarterdeck info?
What I thought was interesting is that they didn't tell me about the specials. Each day, they have a $5.99 lunch special and a $10.99 entree special. My server came over and asked If i had decided, and I asked about the ribs. "Oh, let me check", and she went to the back. Now they've had the same specials advertised for years, so what was the big surprise? Apparently the special is only if you know about it. She came back and said they had it, so I ordered it with cole slaw. You have to buy a beverage to get the special, but a half rack of ribs with a side for $5.99 is a pretty good deal.
They have wireless, and they room has TVs all along the perimeter of the dining room. They have 2 big sets in one corner, and a motley array of smaller sets all around.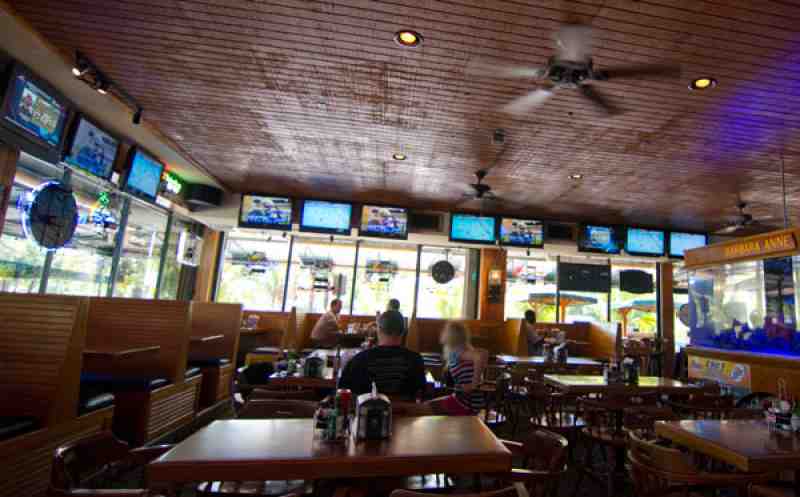 Quarterdeck Las Olas Interior
It's not a very inspiring room. There's a bar behind the fish tank. Bad music plays at a barely audible level; Moves like Jagger, We are young. The food comes out shortly.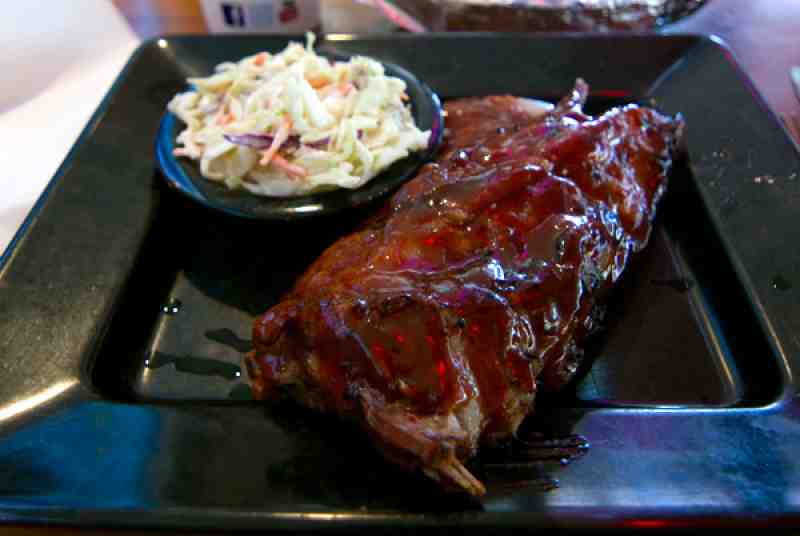 Quarterdeck Ribs Special
It looked like a pretty good portion. I tasted the cole slaw not expecting much; it was a bit too saucy but not terrible. At least it wasn't too sweet. As I ate the first rib, I was trying to figure out what was wrong with them. At first, I thought that they were raw or something. They were very moist; the meat came right off the bone easily. I looked more closely and they weren't raw. But they really didn't taste like meat. I think they might have been boiled. They couldn't have had less flavor. Maybe if you order the special they give you boiled ribs?
Well for $8.10 it was a decent amount of nourishment, but the ribs weren't anything I'd recommend to anyone. I'm just glad that I didn't pay $11.99 for them.