Critic's Review
Cafe Bluefish closed a few months ago amid some dispute with the landlord, and we learned soon afterwards that Red Dog Cantina would be opening. There was some blurb about it being a "Taco and Tequila" bar, and I had a vision of a Rocco's Taco's copycat. But as time went by, there was no buzz about the place; no info; a functionless web site and a basic facebook page with little useful information. Then, all of a sudden, they were open.
A place that opens that fast isn't building a new restaurant; it takes a while to build a place from scratch. So I shouldn't have been surprised when I saw that the place was Cafe Bluefish with a facelift. A paint job and replacing a lot of blue with a lot of red and you've got the Red Dog Cantina.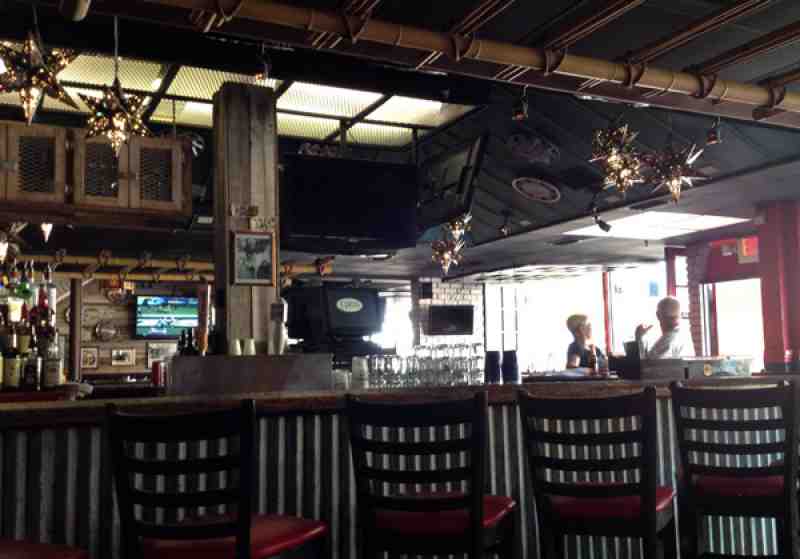 The hanging paper "chandeliers" mimic the huge authentic ones at Rocco's; Red Dog is a low-budget, Rocco's Tacos wannabe.
I'd heard that the owners had another place up in West Palm, but they don't seem to know much about opening a new restaurant. They don't even have a menu out on the sidewalk where passers by can look at it; in fact they don't have printed menus at all. They're not ready yet; they opened so fast that they're not really ready to open.
Their menu is very weak, with few interesting entrees, no Chilis Rellenos (which I was hoping to get), no black beans. I ended up just ordering some tacos which range in price from $3 for $4.50 each; carne asado, shredded chicken and chorizo. I asked for Iced tea with extra lemon; instead of one mini 1/8" slice of lemon she gave me 2 slices, which was still less than a regular sized wedge. I had a server "team"; I didn't ask details. One of them brought over their sauces, which come in plastic squeeze bottles.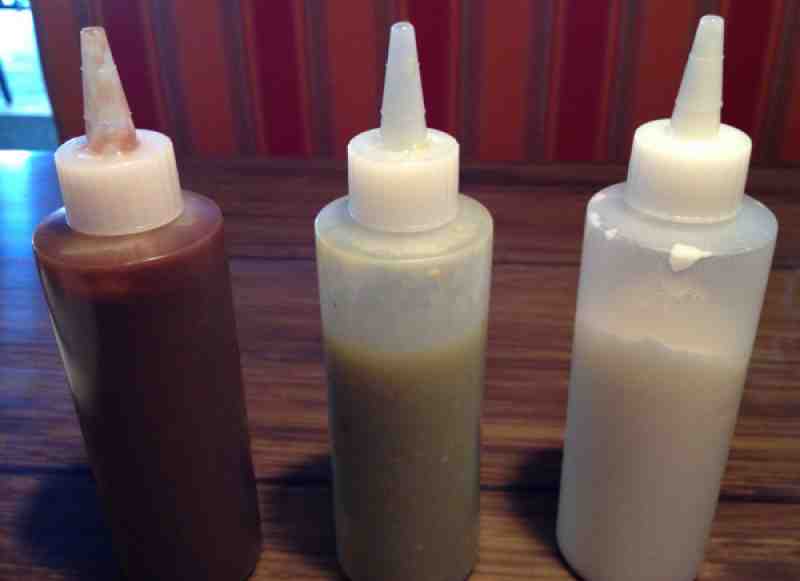 One similarity to Rocco's is that there are no chips or salsa. Good music from Puddle of Mud, Kelly Clarkeston and Snow Patrol plays at medium low volume. It takes longer than expected; both of the team came over to assure me that the wait was almost over; finally they brought them over.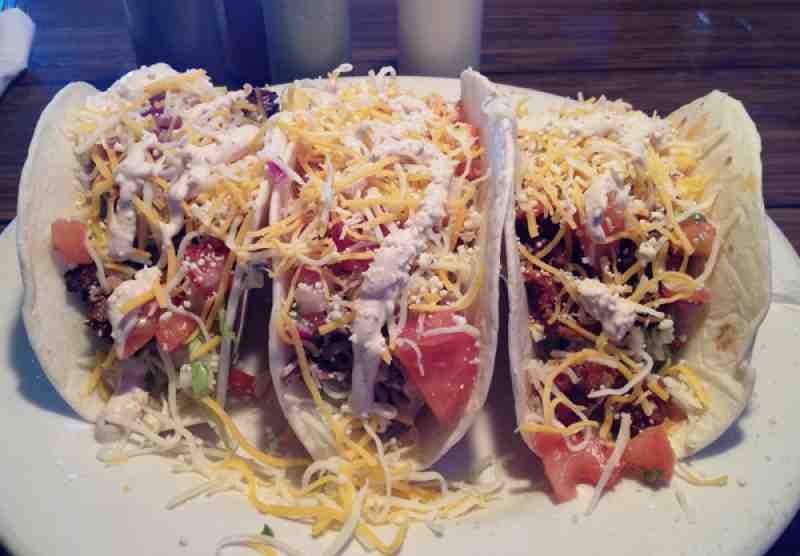 Red Dog Cantina Tacos
They come pretty well cheesed and sauced, so I didn't have much use for the plastic bottles. I tried the "garlic" sauce, but it didn't add anything positive, so I just went with the tacos as prepared. The shredded chicken was rather mundane, but the steak was good; roughly sliced skirt or flank steak, seared medium rare. It was a little hard to eat as a taco; It took a serious bite to rip off a chunk, but it was a good. But best was the chorizo; a browned, greasy mexican chorizo had some serious flavor; a nice change of pace from the "Fresh" mexican crap that is spreading like the plague.
$17 for 3 tacos, iced tea and no chips, The food is better than fast food; it's somewhere in between fast food and a real restaurant. With something like 12 new Mexican places in town in the last 3 years it's hard to get excited about another generally; this place isn't nearly as cool as Rocco's Tacos, but I suppose it will fit this neighborhood just fine.