Critic's Review
When I heard that this place opened, my first thought was that they were opening in the Riddlez space, because who would open a sandwich shop next to a sandwich shop across from a deli? But no, this place is in the space next to riddlez. It's a nice space, with a counter with stools and a few dark wood tables. I saw their menu online and thought I'd try the chili; there aren't many places around where you can get good take out chili. But they were out of chili. They have daily specials for $7.95; today they had meatloaf and Chicken Cordon Bleu, but I didn't want anything that substantial. I notice that they had an old favorite, chicken salad, and started to order a sandwich. I asked if they had anything weird in it, like grapes or nuts. There weren't sure but when we when over to look at it I saw it had raisins in it; I don't want raisins in my chicken salad. So I just ordered a small greek salad.
The salads are pre-made, and one of the guys grabbed one from the display. I'm not sure that this is a small salad, because it was awfully big for $4.99.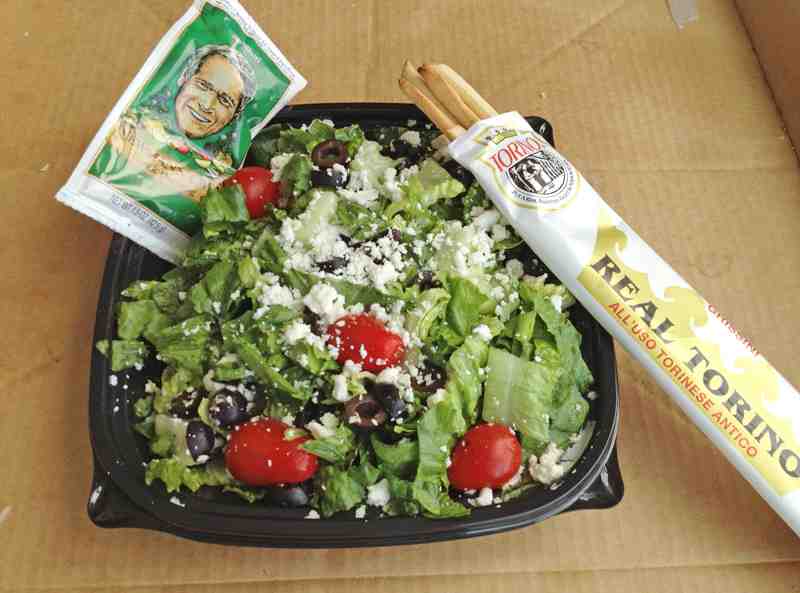 City Park Cafe Greek Salad
When I got home and opened this, I realized that there wasn't much that made this a greek salad. It was 95% lettuce, with about 3 small pieces of cucumbers, a couple of grape tomatoes, black olive slices and feta cheese. The wrong tomatoes, wrong olives and nothing crunchy like green peppers, this was just an impostor of a salad. The bread sticks were a surprise; and I didn't care for the dressing. It just tasted like Italian to me.
To fix this salad, I chopped up some green pepper and cucumber, added a few tomato wedges and used some greek salad dressing I had in the fridge. The black olives still didn't belong. I'm glad I didn't buy this to eat in the plaza.
They did tell me that there are no beans in the chili. I have to question the recipes here. The menu says you get cheese and fruit with egg salad. It seems very wrong to me.