Critic's Review
Seasons 52 is a restaurant designed specifically for the Whole Foods crowd; people willing to pay more to make them feel good about themeselves. The gimmick here is that all dishes are under 500 calories. The problem is that they leave out the stuff that makes food worth eating in many cases.
Inside it's a pretty nice restaurant; dark, redish wood with colorful upholstery. They have a large bar on one side and a dining room on the other. But on a 78 degree day in December, the outside patio is the way to go.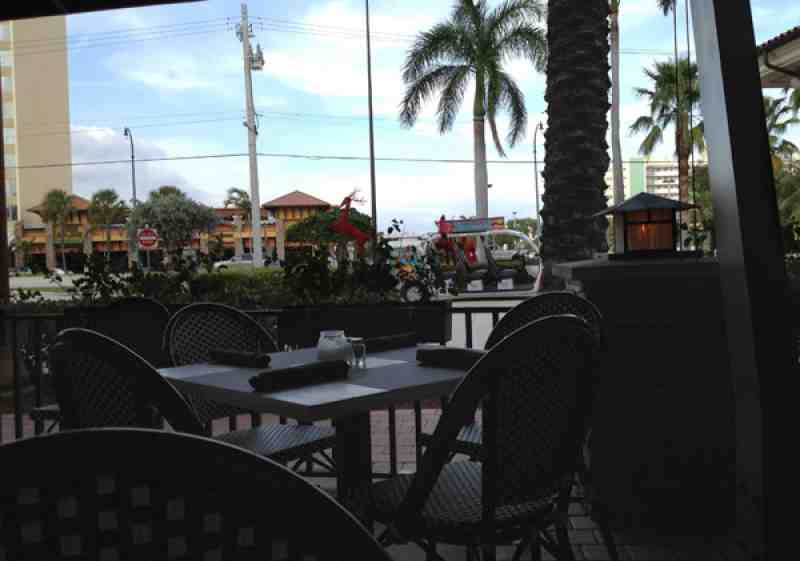 Seasons 52 Fort Lauderdale Patio view
I'd checked the menu online; of course the have no prices, and saw a couple of things I wouldn't mind trying. Their menu changes 2 or 3 times a year, with the Seasons (get it?) They have some lunch "specials" that aren't a special low price; they're just something you can only jump-->get at lunch, I think. $19.95 for a lunch entree is no deal. They usually have some sort of chili; I'd liked one I'd had before and didnt like the another. As with other Darden restaurants, you can get a cup or a bowl, with the bowl priced 50 cents more. They imply that fewer calories is better, but they price the product so that you have to get the larger portion so that you don't feel like a fool paying a bowl price for a cup of soup.
I ordered Iced Tea with extra lemon, but it came out with 1 small wedge. I reminder my server and she brought me enough to last through the afternoon. But the tea was incredibly weak. Luckily the lemons allowed me to make lemonade. Splenda was available.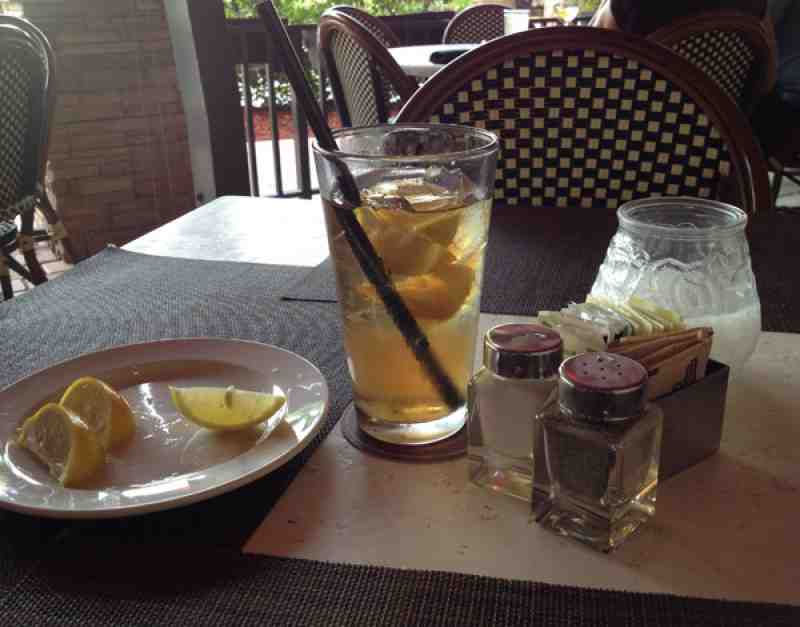 Seasons 52 Iced Tea
When the chili came out, I knew I'd been fooled once again.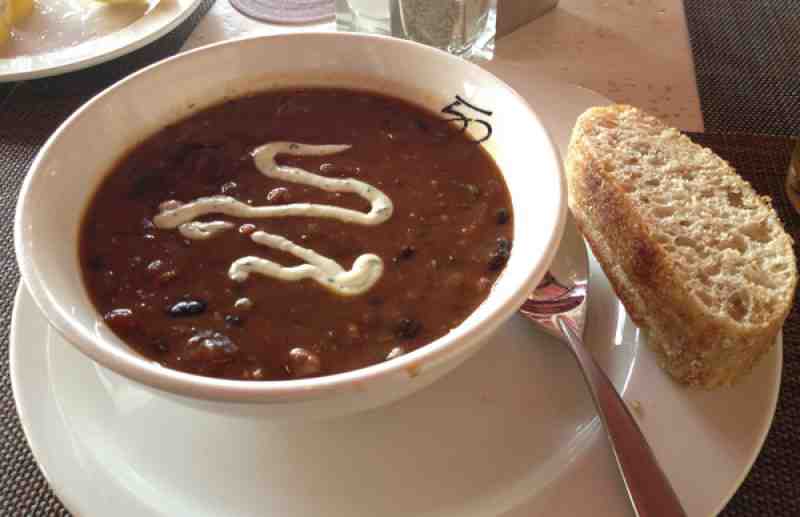 Seasons 52 Venison Chili
Similarly to the last time I had "chili" here, this was really soup. It had a strange consistency, like it's thickened with cornstarch or something, and it was bland as expected. There was some meat; if it was venison it didn't add anything to the soup. It tasted the same as the last chili soup I had here. No taste. Just a bowl of stuff.
I'd seen some pictures of the Chile Relleno on the web, and they all looked a bit different. They say this is over pico de gallo, but this had roasted tomatoes or something, and it was clearly cooked. Pico De Gallo is by definition uncooked. Whoever makes the menu here either doesn't know anything about food, or they think that their customers don't.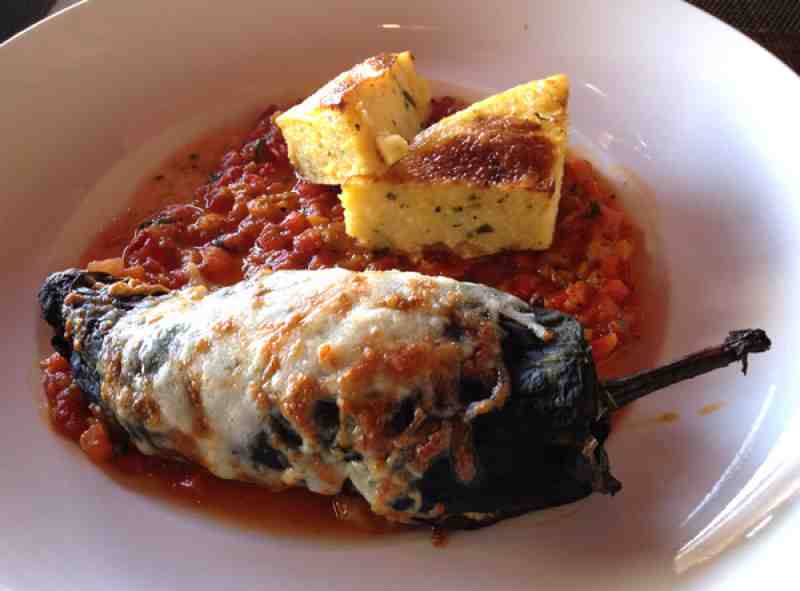 Seasons 52 chile Relleno
This reminded me of the dish I got at California Pizza Kitchen, and as with most of the dishes at Seasons 52, it replaced needed good stuff (cheese) with filler. A modified version, for the sake of your health.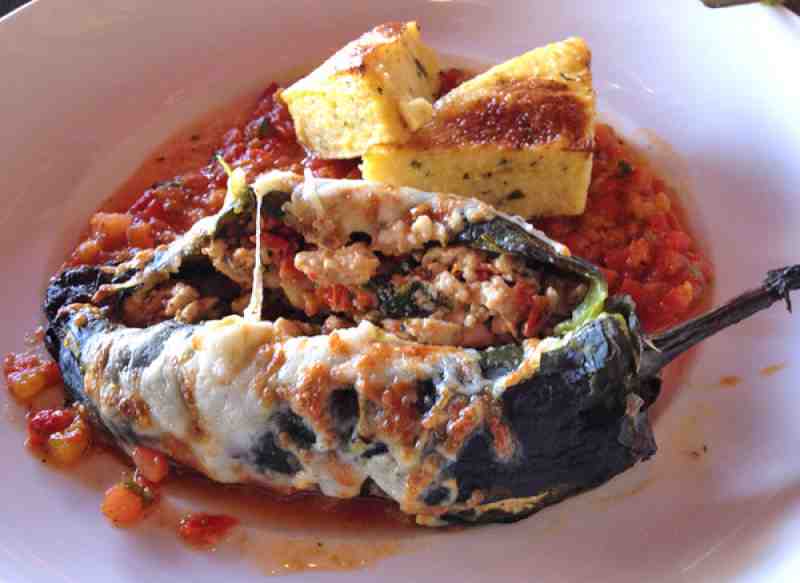 Seasons 52 Chili Relleno
It had a a good amount of chicken and it was pretty spicy. If it was swimming in gooey cheese it would have been a lot better. As with most dishes here, it was missing the stuff that makes the dish taste good. The "roasted corn cake" just makes me think that they don't even taste their recipes; completely bland mush.
When I asked for my check, my server tried to push the desserts. Instead of pushing a 300 calorie dessert, how about giving me some more cheese on the Chile Relleno?
I've never been a fan of this place, and this visit certainly didn't change my mind. UnSeasoned 52 would be a better name for the place. Making food tasteless to lower the calories is no way to live. If you want a Chile Relleno, you go to Tipico down the street and go home smiling; you don't come here.
Another bad $20 lunch choice in Fort Lauderdale.

Photo Gallery
Best Yelp Filtered Review
What's This
From
: Steven C.
I thought this was a great restaurant when it first opened. All of the menu items are rotated seasonally for variety, and the servings are all 400 calories or less.
The place is always packed, so you can expect a long wait, especially for dinner. I was surprised to find the menu so familiar when I ate there a few times back. And then familiar again. And again. They dont seem to be rotating out the way they used to.
I ordered the salmon. Seasoning included salt and pepper. Thats it. Overcooked, and the vegetables were burned--not the new potatoes browned, I mean the asparagus burned.
The time before, for lunch, everything had even less flavor. I hate to say, I think this restaurant is a victim of its own success. Theyve been discovered; they have the crowds; they just ran out of time to cook. My last good meal here was 2007. All bad since then.