Critic's Review
J Alexander's, one of the oldest and best Houston's rip-off restaurants, has 33 locations nationwide and 7 in Florida. It's a nice restaurant with a clubby feel, with leather upholstered booths and a large bar area. They have a large parking lot and a convenient location on US1.
The bar seating here is uncomfortable for me; the bar seems too high. I've confirmed this with others, so I don't think it's just me, so for eating I prefer a booth.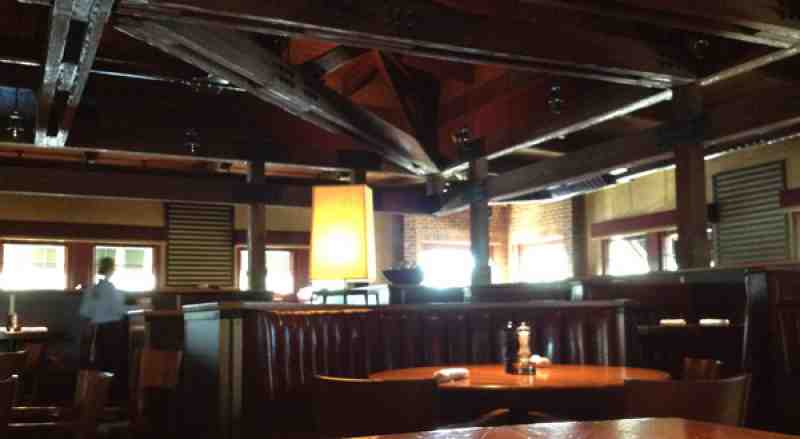 Like Houston's but unlike most other chains, J Alexander's is not cheap. Prices lean towards expensive. There is no lunch menu, at least not with lunch portions or prices, and most of the entries are $20+, so unless you're up for a burger or a salad its an expensive lunch. Meat entrees come with 1 side, usually a starch, which you can sub out for a vegetable side but you'll pay jump-->extra if you want both.
This place is known for its prime rib; they have a 12oz Prime Rib for $24. They used to have a thick cut; or maybe they have a separate lunch menu now, but there was no thick cut option on the menu this time. J Alexander's doesn't make their menus available, but their menu is about the same as it was the last time I was here over 2 years ago. The menu we have here is about a year old.
Since my last visit, they've moved to the Certified Angus Beef (CAB) program, which is beef that is graded higher than Supermarket and lower than Prime. The last prime rib I had here was Select grade, which is very lean, but also not very good. Unlike J Marks, which advertises CAB but only their strip steak is CAB; all of J Alexander's beef is CAB, including the prime rib. So I decided to order it again, subbing out the mashed potatoes for a special side of Haricot Verts, which are green beans to us common folk.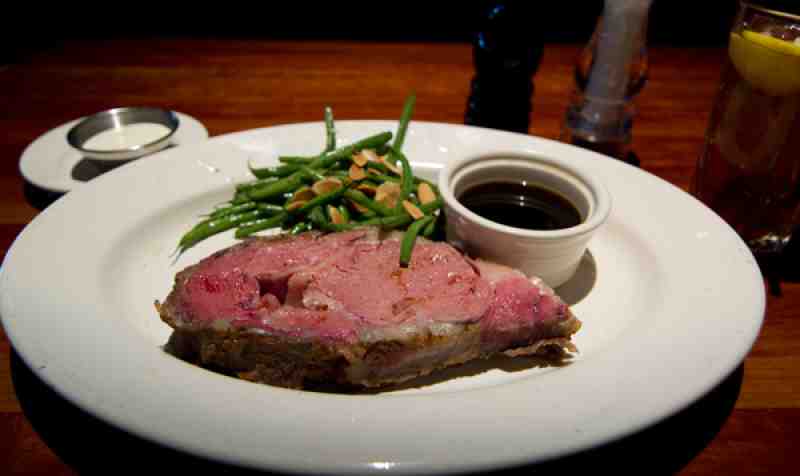 J Alexanders Prime Rib with Haricot Vert
It's a modest sized cut; normally I'd pay extra for the thick cut and take home a chunk for breakfast, but I ate this entire thing. Once you trim off the fat, it's about 10oz of beef. It was a very good piece of meat; the beans could have been cooked another minute but they weren't raw. I liked that they have grinders for both salt and pepper, but the salt grinder output grains that were too large and I found myself biting into a chunk of salt more than once.
If you're a lighter eater, you could get a prime rib sandwich, which is basically an 8oz prime rib slapped between bread for $18, and discard the bread for a smaller, proportionately priced option.
Service here is very professional; iced teas were delivered before finishing the previous one; I had 3 in all.
Since we don't have a Houston's in Fort Lauderdale, J Alexander's is a formidable alternative. The food and service is much better than the other J restaurant, and while it's not cheap, it's nice enough to consider for a special occasion lunch. If I wasn't dieting, I'd go for the Mac N Cheese here; the kids will love it, and so will you.
Photo Gallery