Critic's Review
If you were walking down Las Olas, you may not choose Noodles Panini as your restaurant of choice. Its small storefront isn't terribly inviting. Inside, things seem a bit cramped. There are 4 seats at the bar, but I wouldn't want to sit there with all seats occupied. Tables are small. The cooks work in full view behind the counter.
Noodles Panini is owned by Brent Lahaye, who is the son of Aurel Lahaye, show owned shooters back in the spring break days when it was the hottest place in town.
On a not-too-hot afternoon, the outside patio is small and somewhat cramped, but nice if someone isn't smoking. When I first sat down there were a couple of smokers but they left shortly. At mid afternoon, eating outsize at Noodles is a lot like dining on a city street.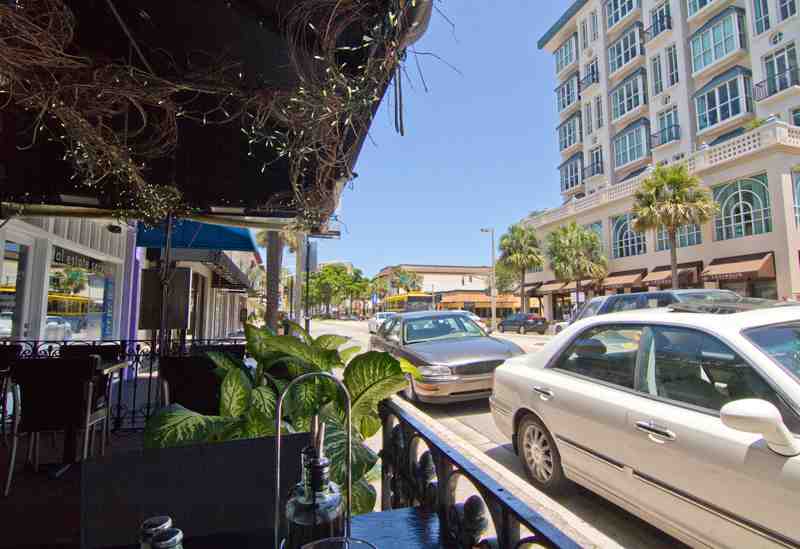 View from Noodles Panini
Not the beach, but better than inside. The tables are small also; they're fine for 1 but tight for 2; the couple next to me had to move some food around to get everything on the table. There were 2 servers on the patio; I got the bad one. She gave me a menu, fetched my iced tea and then asked what I wanted without telling me the specials. I didn't know they had specials until the good server barked them off for the table next to me.
One bad thing about this place is that they don't have a lunch menu, which makes them the most expensive lunch place on Las Olas.
Lunch comes with Bread and a big bowl of shredded parmesan cheese. No red pepper flakes or freshly ground pepper, so I had to settle for plain olive oil. It's pretty good oil.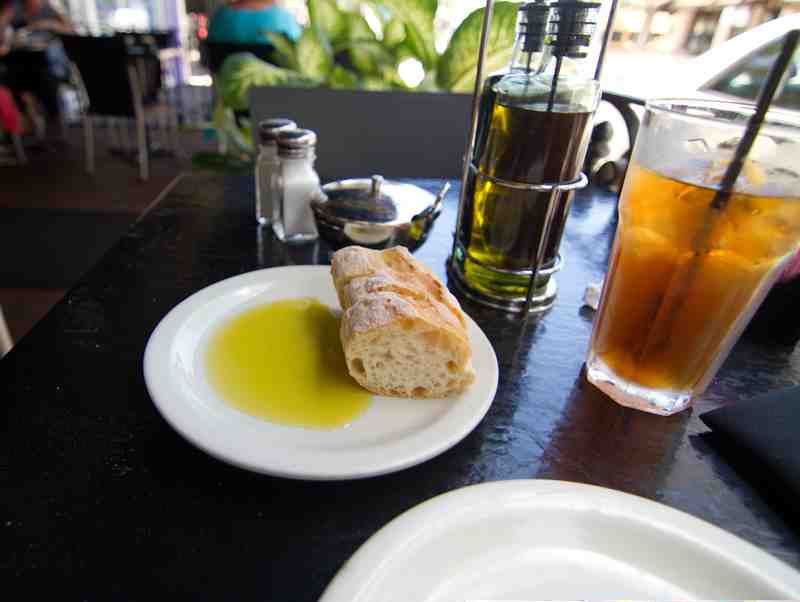 Noodles Panini Bread
Good bread. Noodles plays decent music: The Police, Asia and When in Rome. My server bounded out of the door and onto the sidewalk and delivered the pasta over the railing. It looked like a pretty big bowl of pasta.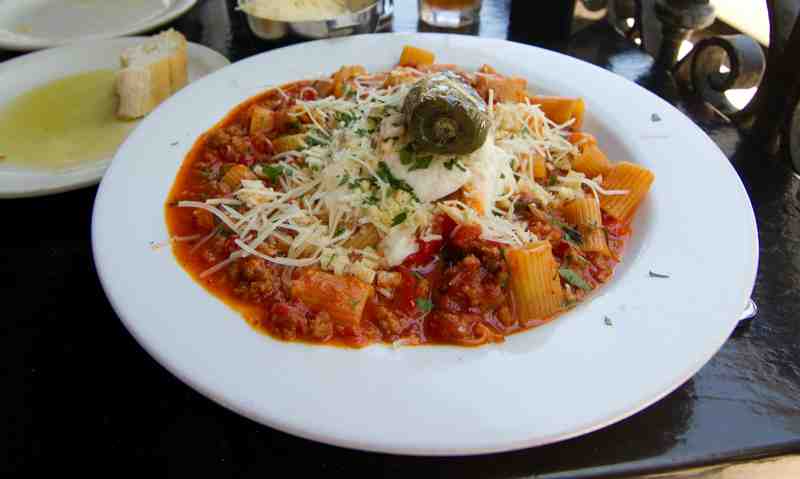 Noodles Panini Bomboletti ala Nicholas
It was way over-sauced, and I discovered that the plate was shallow, making it look like a lot more that it was. The pepper on top wasn't of any interest to me. This dish is Bombolotti ala Nicholas, which is said to include homemade sausage, tomatoes, roasted peppers, fresh mozzarella and pecorino Romano. Sounds fantastic, eh? Until I revisited the menu, I didn't realize that the crumbled meat bits were sausage. The sauce lacked the punch I'd expect from sausage, and I didn't like the cold slice of mozzarella in the middle. Right out of the fridge. It didn't get nice and soft until I was half finished with it.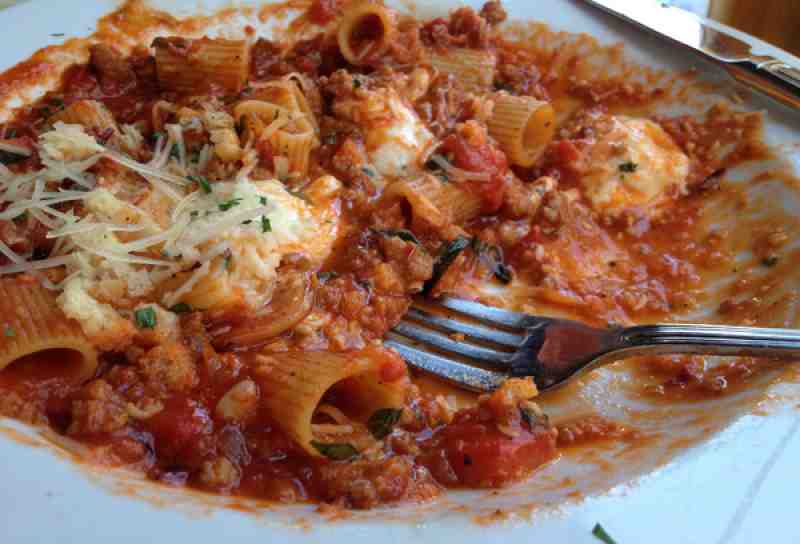 Noodles Panini Bomboletti ala Nicholas Close up
I was really disappointed in this. I expected much better. Frankly, I would have been disappointed if I got this for $14 at Big City Tavern, a place where I don't expect much. For $22 this was highway robbery.
I took home 1/3 of this, but ended up throwing it out. For $1.50 worth of ingredients I could make a bowl of rigatoni better than this with ingredients I have laying around.
The bottom line here is that prices are preposterous. Locanda Verde in NYC gets $18-$22 for pasta, and it's 3 leagues above this stuff.