Critic's Review
Johnny V recently has joined the bandwagon and is serving Sunday Brunch with the now ubiquitous "endless" mimosas; for $10 you can get an unlimited number of champaign screwdrivers; a concoction of cheap champagne and cheap orange juice that somehow found it's way onto breakfast menus. I've done the other brunches on Las Olas; I wanted to see what Johnny V had whipped up. I saw that he had a short rib Benedict, so I wandered down for an afternoon breakfast on the Boulevard.
The outside was pretty well populated, and there was a group who were dining with their dogs, which is always a negative to me. So I asked for a table inside.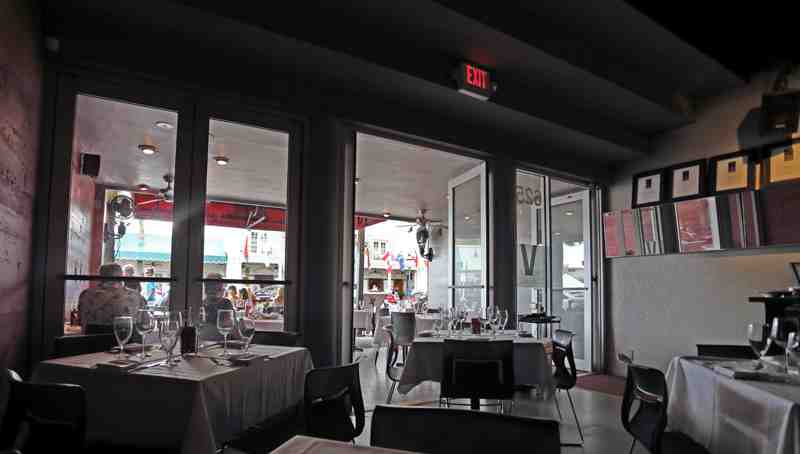 They try to push bottled water, but the regular water is fine here. I ordered the short rib Benedict and coffee. You'd think that coffee in a higher end restaurant would be better than at other places, but this wasn't very good. Stronger than you get at a diner, but it was kind of muddy.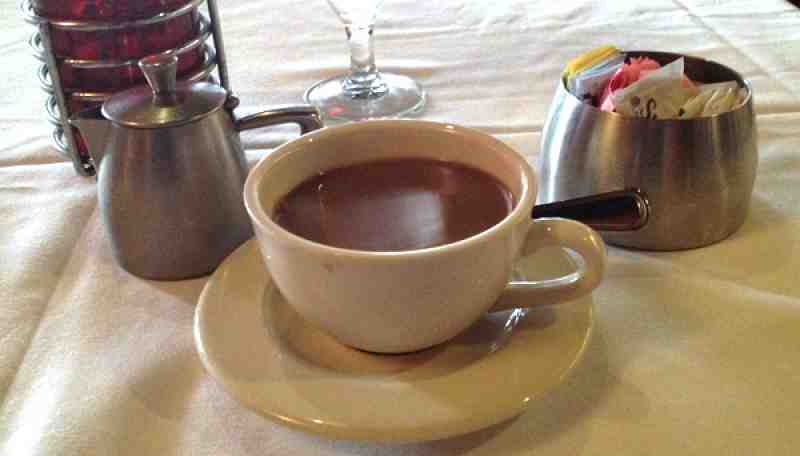 Music here is bizarre; Dorothy Dandridge, "Ay, Candela" and Pink Martini. The food came out faster than I expected.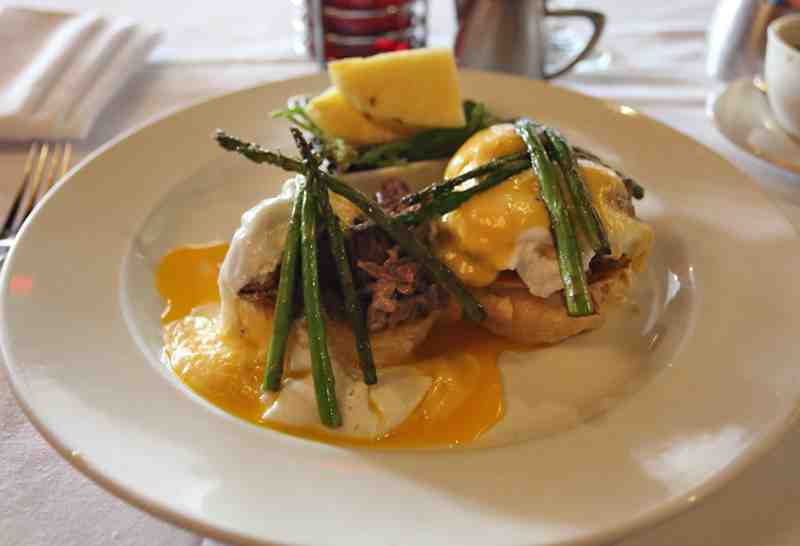 It's always nice when they totally destroy a poached egg. It's at this point that I was sure that Johnny wasn't working today; he would never send this out. Someone in the kitchen was in a hurry to get home. I tasted the short rib; zero seasoning. Bland wet meat. There's no salt or pepper on the tables at Johnny V; I had to ask for some. The hollandaise was pretty benign also, so without salt I couldn't eat this. The buttermilk biscuits were a nice change from the usual english muffin. But this dish was very disappointing. It wasn't nearly as good as the version I'd gotten at Foxy Brown.
I care about my digestive health, so I don't eat melons or pineapples with foods that take longer to digest, but a close examination of the fruit cup wasn't pretty regardless. They say that the dishes come with "melon and berries". Two small slices of melon and 4 berries with most of the dish filled with field greens, topped with 2 big chunks of pineapple.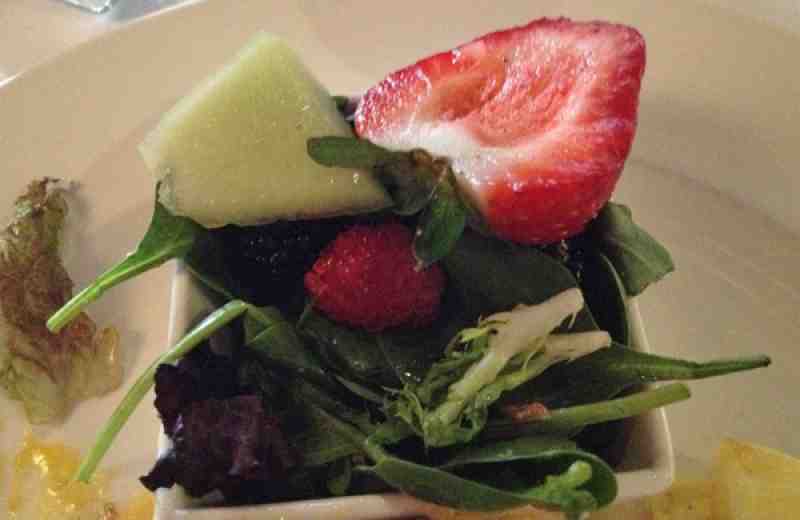 A sad excuse for brunch for $18.
Service at tables is better than at the bar. That's about the only positive thing I have to say.
Previous Review 1/17/11
I haven't been to Johnny V's to eat in a few years, and its interesting how your perspective changes after you've been to over 400 other restaurants. In the heart of Las Olas, this is perhaps the best location in all of Fort Lauderdale.
Johnny V's restaurant illustrates the marketing allure of a named chef more than any other in Fort Lauderdale. In a town with few named chefs, Johnny V is the one-eyed man in the land of the blind. This place would fold up like a cheap suit if Johnny left town, even if everything else remained exactly the same.
From the outside Johnny V appears to be an elegant dining spot, with white table clothes. Inside, it's very "urban', with a warehouse-style ceiling and cement floor.
Frankly, it's not that great inside, particularly at the bar. The plastic chairs are cheap and uncomfortable, the bar staff is aloof, and they have a very small TV that's rarely on. At lunchtime it's just a cold-looking, barren place.
Johnny's prices are high; the lowest end wine you'll find here is about $12. Adding insult to injury, they measure the wine so don't expect a decent pour. On my last visit after ordering a $15 malbec the bartender literally threw the change on the bar; it slid off and onto the floor. He giggled and apologized; I guess you can't get good help anymore.
For appetizers, Johnny's Mussels are one of the best things on the menu. The mussels are braised in a chorizo, tomato and saffron broth and are served with green peas and shrimp crostini.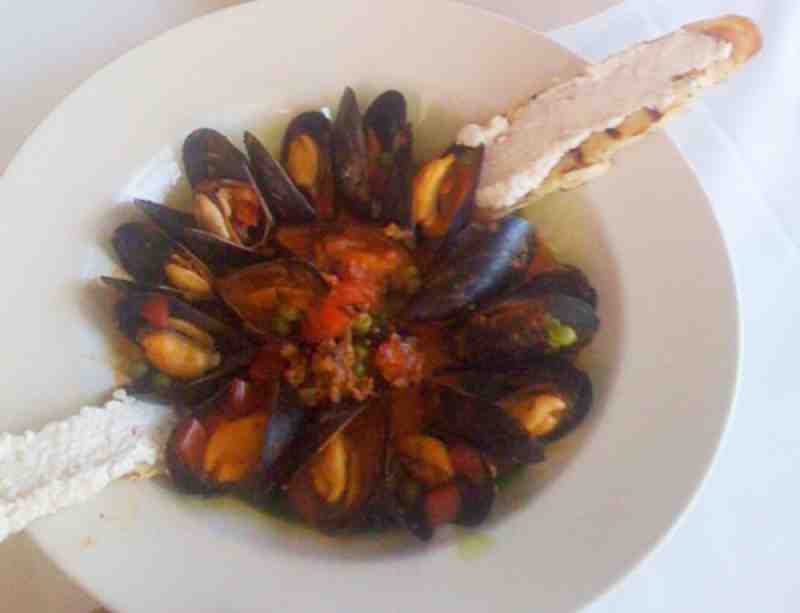 I always have trouble finding something on the menu that I want to order, which is one of the reasons I don't dine here much. There's a lot of fancy stuff and not much substance. They've also had largely the same menu with slight variations for years.
I had the Duck Meatloaf for lunch,and one thing about Johnny V is that you can't complain about the presentation. The mini-loaf is wrapped in smokey bacon with a sweet glaze, and is served with garlic mashed potatoes and untrimmed green beans.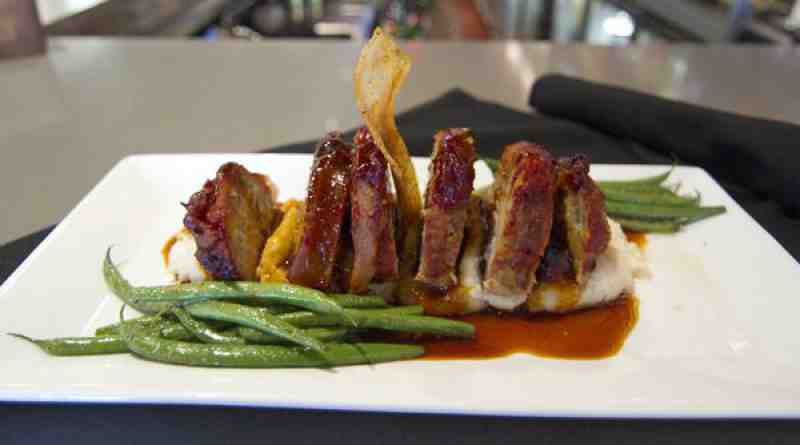 The don't have Pellegrino or Perrier so I opted for a seltzer; I wasn't offered any fruit and my server wasn't available to ask for any. There's also no salt or pepper at Johnny V's, so if you don't like his seasoning too bad for you. It's unfortunate, because the mashed potatoes were bland and not very garlicky and could have used some salt and pepper. The meat loaf was good but not as good as the meatloaf used to be at Smith and Jones (another venue from the Johnny V people). It was a bit sweet, and frankly, you couldn't tell that it was made with duck breast instead of the standard ground meat mixture.
Other restaurants could learn something from Johnny Vs. People will come to a restaurant with a named chef even if the prices are a bit too high and the food isn't that much better than other places. People like to think that someone special is cooking for them.