Critic's Review
In March 2007 I wrote:
"Sometimes its a mistake to not go into a place just because it looks like a dump. I passed this place countless times, and the name screamed out New York, but I'd been fooled before. No reviews on the 'net of this place. One day I decided to go in. A smallish place with dingy booths, with patrons resembling homeless people. I see a sign on the wall: 2 slices and a soda for $4.50. How good could this be? So I order a slice. I could hardly understand the guy behind the counter and vice versa; language unknown. Only $1.95. OK, at least its cheap. I wait. Finally the slice arrives. My eyes widen. It's HUGE. And its oozing with slippery cheese, so real the oil is dripping off. And the taste. Eureka! I've finally found NY quality pizza in South Florida."
After that day I ordered several pizzas, usually 16", and while they were good, they just never reached the level of euphoria I had achieved with that initial slice. I came to the conclusion that 16" pies didn't have the right amount of dough. The crust wasn't quite right. They had cut back on the cheese, exposing the fact that their sauce was bland.
I wasn't blogging back then; I went back about a year ago and got this slice:
Times Square Pizza Slice
Not as big or cheesy as that first slice. Good, but not great.
Another year and I had to go to Target, so it was a good time to give them another try. This time I got the 1/2 sausage, 16" pie.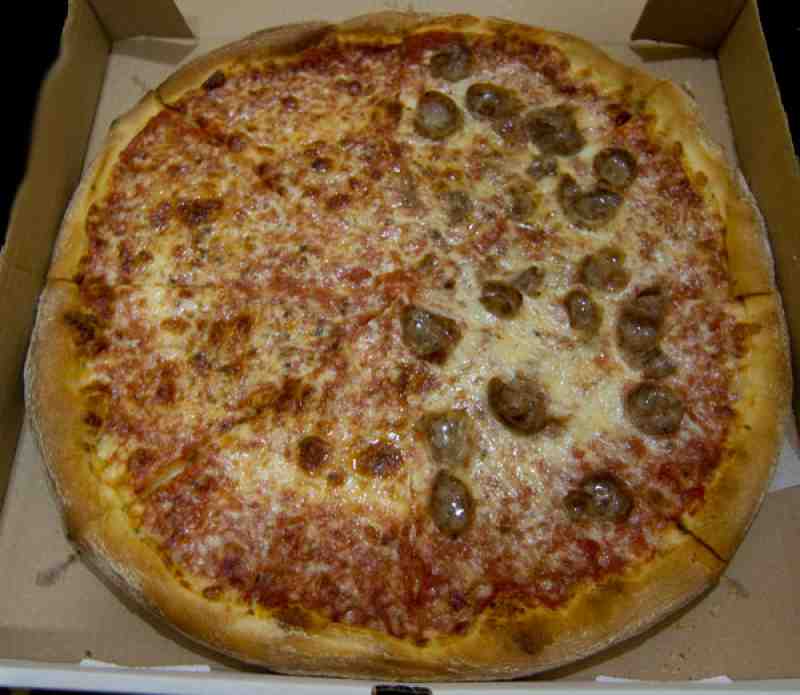 Time's Square half sausage Pizza
A bit short of the sausage; they charge $1.05 for a 1/2 topping; so this whole pie was $13.05. Cheaper than most places. It's the good sausage though. It's a solid pie. The crust is still a bit chewy and the sauce kinda bland, but it's pretty good for Fort Lauderdale. Just don't order the thick crust pizza. Its awful.