Critic's Review
If you mention 15th Street Fisheries to most locals, you'll most likely get a firm response of something like "Tourist trap!". It's been around a long time, and it's one of the few places in this town that does tourist-type advertising.
It's located WAY at the end of, you guessed it, 15th street, and the video below shows you how to get there from US1 and Davie Blvd. If you're coming from the south, hop on Cordova and make a right just after the Southport Raw Bar.
They have valet parking for most of the lot; there's a limited amount of free parking along the fence. Most of the marina area is restricted, so you have almost no chance of getting a spot in season jump-->or for dinner. They valet is "complimentary", but of course you'll need to tip; and wait if it's crowded.
There's a big bar with some TVs that's a big dark, but the most of the inside of the restaurant is closed during the day. At lunch time, only the "dockside" menu is served. There's a big dock with table and a few table inside if it's really windy or raining. But outside is the place to be for the view.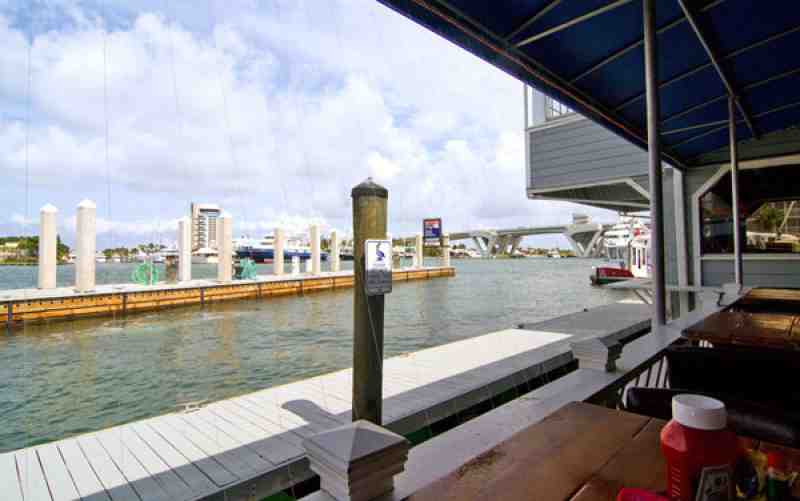 View from the Dockside Seating
Service is a bit spotty; you seat yourself and wait for someone to notice. I got a menu quickly, but as usual I had pretty much decided before I left the condo that I was having steamed clams to start. I ordered those and said I needed to decide on a main course. There's a lot of misdirection on the menu; they refer to some "best burger" award; but don't be distracted.
A runner brought me the clams, which came out pretty qulckly. The presentation is pretty weak; there's nothing like a plain white plate to make you feel like you're at a top notch restaurant. You can order 1 or 2 dozen clams; I ordered 1 dozen and got 15 clams. Barely enough lemon was provided; you have to wonder why they give you a skinny sliver of lemon but enough butter for 20 dozen clams.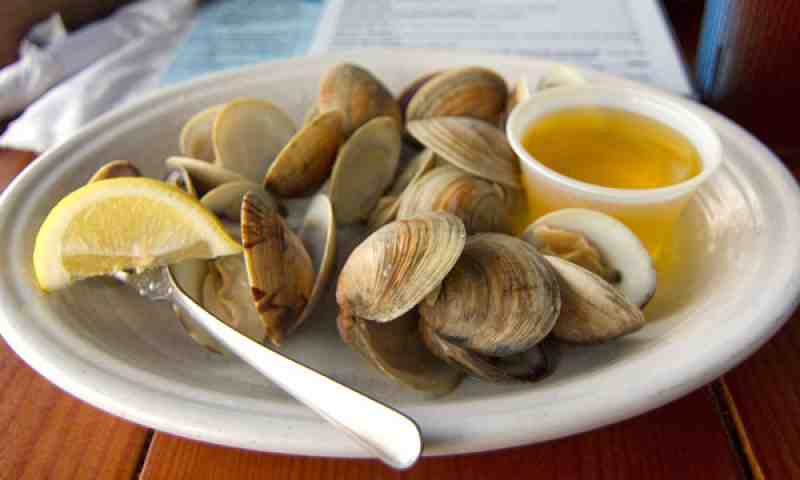 Steamed Clams
The clams were "ok", not rubbery but not particularly plump either. While I was finishing the clams, I realized that my server hadn't been back to take my order, which was a big irritating. I hadn't planned on spending the whole afternoon at the place. Just as I was digging into the last few clams she appeared, and I ordered a skirt steak, medium rare (because that's the only way to order a skirt steak).
I finished the clams and noticed that a youngster dining with his parents was getting all excited about the fish, which you can see swimming around in the water. Fish don't excite me much; there are also some birds flying around on the dock that can be fun or eerie depending on your take on birds.
The steak came out pretty quickly, accompanied by yucca fries.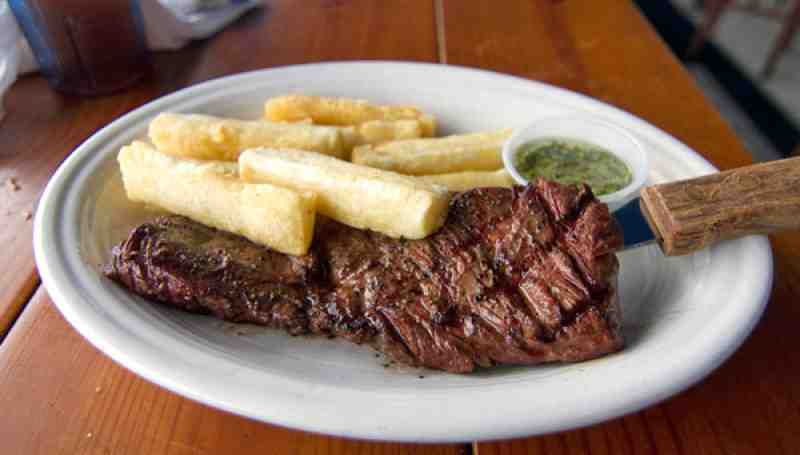 The steak was too rare in the thicker part; cooking skirts are a bit tricky as the skinny portion needs to be kept from getting overdone. For $16 it wasn't a very substantial portion; half a skirt and some fries is pretty measly for this price. The Chimichurri was garlicky but there was something funky about it; the parsley was barely chopped and the garlic too chunky; it reminded me of someone who tried to make the sauce without a food processor available. Better than being too vinegary. The steak didn't seem to be marinated in anything notable, so the sauce was needed.
The yucca fries were surprisingly good, particularly with ketchup. I usually sub out such things for something green, but I wanted to try these today. They're a lot like good steak fries; still with a fairly high glycemic index but not as bad as french fries. Not health food but pretty good.
Any dining experience can be summed up when the bill comes, and you decide if you got your money's worth with all things considered. $37 for lunch with no alcohol is too much for what I got here; pedestrian food with smallish portions. If you have kids who get excited about fish it may be the only good reason to come here; fish viewing is better after dark so keep that in mind.
Photo Gallery
On the Road

On the road from Davie Blvd and US1 to the 15th Street Fisheries Restaurant.
Best Yelp Filtered Review
What's This
From
: Steve B
Just ate at the Dockside cafe and yes the view and the big fish swimming just below you are amazing but lets not forget youre here to EAT and that I cannot recommend. First off I asked about Oysters which were not on the menu while clams and mussel were. The waitress said they took them off the menu and she didnt know why. We ordered Bloody Marys ($7) good and made with Zing Zang Mix.
Ordered the Conch chowder($4 cup) (not bad, spicy tomato based) and the clam chowder (bland, boring, unseasoned) and the spoon served with it was filthy. I had to take it back inside to request a new one. "oh, sorry, heres another". Then came the Cubano Sandwich which their menu claims "Better than anything on Calle Ocho" referring to the Little Havana area of Miami....WRONG!! It was slathered in Mayo which may have been passed its prime, no pickle, skimpy meat and the worst tasting melted cheese ever. The steak fries with it were OK (big deal). The Menu stated "Seared Rare Ahi Tuna" appetizer. What you get is about 1 oz. of seared tuna scraps that have been tossed in again a questionable blend of Mayo with a hint of Wasabi() "dumped" on a small plate with a sad looking piece of overly steamed and completely unseasoned Bok Choy. It was perhaps the worst presentation of any food item in a restaurant that I ever seen. Never been there before, only went because the guy driving the Water Taxi said it was great seafood, would never go back again.