Remembering Ashley Massaro
A few weeks ago I heard that Ashley Massaro was found dead in her home from an apparent suicide; Ashley was a Long Island girl who'd achieved a certain level of fame with WWE; she was a contestant on Survivor: China and was on the cover of the April 2007 issue of Playboy Magazine. I met Ashley when she was 19yo.
As we get older, more and more people we know die from various causes (My Dad regularly complained that all of his old friends were dead), but when someone 39yo takes their life it's a bit of a shock. I remember Ashley as a determined young girl who was struggling in the modeling business in the days before the internet was in everyone's pocket. In those days, a girl couldn't just put up hot pictures on an instagram account to get "discovered"; it was very hard work.
I only worked with Ashley a few times, but over the years I often bumped into her and she was always very nice. She used to do promotions in clubs and she'd always come over and say hello. I was at Coco's when she won the regional Hawaiian Tropics contest on her way to winning the whole thing.
The last time I saw Ashley I was having a cup of coffee at Barnes and Noble in South Huntington (around 2006); she came in with her daughter, who was about 5yo at the time. She saw me and came over and introduced her to me; she was so proud of her girl. She had already started with WWE (something I knew nothing about at the time) and before Playboy; but she was still the same nice girl. All of the photos of her from WWE depict her as hardened and tough; but I didn't see much change.
There's a lot of stupid people online leaving nasty comments about how she was just lucky and that her fame was undeserved, but I know first hand that Ashley gained her fame through hard work and determination. She started "modeling" when she was 14; and it took 7 years of going to modeling agencies, doing promotions and entering contests for her to get discovered. There's a lot of slimebags along the way; and a lot of other pretty girls to compete with. I don't suspect that WWE was what she was hoping for when she started out.
One of the reasons I'm writing this is that when a person is a "celebrity"; their life is scrubbed on the internet. I remember around 2007 I got into a discussion about Ashley in a forum where people were talking about how she was single and had no children; of course I'd met her daughter so I knew that wasn't true. A week later I'd been banned from the forum and all of the messages about her daughter had been removed. The WWE PR machine at work.
About Sam Ryan
You sports fans might know Samantha Ryan (now known as "Sam"); another Long Island girl who gained national attention on ESPN and MLB Network who now does local sports on WABC on weekends. Whenever I think of Ashley, I think of Samantha Ryan, who has also had her life scrubbed on the internet. It's almost comical reading the bios of her; not only has her real life been scrubbed, but a completely fabricated life has been created. There are pictures of her with random guys claiming that it's her husband, "Jeff" Ryan. Except there is no Jeff Ryan, and Samantha Ryan isn't her real name.
Anyone who hung out in clubs on Long Island in the 80's and 90's knows Samantha Ryan; who was a radio personality on WBAB. She did all of the club promotions; this was before there was a porn star named Samantha Ryan; I think she shortened the name to Sam to avoid confusion.
Her real name is Denise Herbst; her maiden name is Dombroski; she's married to Jeff Herbst, who is the long time lead singer of the Long Island cover band, The Touch.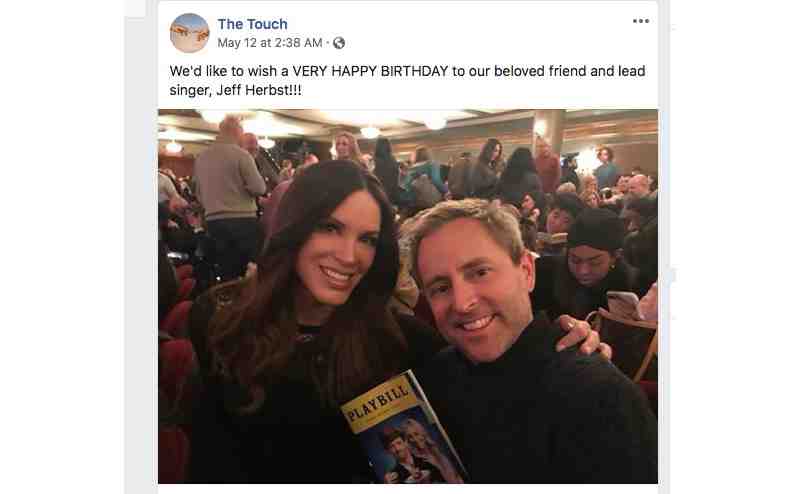 The Touch used to play at the Dublin Pub in New Hyde Park on Sundays; I lived in Mineola for a while and it was the place to be on Sundays. Ryan was often on stage with them when they played at Mulcahy's; pretty much everyone knew they were involved.
When she emerged on the national scene I was surprised to read in her bio that her husband "Jeff" was an attorney and they had a son, Nicklaus. All of the bios had her husband's name as Jeff Ryan; so wait, did he take on her name or did she marry someone with the same name? At the time I didn't know that Samantha Ryan was her stage name. I found a bio for Jeff Herbst (which has since disappeared) that mentioned he had a son named Nicklaus; too much of a coincidence; obviously there was a coverup underway.
Nowadays, with a bit of sleuthing the truth can be found quite easily. If you search wikipedia for "Denise Dombroski" it will redirect you to the Sam Ryan page.
https://en.wikipedia.org/w/index.php?title=Denise_Dombroski&redirect=no
And you can see the redirection. Google Denise Marie Dombroski or Denise Marie Herbst. It's not rocket science.
I'm not sure what the big deal is; is being married to a height challenged cover band vocalist so terrible that it needs to be hidden? He's not some drugged out rocker, and he's really good. Maybe when the kids were younger and she was a bit more famous; but now she's not such a big celebrity that it should make much of a difference. Im sure when she goes to Meat Farms in Smithtown people know who she is.