Critic's Review
PF Chang's is one of those places that people love to hate. Authenticity snobs will poo-poo this place; here in Fort Lauderdale where good Chinese restaurants are few and far between, it's hard for me to get too worked up about the authenticity issue.
One thing you'll notice about this place is that there aren't any asian people working or eating here (except for 1 girl who was in with her Sugardaddy). From an aesthetic standpoint, the place has a few issues. The bar is just off the door and the hostess station is in the middle of the room, so on the near side of the bar you might as well be in the mall. The lighting is too dim; I couldn't read the menu without using my phone as a light. They have 2 smallish TVs at the bar that are set back and difficult to see with much detail. They also make a lot of frozen drinks and the blenders are constantly whirring away. While it's not uncomfortable at the bar; it's not very comfortable.
I've eaten here a few times before and it's always pretty good; their signature Mongolian Beef is good; but they don't have it on the lunch menu. I wanted to try their happy hour, which is every day between 3pm and 6pm. They serve lunch until 4pm, so if you get there after 3 you can enjoy happy hour at lunch which can be a pretty good deal. Dining ala carte off the menu is pretty expensive; the portions aren't huge and the prices are pretty high.
For happy hour they have $3 to $6 beers and drinks, and Pabst Blue Ribbons for $2 (we have the complete menu here). I ordered up a PBR, 2 BBQ Korean beef tacos and Shanghai Street Dumplings. They give you 3 kinds of dipping sauces; a sweet soy sauce, a chili sauce and hot chinese mustard. Mixing these in different proportions you can come up with something to your taste.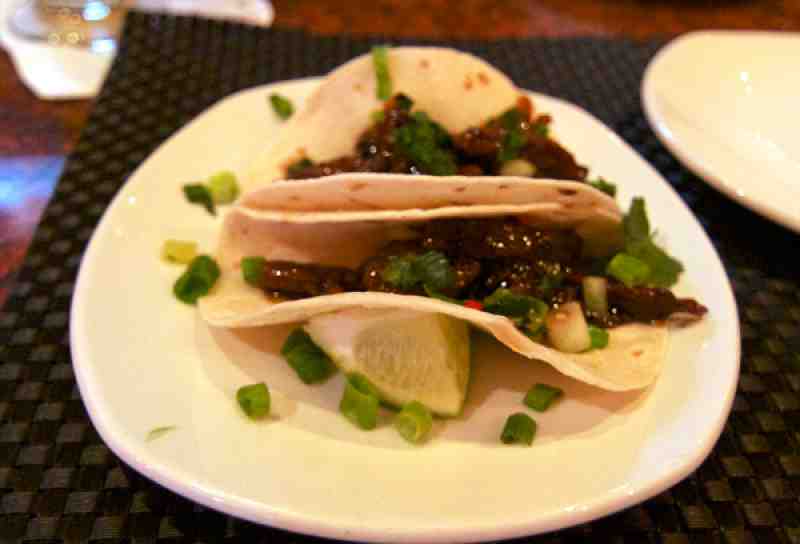 The tacos were nothing like the bulgogi beef I was hoping for; there was a thick, sweet sauce on the meat and not much evidence that the beef was marinated in anything authentic. The taco shells were typical of anything you could buy in a store anywhere.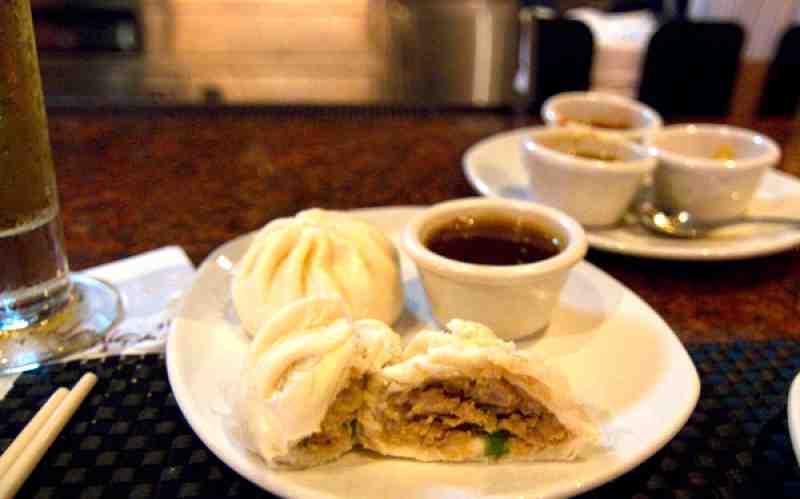 The dumplings were awful, lacking any sort of flavor at all. They were balls of mush; I'm sure if they served this on a street in Shanghai they would be thrown back at the server in disgust. Considering that I can get 6 decent dumplings at any chinese takeout place for $6.95, paying $4.75 for these is really no bargain at all.
My conclusion is that PF Chang's happy hour is no big deal if you're eating; the miniature portions for a lower price don't really amount to any sort of a bargain. The drinks are cheap, particularly if you like PBR. With Pei Wei opening in a few weeks, I'll prefer to eat there than at this place. I can get a lunch portion of Mongolian Beef at Pei Wei.