Critic's Review
This is one of the nicest cheesecake factories you'll ever go to. Its all marble and granite and usually packed, at least in-season. The large portions and friendly atmosphere make it a favorite with tourists. The crowds flow outside; luckily you'll be waiting right on Las Olas so there's lots of people watching available.
They've recently installed an awning (12/2012), so you can now eat outside when it's drizzling without getting too wet.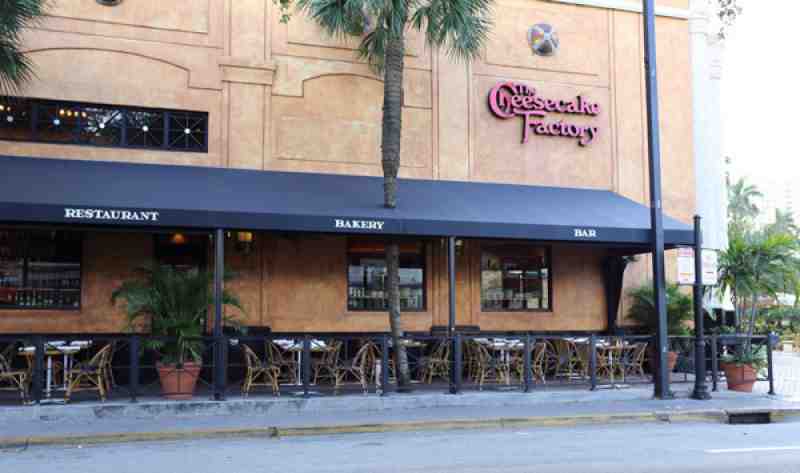 Cheesecake Factory Awning
The have a small bar up front, a large dining room and two outdoor areas; one set of tables along the boulevard, and another outdoor patio dining area a bit recessed from the street and close to the river.
Their menu is massive and they seem to add items every month; there are really too many choices; and then each choice has more choices. I wanted to check out their brunch as both Yolo and Big City have been pushing their brunches, and I hadn't been to a Cheesecake Factory brunch in many, many moons.
Brunch is served from 10am-2pm; I got in about 1:55 and there was no problem. They're a little bit flexible with the time, but once they put away the egg poachers and hollandaise sauce that's the end. I'd decided on the crab hash before I left the condo.
The prices here are about the same as BC and Yolo, but you get twice as much food. I got a basket of "house" bread and some coffee, which came in the dreaded clear glass cup. I'm not sure why, but coffee always looks weaker when it comes in clear glass. Marissa behind the bar is the epitome of competence; she deftly handled the bar and service bar and had complete knowledge of the massive menu. Aside from a faux pas where she offered ketchup for my eggs AFTER learning I was from NY, she was flawless.
Cheesecake is very busy on Sunday so I wouldn't say that my order came out quickly; it took a while but not too long. They give you a lot of food here.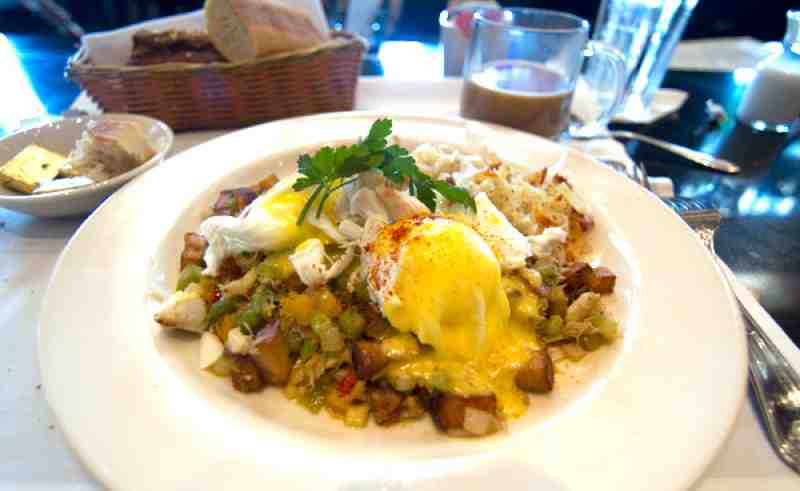 Cheesecake Factory Crab Hash
The crab hash is a good portion and you can get hash browns or tomato slices with it; I'm on my cheat day so to hell with tomatoes. I didn't realize how much it was until I was about 2/3rds done and I was getting full. I'd had a couple of pieces of bread, so the sum total of everything was a lot of food. The crab hash was pretty good; nothing to drool over but satisfying. The poached eggs were overcooked; the yolks were completely cooked and the hollandaise wasn't very good either; in fact I hardly noticed it was there. Not very lemony; just a benign yellow sauce. I'm glad I didn't go for the straight Eggs Benedict. This is a place to go for a lot of food; not good execution.
Another brunch didn't do so well, you can read about it here. It's a clear illustration of how your experience can be very different depending on what you order and how good your server is.
Photo Gallery