Critic's Review
The first time I went to Skyline Chili I was hoping to get some chili for lunch; I ordered a coney with chili and a small container of chili. I didn't know what Skyline was all about; In those days I didn't research the place before I went. It's all part of the learning process. The coney was pretty good, but I was mad about the chili. The chili here is liquid; it's a spaghetti sauce really, and it's not suitable for eating on its own. I killed them pretty good, probably unfairly, but now before you order they ask if you've ever had it before. I'm guessing that I'm not the first one to be surprised.
The place itself is more like a schoolroom than a restaurant, with small colorful tables and low stools at a low counter. jump-->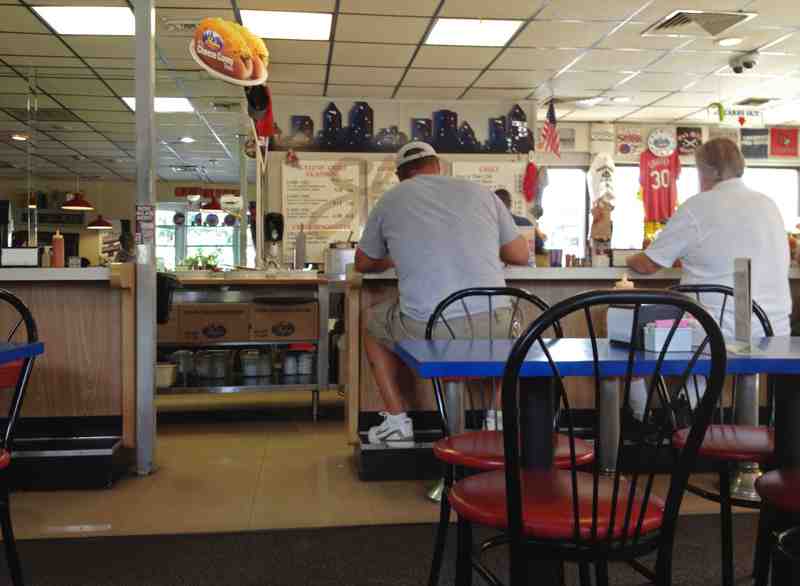 Skyline Chili Fort Lauderdale Inside
A little background, Skyline is a Cincinnati thing, so the decorations in the place are Cincinnati Reds oriented. Most of the people who come in here seem to know what they want; they asked if I needed a menu. I know I was ordering a 3 way, but I wanted to check out the prices and other offerings. They have greek salads, but pretty much everyone was having some variation of the 3 way, which is spaghetti, the chili-slop and cheese. I was going to have a small, but apparently they call that the "kids" portion. So I got a medium. The good news is that it's all pre-prepared, so it comes out instantaneously.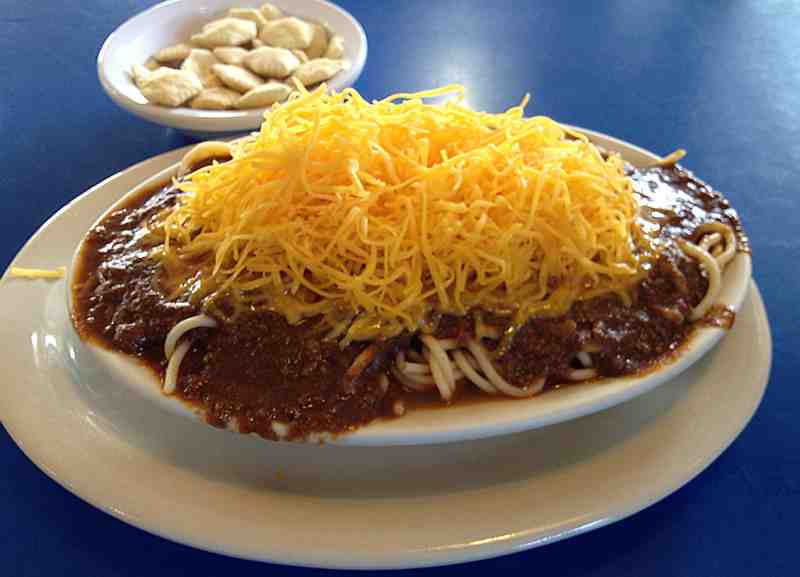 Skyline Chili 3-way
The main ingredient in the "chili" is beef, but its cooked to a consistency of..., well you know. It has a hint of cinnamon, and it really doesn't taste anything like the kind of chili that most people are used to. To be fair, it's not terrible. But it's hard to eat it without wondering why you're eating it. It's like you can feel the fat being stored as you take each fork full.
The Cincinnati gang swears by this stuff, but it's not for me. Some other tidbits; they don't have an indoors bathroom, you get a key and go outside like in a gas station. And they now take VISA/MC; it used to be cash only. A "small" 3-way is $5.19 and a medium is $6.49. It's not expensive, but it's not as cheap as it used to be either.
Photo Gallery