Critic's Review
Open since 1937, this classic Fort Lauderdale restaurant is open 24 hours and is fundamentally a diner. They have a huge menu with just about everything you can think of, plus some you probably wouldn't think of. They have a Philly Cheesesteak omelet (shaved steak, onions and choice of cheese), a crab omelet and of course a make your own. You can get chicken salad on rye toast, as well as a club with bacon or as a sub. You can even get a snapper. They say that breakfast is served 24 hours, unless you're there at 3PM. They close the kitchen to clean it a couple times per day, so if you get there during those times you can't get any hot food at all. Prices are reasonable, but they don't take VISA or MC.
The last time I came here I ended up leaving. I sat outside and nobody came out. I went in and told them I was outside, and still nobody came. So I left; out $1.50 for parking. I said I'd never return, but that was 2 years ago.
This experience started out similarly; Most of the outside tables don't have setups, but the tables that had them were wet or dirty, so I sat at a table that was clean. After I didn't see a server for a few minutes, I figured I'd go inside and get a menu so I could look at it while I waited for her. Except they wouldn't give me one; "She'll bring it to you". "But I've been waiting a while already". No matter. So I waited a while longer.
Down at this end of Las Olas, there's a lot more traffic, and the view isn't quite as nice as it is further West. There's also a lot of foot traffic. I'm not sure where everyone is going, as there isn't much going on west of here.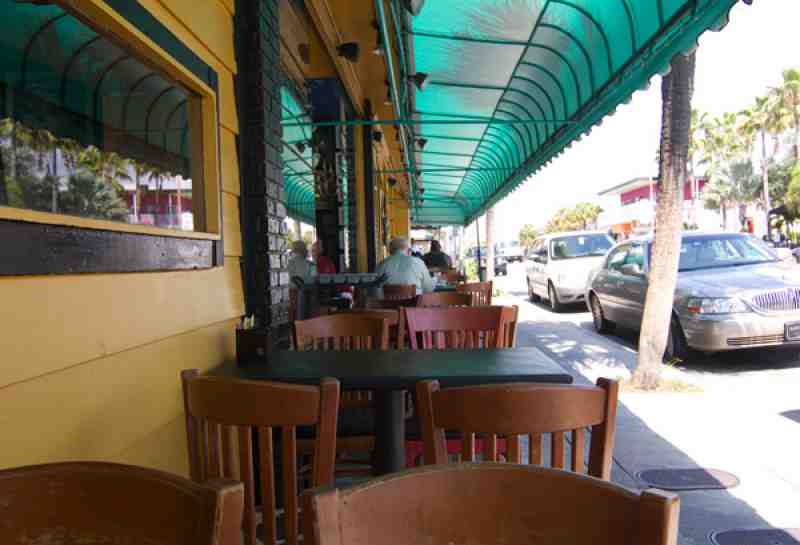 I see a server working the other table occupied at the time, and she looks my way. "I'll get you a menu". Gee thanks. I ordered a coffee, and waited a while longer. She comes out with a cup filled to the brim, which she spilled on the table. The tables here are upholstered with a vinyl substance. She made no effort to wipe it up. Then she asked if I wanted milk or sugar. She came back with the creamers, a napkin and silverware, and she strategically dropped the napkins onto where the coffee has spilled. Of course now the bottom napkin was useless. "Sugar too" I offered. She shuffled a setup over from another table. I ordered my usual, not wanting to be too adventurous. 2 over easy, sausage, rye toast and home fries.
The coffee is weak and pretty dineresque. Music here is 50s,60s, 70s, mixing in Dionne Warwick with the Chiffons, the Beatles and The Crystals. The eggs come out about 10 minutes later.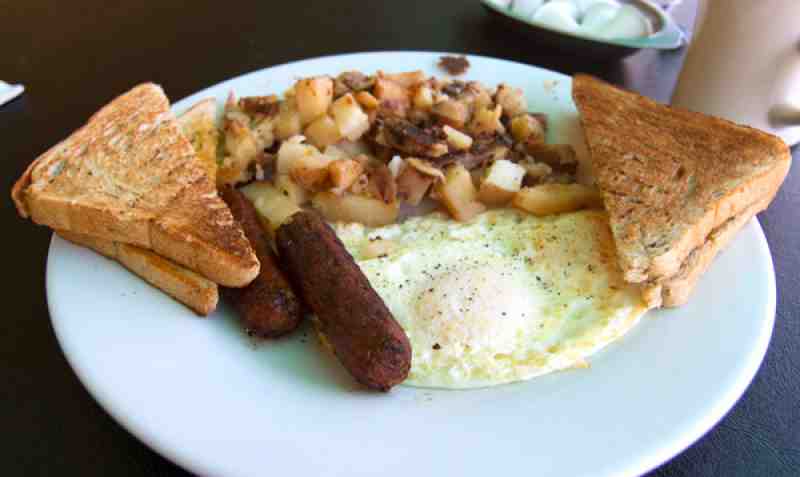 They certainly don't cheat you portion-wise. The sausages would have been the good kind, if they hadn't been on the grill since Friday. I mean at some point you throw them out. The potatoes were just unseasoned grilled potatoes with no onions; they required heavy salt and pepper. The toast and eggs were just right.
Service outside is just a disaster. She disappeared for long periods; I had about 1/3 of a cup of coffee left when she asked if I needed more; "yes please, thanks". Ok, so she goes inside and I figure she's getting a pot, but it was another 3 visits outside and 10 minutes before she came back with the coffee; well after I'd emptied my cup.
Also, the little things are not a concern to them here. I purposely put empty creamers and sugar papers in the corner of the table so the server can scoop them up (as a good server will). But it just stays on the table until you leave.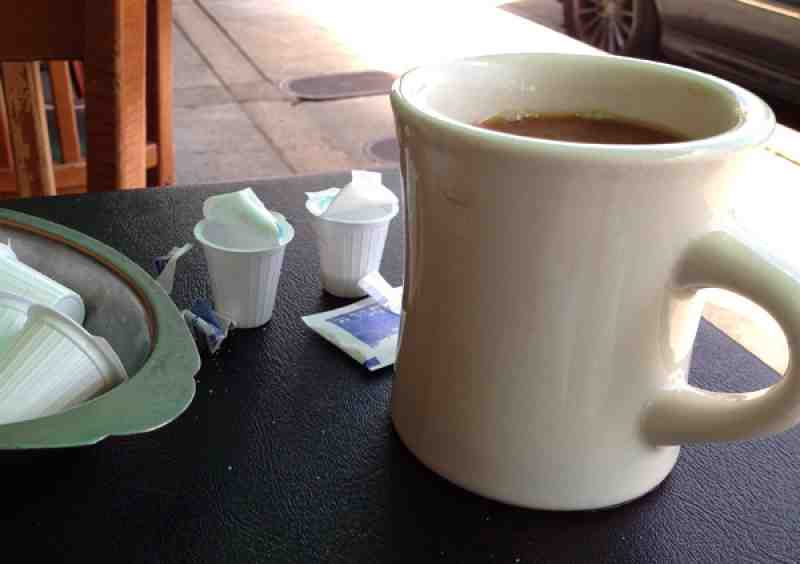 The fun continued as you pay inside, and the woman who wouldn't give me a menu pressed me as to how much tip I was going to leave. I didn't want to leave much; I'd rather just leave $1 on the table when I get bad service.
A little bit of old Florida, still stuck in the days when customers were considered to be pariahs. I see no reason to come here again.
Photo Gallery