Critic's Review
You wouldn't think that a place named LuLu's Bait Shack would have very good food, and in this case you'd be right. I'd given LuLu's a pretty biting review back in 2009, and since the owners are opening the Royal Pig Pub today downtown, I figured it was time for a re-review. I thought that maybe I just caught them on a bad day; I'd ordered the Cajun sampler and it was so bad that I suggested that Bait would be a welcome substitute. Today I'd try something else.
Even though Lulu's is a pretty big place, there's no hostess. At least there wasn't one today. I wanted a table with an ocean view, but the only one available was next to a woman who was changing her baby, so I passed on that. I grabbed a big picnic bench in the stage area, making sure I had some TVs in view so I could watch the olympics. The problem was that none of the 5 sets within view had the olympics on; they were all on either ESPN or the NFL network; management here has no idea what's going on in the world.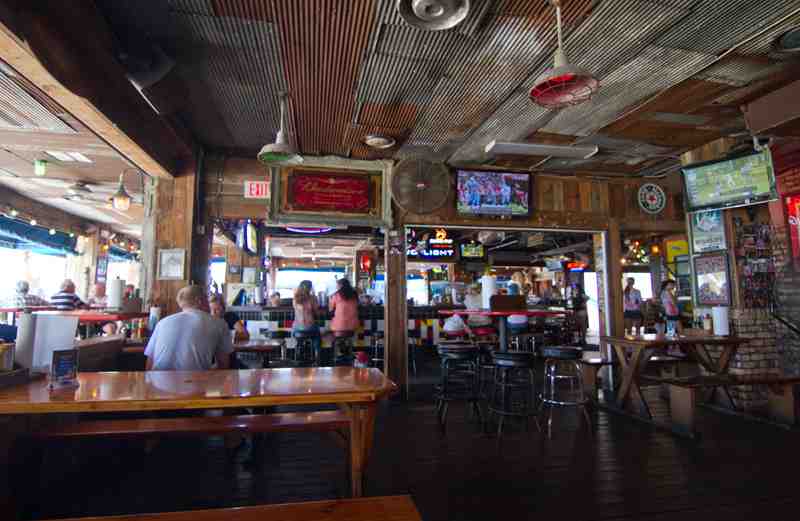 Lulu's Bait Shack Interior
The servers here wear short shorts and some sort of tattered red white and blue tie die shirt; it's not very flattering. My server dropped off a menu and asked if I wanted something to drink, and I ordered an iced tea. She didn't fill me in that there was a summer menu or any specials; I didn't know about them until I overheard another server at a nearby table. I always get the bad one. When she brought the tea out, I was surprised at the size of the cup. A place that's known for it's fishbowl drinks for some reason serves sodas and iced tea in 12oz cups. I'd asked for extra lemon.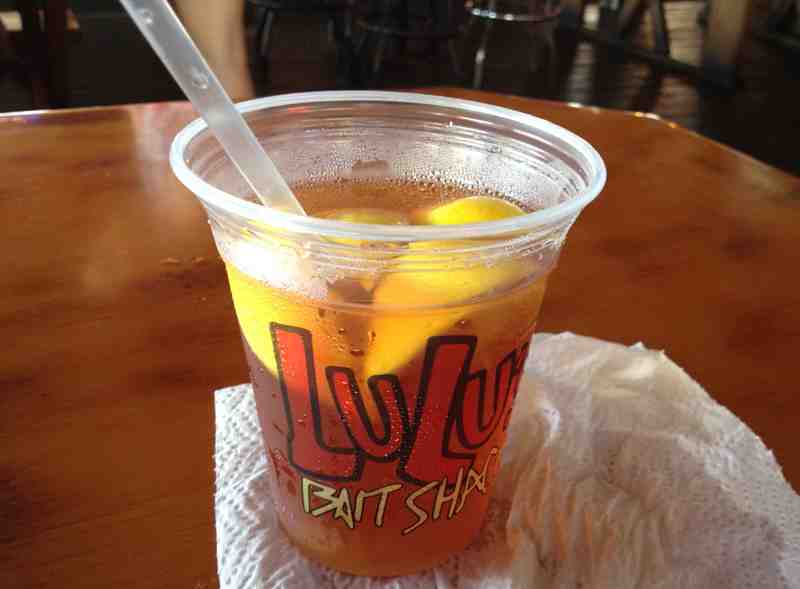 Lulu's Bait Shack Iced Tea
I knew that I wanted to try the blackened cajun chicken wings, so I ordered those. She asked if I wanted anything else, and I asked her to order the wings and I'd see what else I wanted to get since I knew the wings would take a while. The problem with LuLu's is that everything comes with fries, so I couldn't really find much that I was going to be able to eat with the wings. So I decided to get the Shrimp Gumbo. Of course my server never came back to get the rest of my order; the next time I saw her was when she brought out the wings. As she tried to flee, I barked out the order for the gumbo.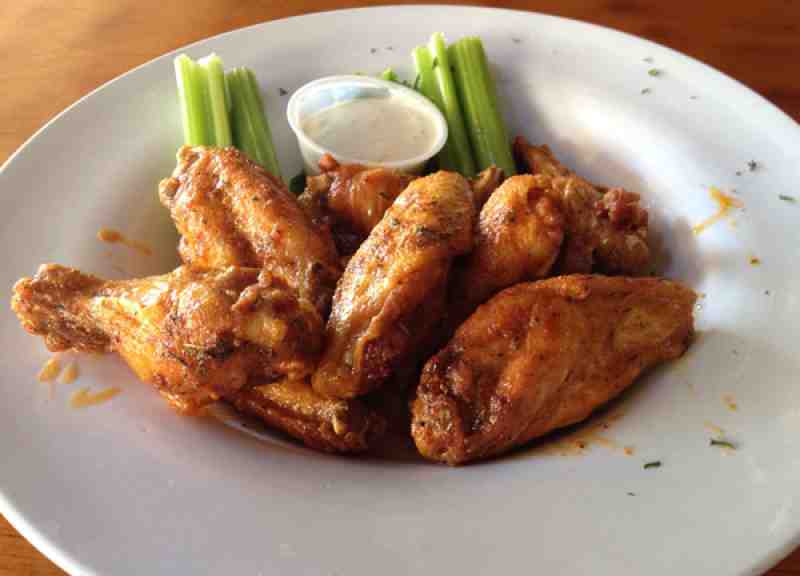 Lulu's Bait Shack "Cajun" Wings
Now these didn't really look blackened to me. I tried a wing. It's supposed to come with a chipotle ranch, but this was blue cheese. The wings tasted like plain fried wings. I could see a little cajun seasoning in the bowl; apparently these are just fried wings sprinkled with seasoning and they call them blackened. Of course we know that blackened cooking involves seasoning the food and then cooking it in high heat until the spices are blackened. These wings weren't blackened. They were ok wings, but it really wasn't enough blue cheese for the big wings. The gumbo came out when I was about half done with the wings.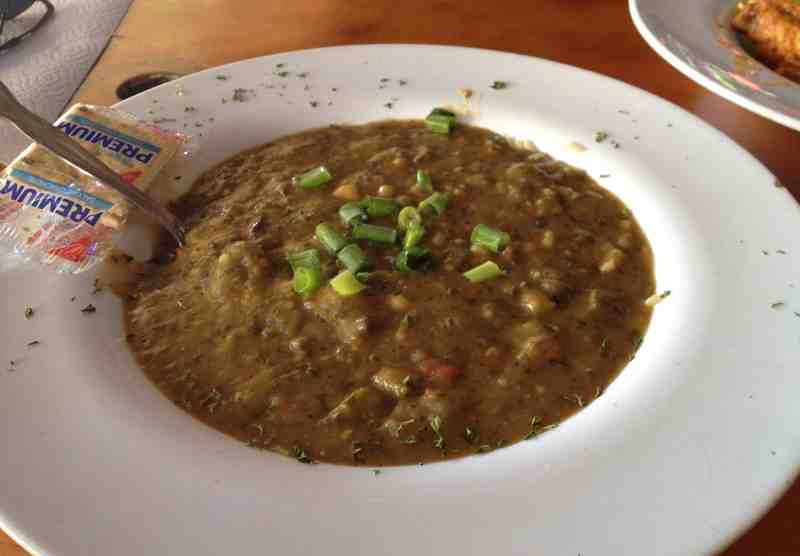 Lulu's Bait Shack Shrimp Gumbo
It looked pretty goopy and in fact it was. This was the same slop I remembered from the sampler. Everything in here was so overcooked that it seemed like it might have been cooking since my last visit. Slightly spicy with a few miniature shrimp; the gumbo was pretty nasty stuff.
By now my iced tea had been empty for awhile; no refill was ever offered. The wings were also served with no plate for the bones; and there's no wet naps at LuLu's. Usually when a server comes over to ask if you want the check and they see an empty iced tea, they either offer more or run to get it, knowing that it will cost them in tippage if they don't. But no concern from this server. She also didn't ask why I only had a few spoonfuls of the soup. A real server would ask if there was something wrong with it., or if I wanted to take it home.
As if it wasn't bad enough, shortly after taking the picture a group of 4 houligan's sat at the next table and started smoking; they don't have ashtrays on the table but apparently they'll bring you one.
I like the owners of this place, but I can't recommend dining here. The experience is sub-par from start to finish.
For drinking by the beach, and for listening to live music on weekends, Lulu's is just fine.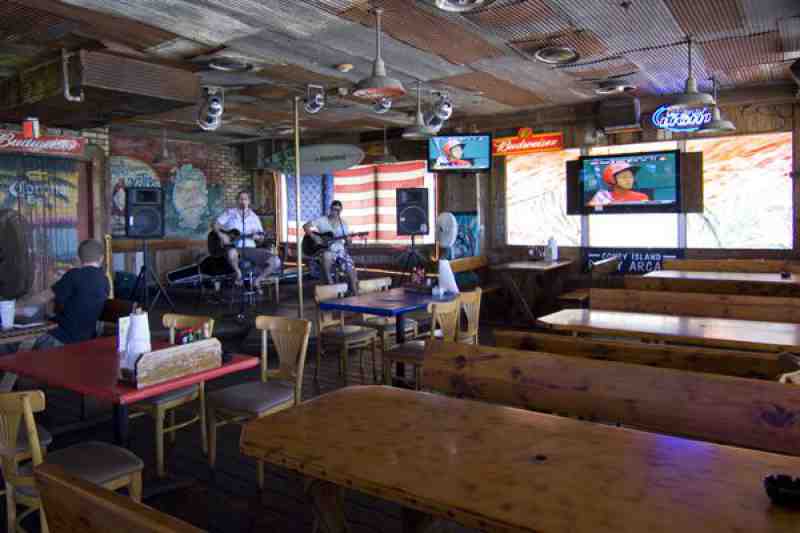 Lulu's Bait Shack Live Music
Just stay away from the "Cajun" food.