Critic's Review
Since the review, the new owners have raised prices quite substantially. Most dishes are up $1-$2, but some are up as much as $5.
Review
Frankie & Johnny's re-opened recently under new ownership, and my initial impression was that it's going to be a change for the better, at least in terms of atmosphere. I can't tell the real story of the previous place, because I don't want to end up sleeping with the fishes. But let's just say that sometimes the old Frankie and Johnny's could be a little bit uncomfortable. There would be a bunch of guys in the corner watching the horse races; like a place out of Goodfella's. But now it seems like more of a regular Italian restaurant, with some changes for the positive and the negative as well.
Physically, the place is the same. The smallish interior is dominated by a bar, with just a 5 tables inside. The room is still decorated with caricatures, and the tables still have the jump-->signature white tablecloths.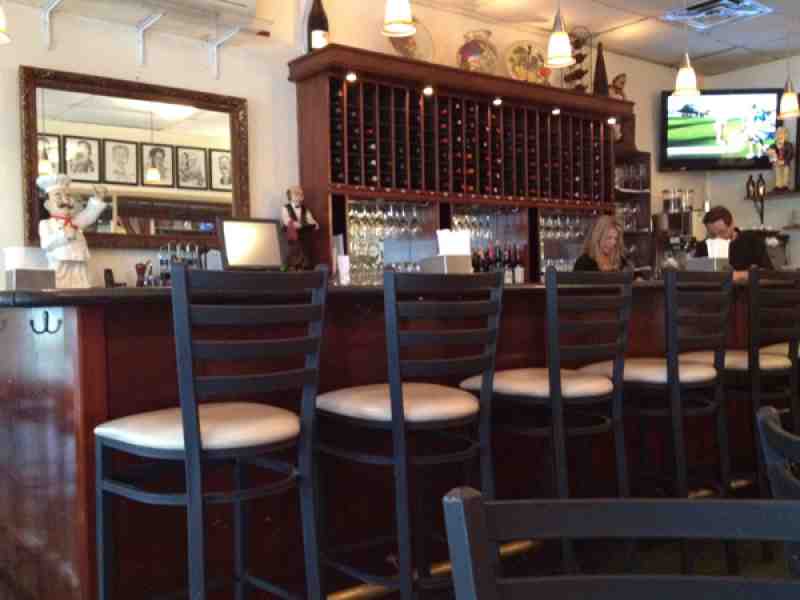 Frankie and Johnny's Bar
They used to have babyback ribs with vinegar peppers here, but they took them off the menu a while ago. What was unexpected is that they've also taken the short ribs and salad and the Rice Balls off of the menu; I had planned on ordering the short ribs. I didn't want a big bowl of pasta, and I usually don't do the $13 meatballs thing; no matter how good they might be. I usually get the eggplant, which is excellent, so I went with that. What was different this time is that I tried to do a different sub; I asked my server "Can I get the eggplant parm sandwich with a little pasta instead of the bread?". "Sure, what kind of pasta do you want?". Linguine. Ok, that was easy. Then he came back and asked if I wanted the potatoes that come with the sandwich. "No, the pasta will be enough". "Do you want it on the side or do you want the eggplant over it?", "All in the same dish is fine". This is exactly what was said, for future reference.
You get bread here, but instead of an olive oil dip, I got butter this time.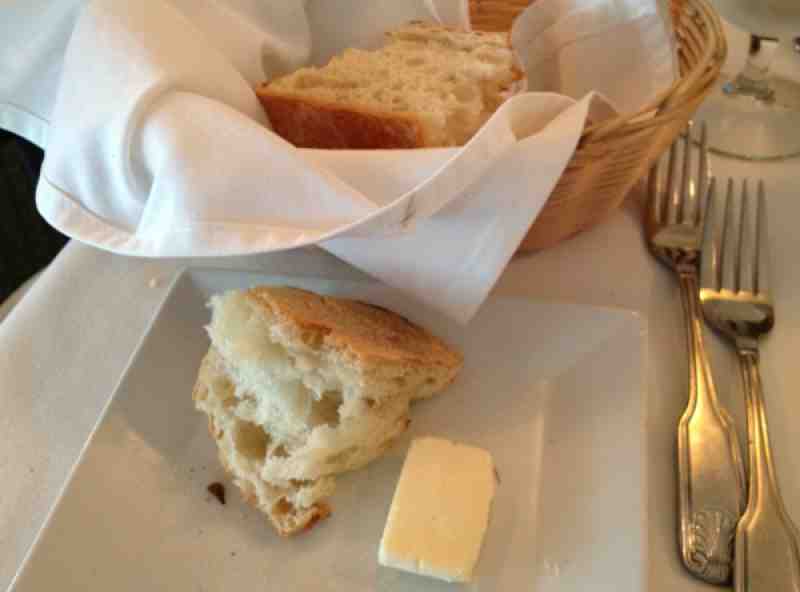 Frankie and Johnny's Bread
It didn't quite hit me until after I started writing this up, but I prefer the dip.
It's very quiet; there's no music playing, just the voices of people at other tables. When the eggplant came out I knew that I'd be having eggplant for dinner one night this weekend.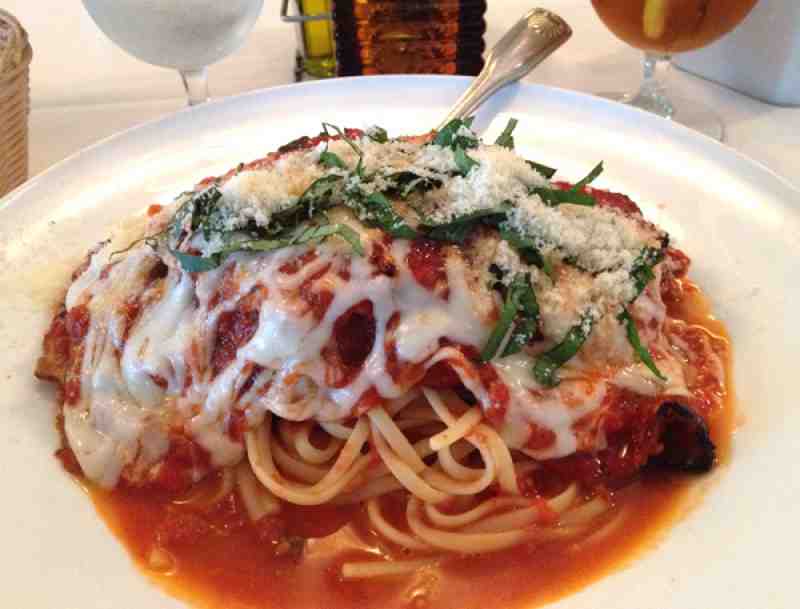 Frankie and Johnnie's Eggplant Parmesan
Holy moses. That's a lot of food for $9, I thought. I was expecting a small portion of linguine, but this was a massive portion. The eggplant is fantastic here, it's sliced very thin and layered.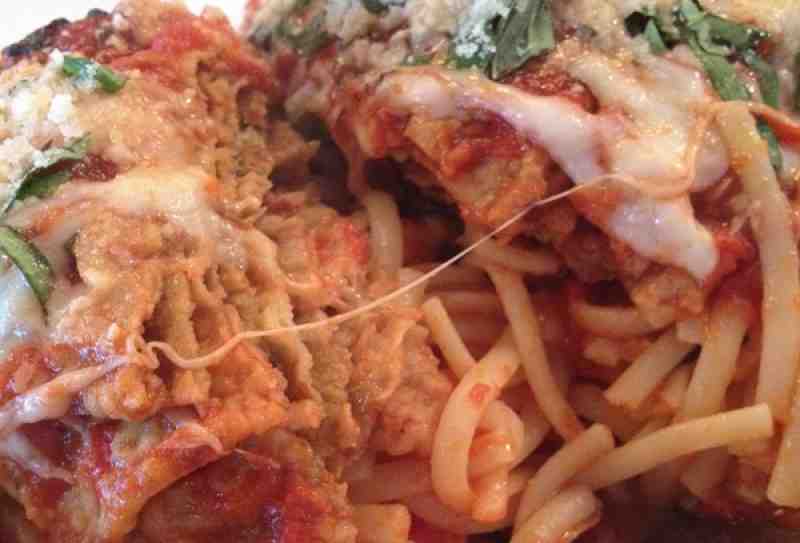 Frankie and Johnnie's Eggplant Parmesan Closeup
The sauce is ok, a little thin, and the pasta was slightly overcooked, but overall the dish is a lot better than you get just about anywhere else.
I ate half of it, and even with that knew that I was going to have to calorie compensate at dinner. I asked my server to box up the rest and for the check.
I looked at the check quickly, and noticed that it was over $20. How could that be? I looked more closely; they'd charged me $8 for the pasta. Well that explained why they gave me so much of it, but it was wholly unexpected. I mentioned to the server that I just wanted a little pasta instead of the bread.
He took my card and went in the back; when he returned he told me that they took off the pasta, but that pasta costs extra for future reference. What irked me was that he was the one that made the mistake in communicating what I asked for; I clearly asked if I could get pasta instead of the bread, and I also didn't take the potatoes. A side of pasta in exchange for potatoes and a big roll seems like a fair trade. Besides, charging $8 for a side of pasta with a $9 lunch item is just plain stupid.
There are some changes at Frankie and Johnny's. So if you've been here before, be prepared for something slightly different.
Photo Gallery