Critic's Review
Anthony's is one of those places that presents a conundrum to me; it reminds me so much of Long Island that I want to stay away; the whole Gumba attitude; it's like an episode of The Sopranos without the gangsters. At night, this place can be a zoo, and it's one of those places where "friends" get preferential treatment. And there are a lot of friends. So you can see your 20 minute wait stretch to 45, as some VIP gets your table. It's enough so that I'd never plan a weekend dinner here. But at lunch time, its much more tame.
It's dark in here, and at lunch there's more people at the bar than in the dining room. It's that kind of place, where older ladies are gabbing way with a cocktail at 2pm. The booths are all in the bar area, which is even darker. You can guess by the lighting that it's an older crowd; the darker the bar, the older the crowd.
The decor in the main dining room is a big plane; the booths have little rectangular windows like they do on airplanes. The 80s decor seems a bit off compared to the modern restaurants, but there's no indication that they'll be changing anything here anytime soon. The booths are nice and big, and they don't give you a hard time about wanting a booth when the restaurant is empty.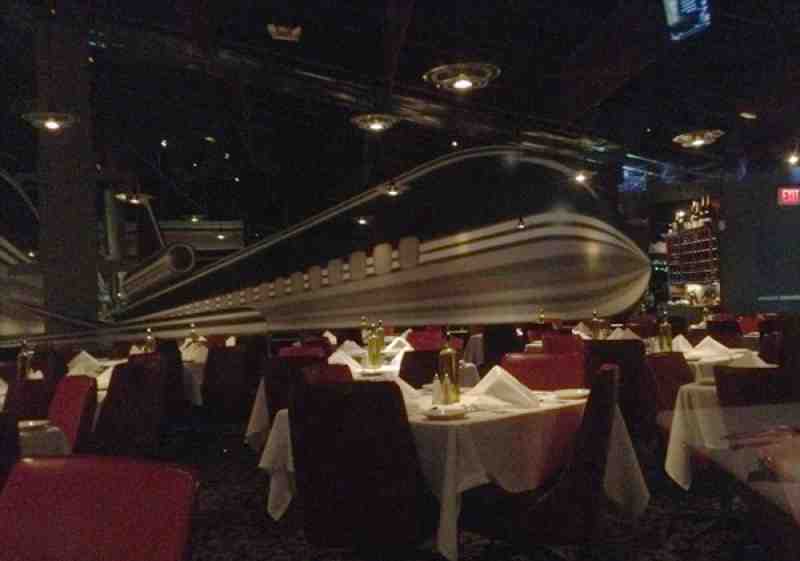 Anthony's Runway 84 Interior
I'm not a huge fan of the decor. Music is oldies but goodies, with Frank Sinatra, Lou Rawls and some obscure Beatles among the recognizable tunes. My server was a real Italian girl; this is a "family" operation all the way. She tried to convince me that the lunch portion was enough food, but I was doing a dinner review, so I went for the Veal Parmesan, priced at $24. Dinner entrees include a salad and mussels marinara.
First came the salad. At a time where you simply don't get a salad with your meal at most places, don't expect a small side salad. This is a big Italian salad.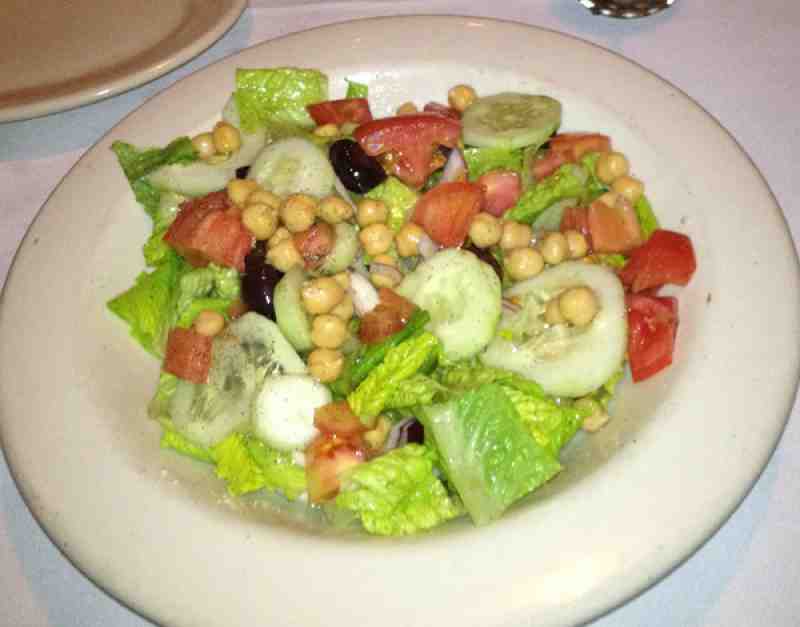 Anthony's Runway 84 Italian Salad
Chick peas, olives, big pieces of celery. Swimming in a red wine vinegar dressing. It's an arrogant salad, but it's big. A couple of minutes later a guy drops off some bread and oil dip.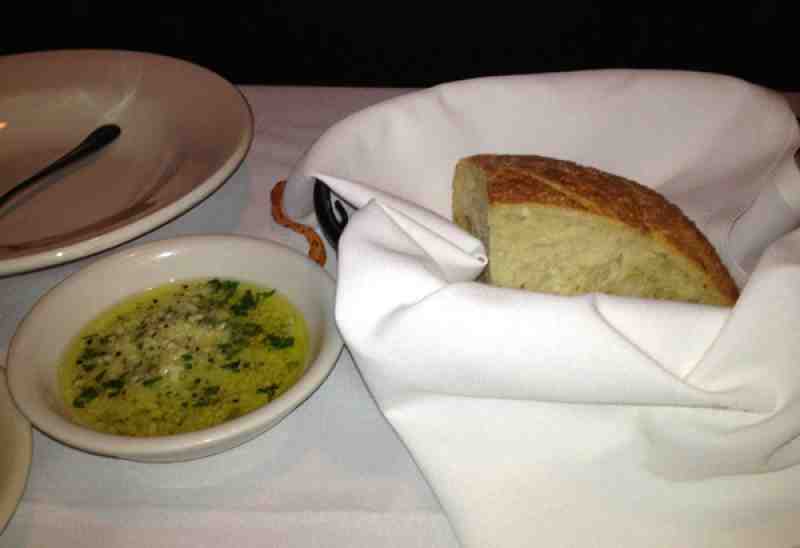 Anthony's Runway 84 Bread
The bread is toasted after its quartered, so it's not as soft as I'd like it. The dip has more cheese than garlic. There's olive oil on the table to make adjustments. A few minutes later, and the mussels come. It's a full-on appetizer portion.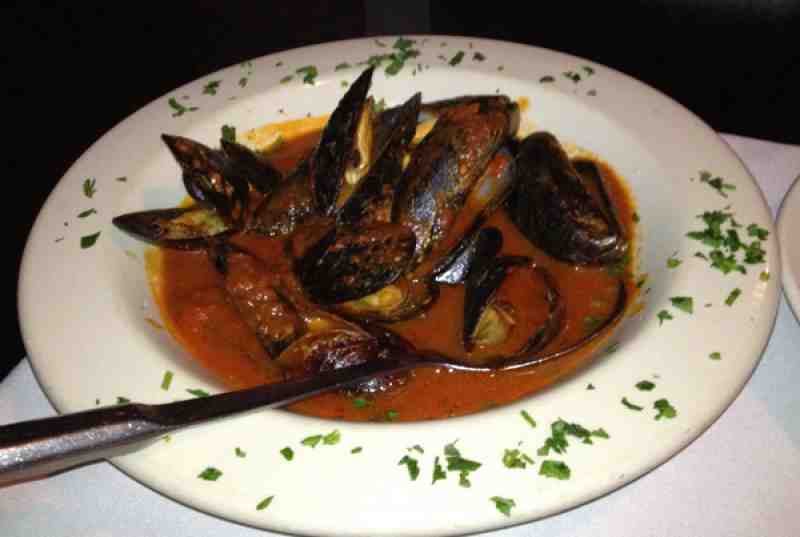 Anthony's Runway 84 Mussels
The mussels are fine; not as garlicky as I like, but properly cooked. They look like more than they are, but with the bread and the oil dip and the big salad, there are a lot of flavors going on. I stopped halfway through the salad; I still had the entree coming out. A big plate of veal parm.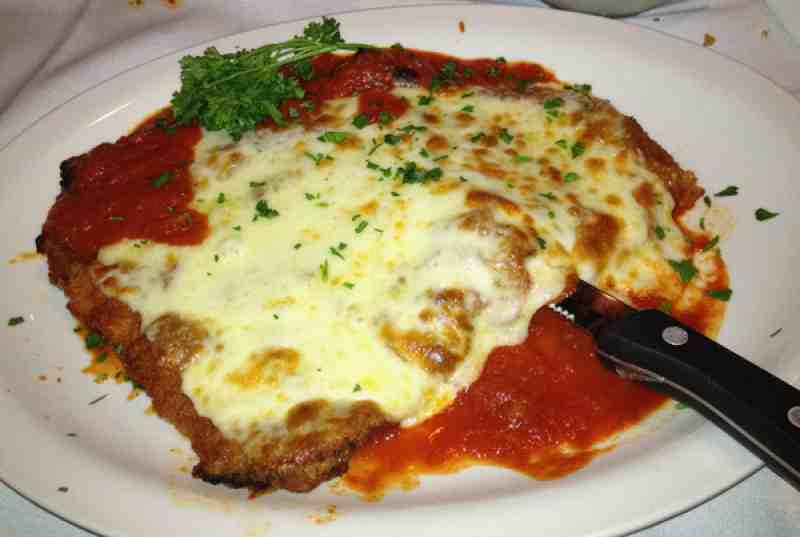 Anthony's Runway 84 Veal Parmesan
My server had asked if I wanted linguine or rigatoni when I ordered, but that turned out to be for the lunch. The lunch portion, which is half the size, comes with pasta instead of the salad and mussels. I think it's probably worthwhile either way; the dinner portion is enough for 2 people with normal appetites. The veal is a heavily breaded cutlet; it's good, but again if you don't love the sauce it won't knock you dead.
The first time I went to Anthony's was right after moving down here from NY, and I didn't like it at all. Anthony's isn't like Little Italy or Locanda Verde, where you take a bite of your pasta and you can't believe how good it is. Anthony isn't big on garlic; this isn't Goodfella's stuff. But my palate has softened since then; this isn't New York City and it's not fair to compare Fort Lauderdale restaurants to NY. If you're visiting from NY you may not think this is special. But it's decent Italian grub, and it's a lot of food for $24. You'd pay like $60 at Martorano's for this and it wouldn't be much better.
On Thursdays, they do their Meatballs and Martini's, which is basically a happy hour with $6 martinis starting at 5:30. They periodically bring out meatballs butler style.