Critic's Review
Big City Tavern is one of those places that could be such a great place but falls short. It's frustrating, because the problems are easily fixable; but instead of changing the things that need adjustment, they just spent a boatload of money on a makeover; leaving largely the same restaurant with new decor.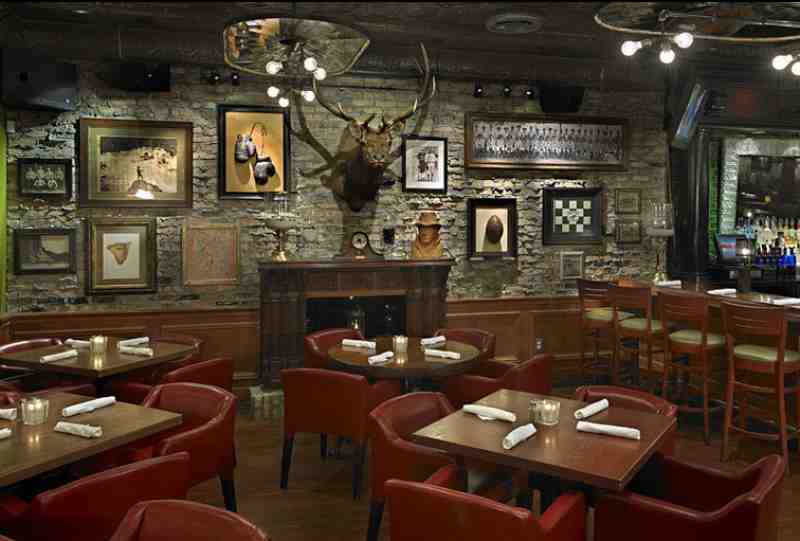 Big City Tavern
The new decor is odd but nice; I liked the lighting better before; it's a bit too dark now. Big City has the best bar on the street; a long bar that's partially separate from the restaurant; but there's a flow that works well. Service here will depend on who's working; the days where all of their servers were top notch have passed.
They used to play really good music on their web site before they redesigned it; but for some reason they play club music in the restaurant. Music helps to define the crowd; so the crowd here isn't too sophisticated. I'm usually seated next to tourists from the nearby Riverside Hotel, or some in-the-biz people who know the bartenders. Different nights have different crowd; On weekend the place turns into a disco after 11pm; they turn up the music and the place fills up with servers and busboys from nearby restaurants that are closing. So plan on getting out before 11.
While their web site just says that they sell "delicious food at reasonable prices", I have trouble getting my arms around the idea that a $13 hamburger is "reasonable". The truth is that the prices here are as high as any restaurant in Fort Lauderdale with a few exceptions; and the dishes are hit or miss. The corporate chef is an owner, which always means that expecting much more than mediocrity from the kitchen will ruin the experience for you. Egos will keep them from ever objectively evaluating their menu problems. A good example is their Orecchiette with Sausage and Rabe offering. They say it has tomatoes, mint and its in a "garlic white wine sauce". Anyone who knows anything about Italian food knows how very wrong this is. It's an example of a chef trying to prove they're better than others; and in effect they've created a dish that would simply make any real foodie just shake their head. Too many ingredients is a sure sign of a confused chef.
Big City's lunch menu is purposely too expensive; they don't have any wallet-friendly items (you can't get a plain wedge salad at lunch; you have to pay for it with chicken). Aside from soup or a plain green salad, the minimum lunch item will cost you $13. No appetizers. It's just gouge central. It screams out, "If you're not a businessperson or a tourist, go somewhere else". Lunch is "supposed" to cost less than dinner.
Big City Tavern is typical of what's wrong with Fort Lauderdale restaurants; a while back they let their GM and classically trained chef go and replaced them with inexperienced staffers; the idea that you need a professionally run restaurant or kitchen is just a waste of money in this town. For a period of time, the owners were busy building Rocco's Tacos and they let the chickens run the henhouse; they had wholly incompetent ex-hostesses and servers as "managers" and the place was just a disaster. It was truly spiraling out of control; the owners have since re-engaged and it's not more like a serious restaurant again.>
One thing unique about Big City is the free radishes; I'm always amused by the number of people who don't even know what they are.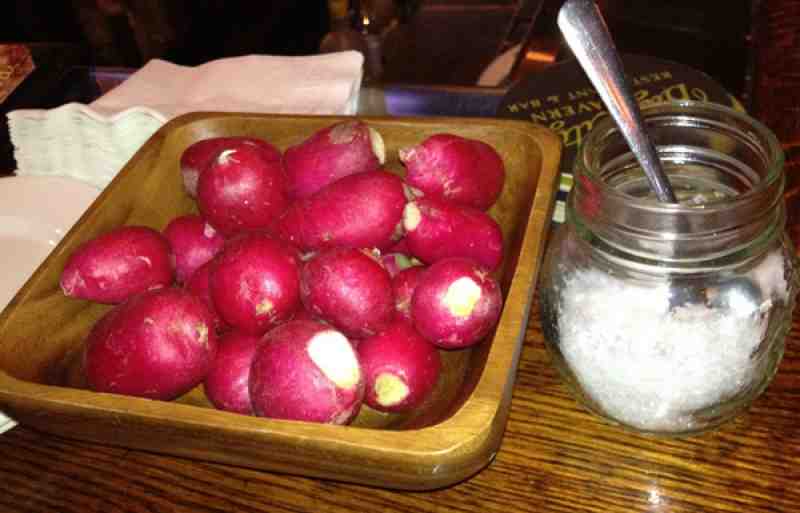 Complementary Radishes at Big City Tavern
Something that long-time residents will notice is that the place has become more and more corporate as time goes on. The owners email addresses used to be on their web site; now there's just a contact box that asks you for a lot of information that you probably don't want to give out. Prices go up 50 cents every few months, and ingredients shrink. I most recently had a wedge salad, "reasonably' priced at $9.50 and described as "Applewood smoked bacon, Red Onion, Vine Ripe Tomatoes and Blue Cheese Dressing...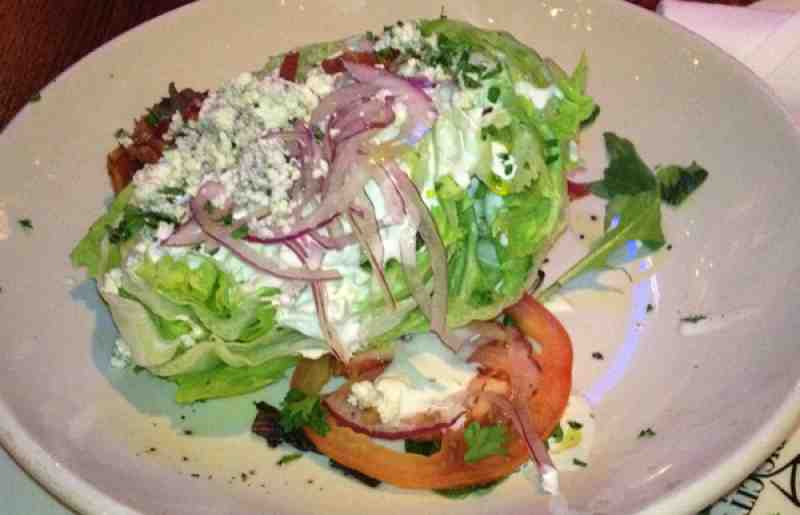 Big City Tavern Wedge Salad
There was a time when this would be drenched in dressing with at least 2 strips of bacon; now I doubt that I got even 1 strip of bacon (there are some crumbles in the upper left). The bartender asked if I needed more dressing without my having to say a word; obviously he knows that they don't give you enough. And the tomatoes weren't that ripe. More nickel and diming on Las Olas. It's one thing to cut ingredients or portions a bit to maintain pricing, but like YOLO, they keep raising prices while diminishing the quality of the food. I guess as long as people keep coming without saying anything, the fleecing will continue.
Big City has long had the worst bread on the street; for some reason the "Italian" bread you got if you asked for bread was just awful. Recently, they've installed their own bakery in the kitchen, and now you'll get some nice "bread of the day" that's a lot better than before. I got a nice rosemary foccacia.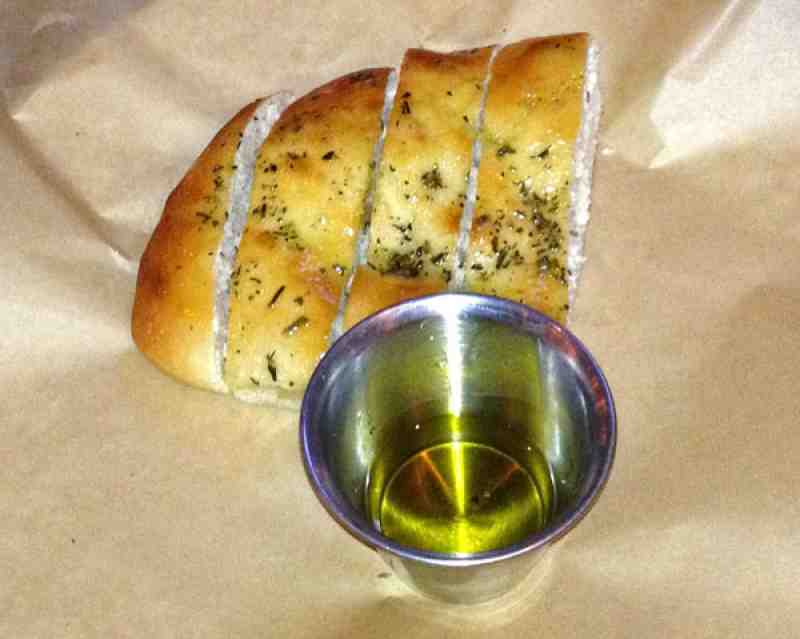 Big City Tavern Bread
Obviously they need to work on their olive oil dip, but the bread was very good.
I used to eat here a lot, and consistency was always an issue. I'd get the salmon and it would be fantastic; and then the next time it would be overdone and simply not the same. Expect some randomness when you come here and you won't be disappointed.
They've recently raised the price of the happy hour menu,but it's still a good deal. Pizzas used to be $6, but at $6.75 to $7.50 they're still the best value on the street at happy hour.
Big City is the kind of place where people who don't usually eat in good restaurants go for a big night out. If you enjoy Cheesecake Factory and Carrabba's, you'll like it here just fine. Just don't expect New York City dining here, despite the name of the restaurant.
Photo Gallery
Best Yelp Filtered Review
What's This
From
: Danny D
I'm amused by people who complain about the food here. This is not a place you go for a great culinary experience. You go here to hang out and have some food.