Critic's Review
China Lui is a small takeout place that looks like its been there forever; It's a dump in the same way that most Chinese takeout places are. They have a couple of fold up plastic tables and kids chairs, although I couldn't imagine eating here.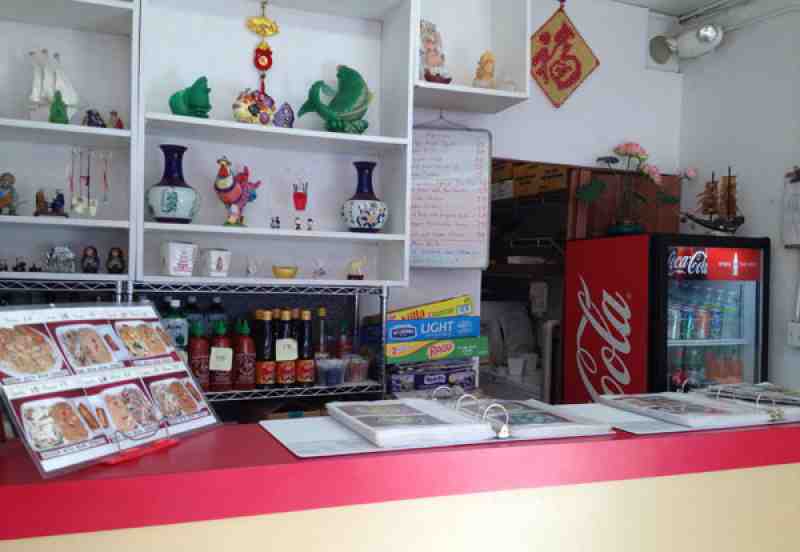 China Lui Interior
The thing to know about this place is that they specialize in Wings and Ribs. I'd had the mandarin wings once before, and they were good and spicy. This time I ordered the BBQ ribs. For about $8 they give you more ribs than you get at a BBQ joint for several dollars more.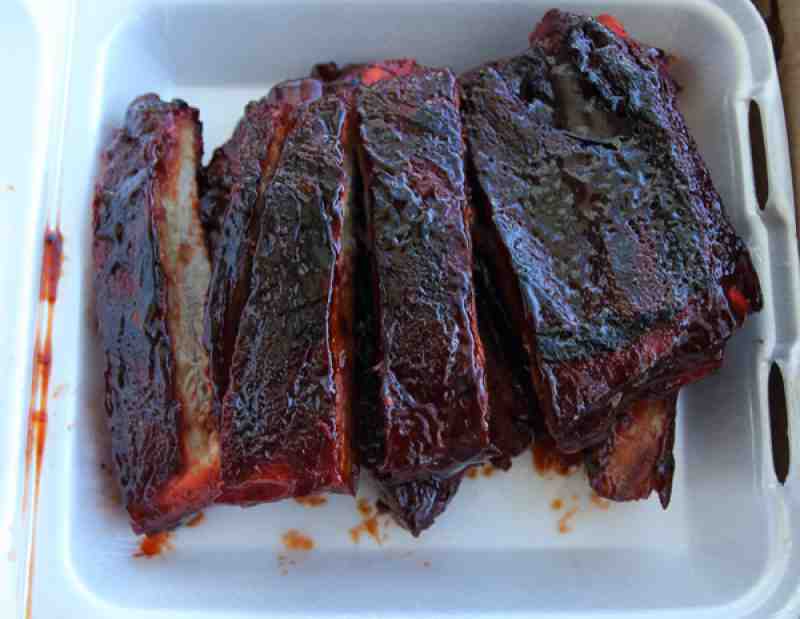 China Lui BBQ Ribs
Look at all of those ribs. Some Chinese places give you 4 or 5 small ribs. They're very messy; unfortunately they were exceedingly dry; so dry that they just tasted like dried up meat. Without fat and some moisture, Ribs just don't have much appeal.
For the main course I ordered Fried Rice and Chicken with Black Bean sauce. They use short grain rice here and there's something unusually home-made about it; unfortunately the pork was also very dry in the same way as the ribs. The rice didn't have that greasy goodness you usually get from right out of a hot wok take out fried rice.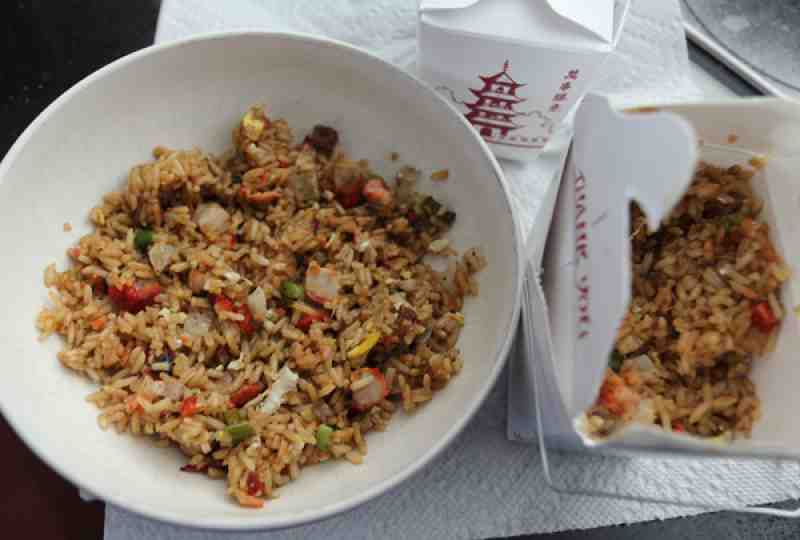 The Chicken with Black bean was unusually soupy; they were way too aggressive with the sauce.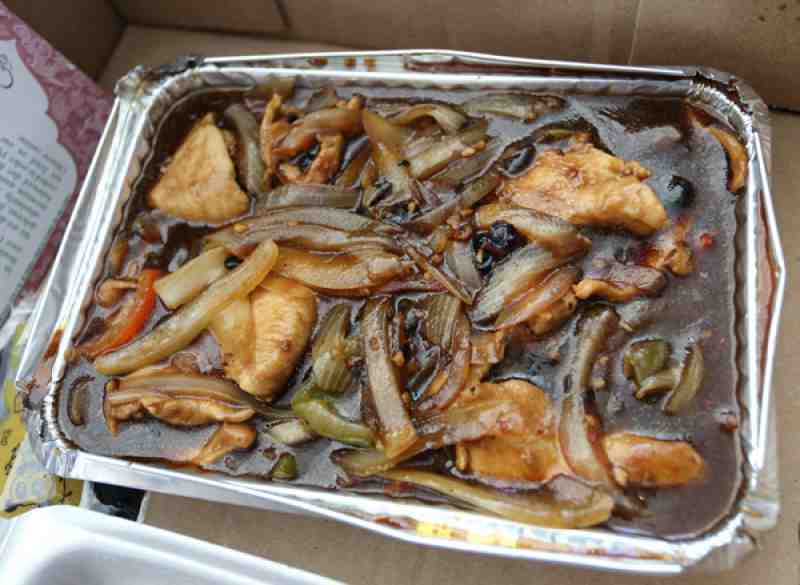 China Lui Chicken w/Black Bean Sauce
Fishing out some stuff, I was pleasantly surprised to see some red pepper buried out of site, so I salvaged a pretty good looking dish.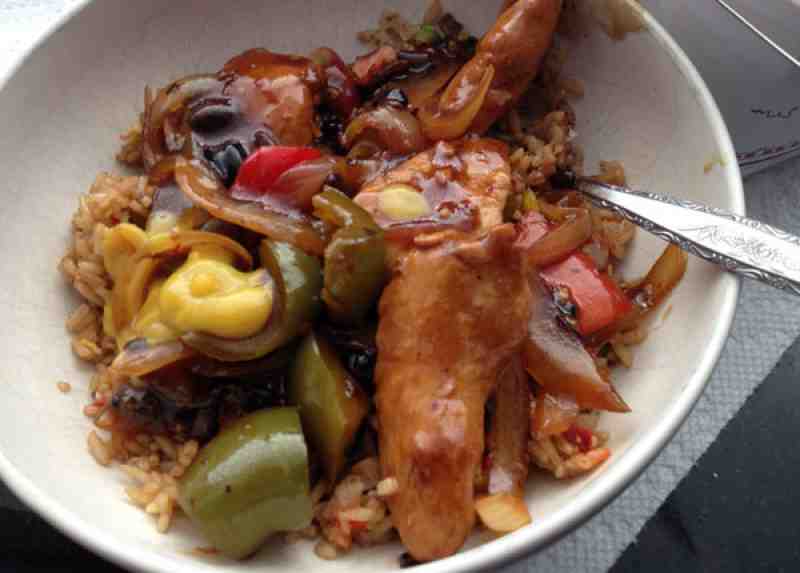 I've had this prepared so many ways I can't remember them all; but the best is when they just coat the chicken with black bean paste and serve it in a more traditional brown sauce. This was too pungent. Not terrible but not close to what I was hoping for.
When I paid, I asked for extra duck and mustard and no soy. I got 2 of each, including soy. All part of the Chinese Take Out experience.
Follow up
I picked up a red pepper and I fixed this up. I refried the rice in my wok with some oil, garlic and onions, and I sauteed some onions and red bell pepper with garlic in oil; and then tossed the drained leftovers with some Kikkoman Black Bean paste. The result was a crazy good dish; the way you'd get it from a really good Chinese take out place in Manhattan.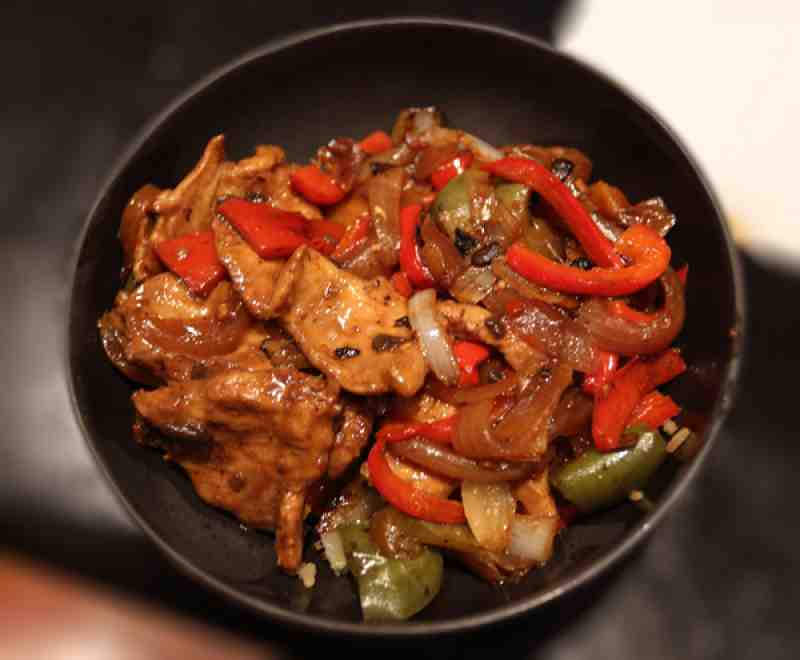 Sometimes you just have to do it yourself.