Critic's Review
When I first moved here from New York, I was happy to find Hong Kong Chinese Food. They claim to be from NY, and I was used to pretty good chinese food. The dumplings here were particularly good, and they used the right ingredients in the dishes. Many chinese places use the cheapest stuff to fill the white box, and that had always ticked me off. I used to eat chinese every two weeks or so, but since I've been doing reviews here I don't get a chance to re-visit places very often. Last time I was here the girl packed the soup on top of the dumplings and the dipping sauce container cracked open, ruining the dumplings. I just felt like some chinese food today, so I gave them a call while I was in the area shopping.
I can't stand the girl who works the front here; she's cold and mechanical on the phone, and she just throws the bag at you and rushes back to her laptop when you pick up. Usually the food is ready when I get there, but today, after 20 minutes, they hadn't even started it. The entire point of calling ahead is so that you don't have to wait.
The place is quite a dump, with boxes stacked in the corner. There are a few tables, but I wouldn't want to eat in here.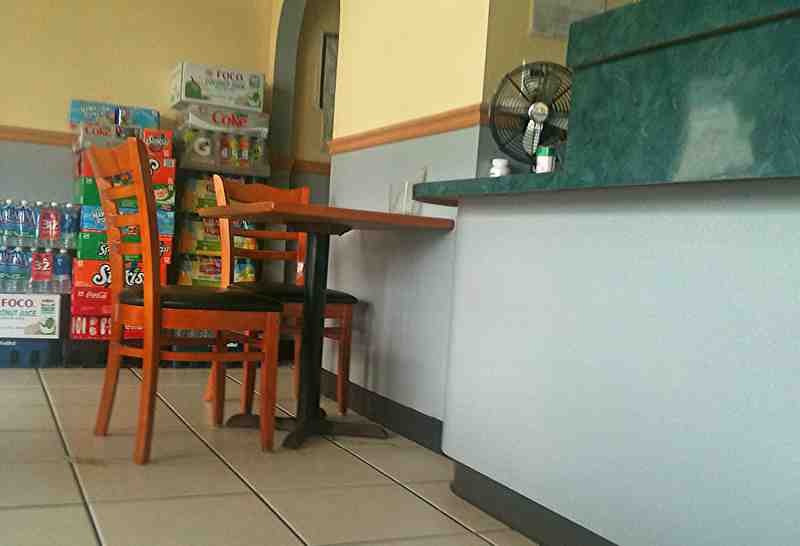 The warmth continued; the girl stapled my bag and threw it at me; scurrying back to her laptop. As the door closes behind me, I hear a yell "Sirrrrr!". I got back in. Not a word is spoken. She just has her hands out. I give her the bag. She rips it open. The cook starts woking something up. I have no idea what's going on. I assume that they forgot to make me something. She staples the bag and hands it to me without a word. Hopefully I have everything now.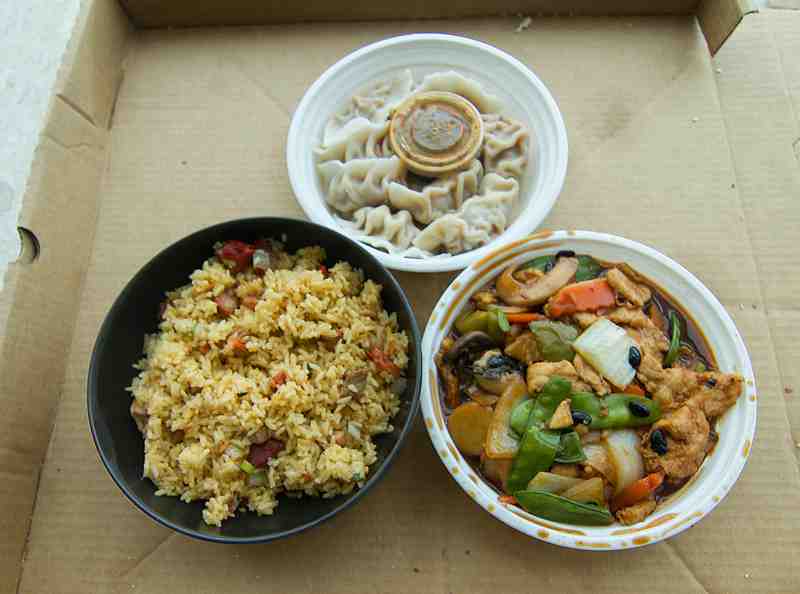 I took the pork fried rice out of the box to photograph it. It was short on ingredients. Short on pork, hardly any vegetable or bean sprouts. Pretty lame for what they charge. I opened the chicken with black bean and I was also surprised. No peppers. An "authentic" version of this dish is made with red peppers and chicken primarily. Hardly anyone uses all red peppers as they're pretty expensive. This place used to use a mix of green and red which is acceptable. There were a couple of pieces of green pepper on the bottom. This didn't taste anything like the dish is supposed to taste. Now I have to go out and get a red pepper before I can eat this and enjoy it.
The worst part were the dumplings. They used to be good here. These were doughy; the perfectly round filler had little asian taste. These were as bad a dumpling as you could get at any pedestrian restaurant.
This place has gotten progressively worse since they opened to the point of being a bad choice. This is my last time getting take out at Hong Kong Chinese Food. They don't deserve my money.