Critic's Review
Mangos is your basic tourist trap, with a great location for boulevard watching on nice weekends. The food is pretty standard (think cheescake factory with smaller portions and higher prices).
I'd eaten here a couple of times when I first moved into town and after that stamped it as a drinks-only place. I did get the spinach dip one night when I was here watching a band and it was pretty good. The calamari is decent also.
A couple of weeks ago I was looking over their menu and spotted a jambalaya; what really caught my eye was that it seems to be made with the correct ingredients. There are a lot of places that have stuff like 'jambalaya pasta'; and this is just wrong. Jambalaya should have rice. It was the 4th of July and I wasn't sure what was opened, so I headed over to try it out and do some tourist watching.
Mangos has a parking lot behind the restaurant that's free for customers. You probably have no chance to get a spot in the evening (as I'm sure many non-customers park here), but at lunch time I got a spot.
It was pretty empty so I scored a table on the sidewalk; this is a prime spot for people-watching. Of course there weren't many people to watch today, but it's still a nice spot.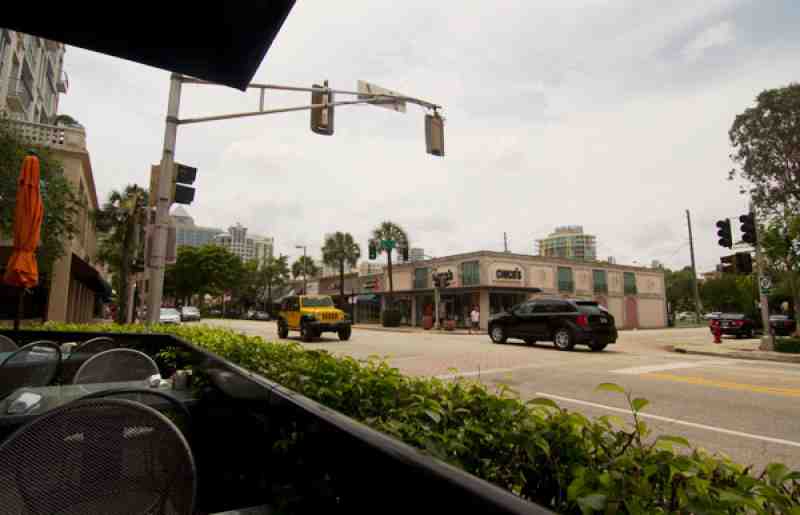 Unanticipated were the pigeons; the annoying birds were flying in and out and walking around on the patio. I ordered the jambalaya and a Mich Ultra and settled in. In about 10 minutes the food arrived.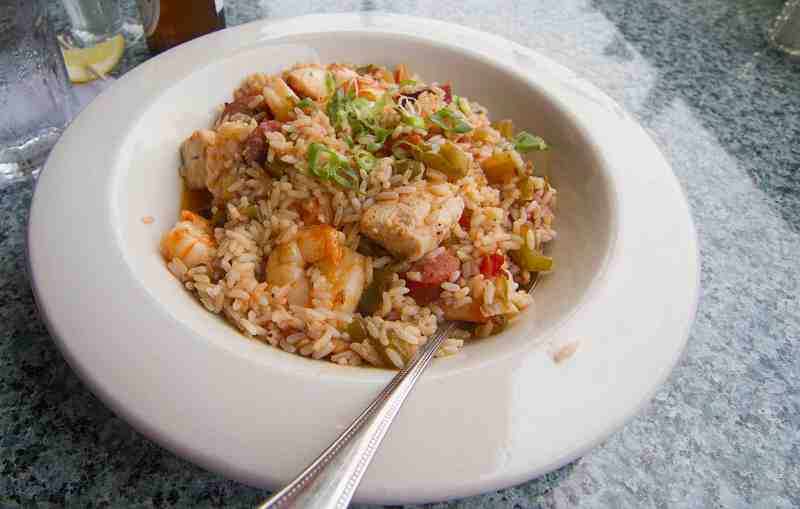 Mangos Jambalaya
it looked halfway decent, and I have to admit that it wasn't half bad. From an ingredients standpoint, everything was cooked just about right and the peppers and celery added a nice crunch. Not the best andouille but it was passable. It could have been spicier and it could have used more tomatoes. But Jambalaya can run the gamut of fantastic to downright awful. Some versions can be way too soupy. This was certainly better than most I've had down here.
At night, Mango transforms into a night club with live music nightly. They have a pretty good rock band on Mondays and Tuesdays (Breeze) that I've seen a few times. The crowd is a bit older; mostly people that have been coming to Mangos for many years; from a time when Mangos was the hot spot on Las Olas. Mangos is also one of the few places in town with a dance floor.
Ambiance 2.5 stars indoors and 3.5 on the patio. (subtract a star from the patio if you're afraid of birds).
Photo Gallery
Best Yelp Filtered Review
What's This
From
: Joanne W.
What can I say about Mangos. My girlfriend and I actually had a great time here once but we were pretty buzzed. I actually dont remember much of the night but we did have a blast sitting outside the patio. The food is above average but not worth the price that is paid for it. I had the Seafood Fettucini and it was alright but very bland. My friend had the Mahi Mahi and it was overcooked and tough. We had the coconut shrimp and smoked fish dip for appetizers and those were remarkably good. Would I come back here again Yes for the Mango Lada. I love mangoes. Its a cozy place to hang out and have a couple drinks after along day of store browsing on Las Olas.