Critic's Review
On June 10, 2010 a piece of Fort Lauderdale's culture was lost when Lawrence Vogel passed away. Pomperdale Deli was a special place; where you ate and then paid on your way out. No Checks here; they trusted you to pay what you owed.
You'd walk in from the deserted street on a sweltering summer day to find the place packed with people snarfing down cole slaw and biting into big pastrami sandwiches. The noise level in the place was unbearable, with older couples cackling at each other. One thing that was clear though; the people who worked here really wanted you to enjoy your food. I really enjoyed their chunky chicken salad, which came with 2 pickles on hearty rye for $6.95.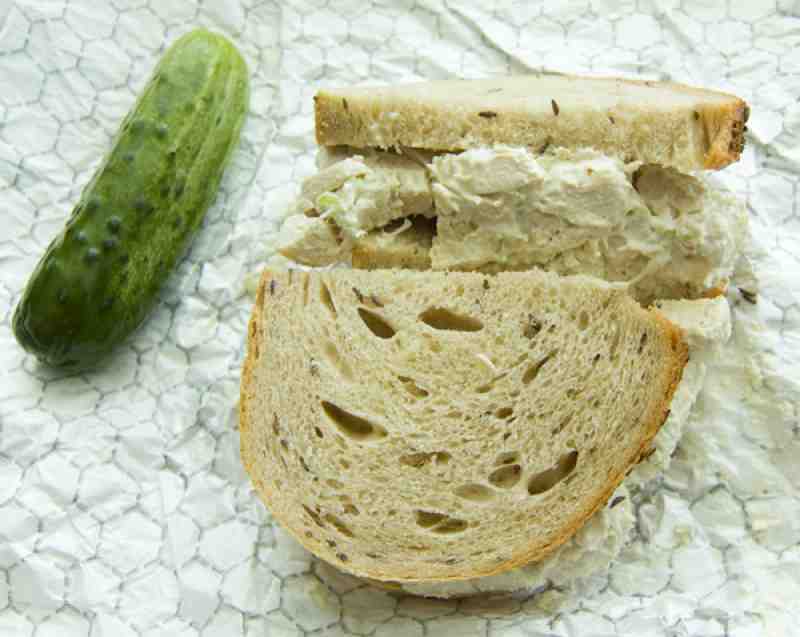 Pomperdales Orig Owners. Good Hearty Seeded Rye with Pickles
It's changed hands a couple off times since. I went in shortly after it changed hands the first time,and it was just an empty room.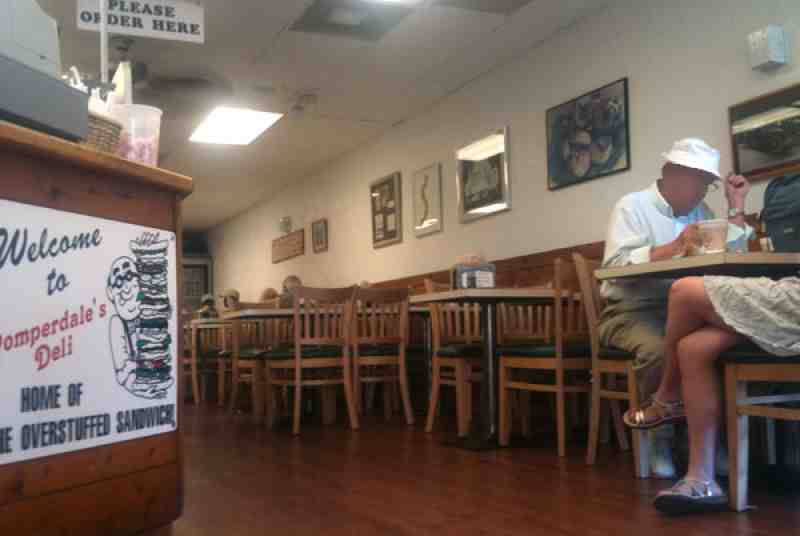 I ordered a pastrami sandwich, and I got this.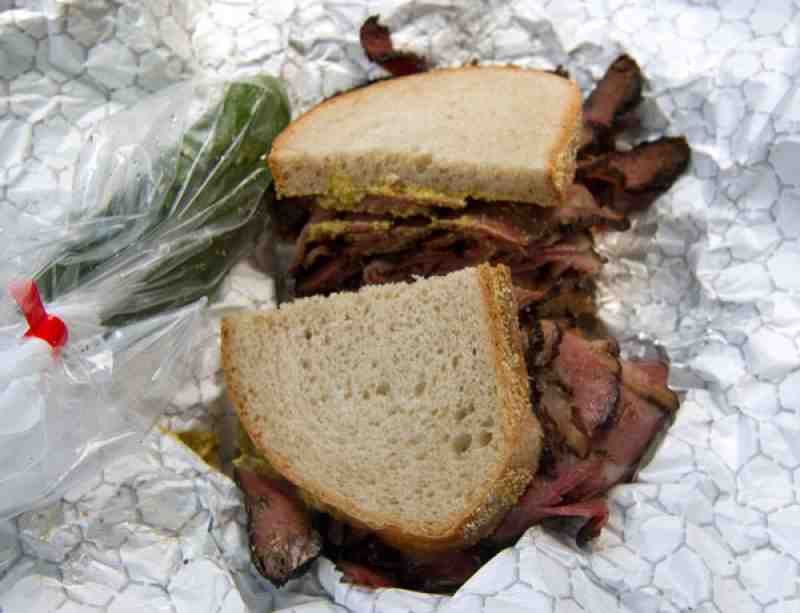 Pomperdale Pastrami on Seedless Rye
A decent sandwich on pedestrian rye bread and no dill pickle. There were 2 italian guys behind the counter, one who yelled out "Hey, you all paid up ova there?". What a disappointment.
It seems that it's changed hands again, as now there is an older dude with a clipboard in charge of the place. There are point of sale items at the register, and the wall now has a New York City themed mural.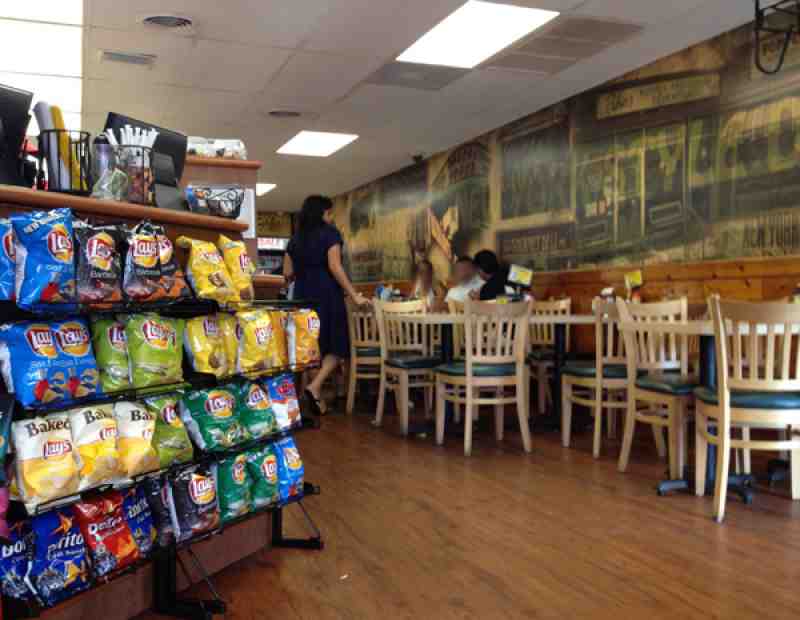 The Jewish couples aren't back, and the warm friendly ambiance has been replaced by corporate steel. I ordered a chicken salad sandwich; the woman asked what side I wanted, cole slaw I said. But then she charged me $1.50 for it. I assumed it was include by the way she asked. The dude with the clipboard came over and explained to her that they have a smaller size for $.70 that comes with sandwiches. They took off the $1.50, and i guess they didn't change the order because it included the slaw.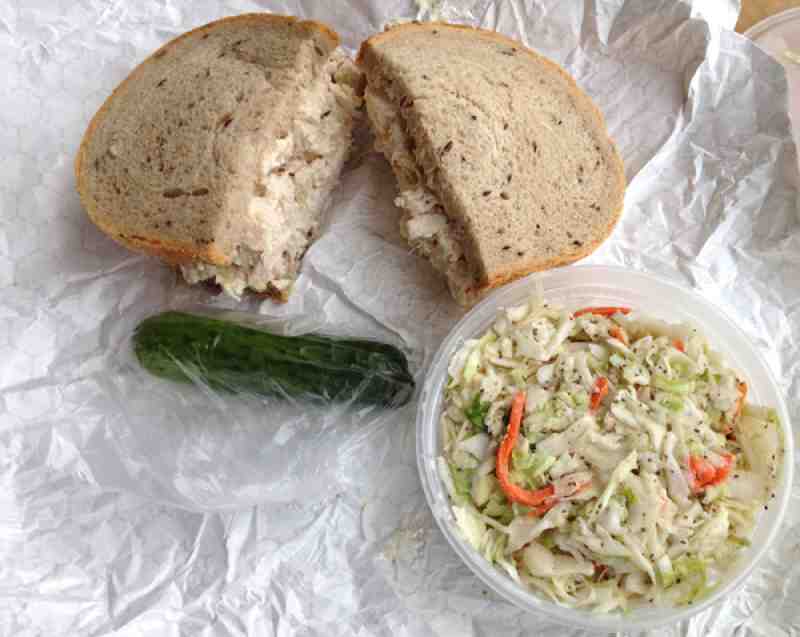 Pomperdale Chicken Salad and Cole Slaw
This was a pretty good sandwich; good rye bread, a good sized sandwich and nice chunky chicken salad. No dill pickle, just a half dill. I can't remember the last time I got a dill pickle at a deli [sigh]. The cole slaw was better than the overly creamy stuff they used to have, but it had something in it that I didn't like. Dill seeds or something like that. I peppered it up and it was better.
So the old couple who treated everyone like family is gone, and the friendly neighborhood place has been replaced by a pretty good, more corporate type of Deli. Not as special as it once was; but they serve a pretty good chicken salad sandwich.
Best Yelp Filtered Review
What's This
From
: Bruce B
Really guys All the positive reviews make me think that either Im too spoiled when it comes to Deli or you guys know nothing about good Pastrami Deli. I just moved recently to south Florida from NY and I have the itch for a good Deli sandwich so naturally I went on Yelp to look for one. After reading all the positive reviews I figured Ill go check out Pomperdale and Bens Deli (another joke but thats for another story). I got there and asked for a lean Pastrami Sandwich just to be told Pastrami dont come lean - take the top end of the top round and you get the leanest part of the beef but I guess they dont have fresh pieces or something - I was willing to pay extra. To the mens credit he did say that hell trim it as he goes along. Well I got the fatest Pastrami I ever got Id say there was 60% fat and 40% meat. They heat it in a micro oven and the Rye bread is nothing to brag about thin and tasteless. The pickle was the best part of the meal. Kats Deli ruined it for me because thats the bench mark and no one even comes close.