Critic's Review
In a town being overrun by Mexican restaurants, when you talk about Greek Food in Fort Lauderdale, there's always some mention of the Greek Islands Taverna. With Opa closed, there really aren't any other choices currently in this part of town.
The new big thing at Greek Islands is their new open-air patio. It's really just a hard top roof over a tiled floor.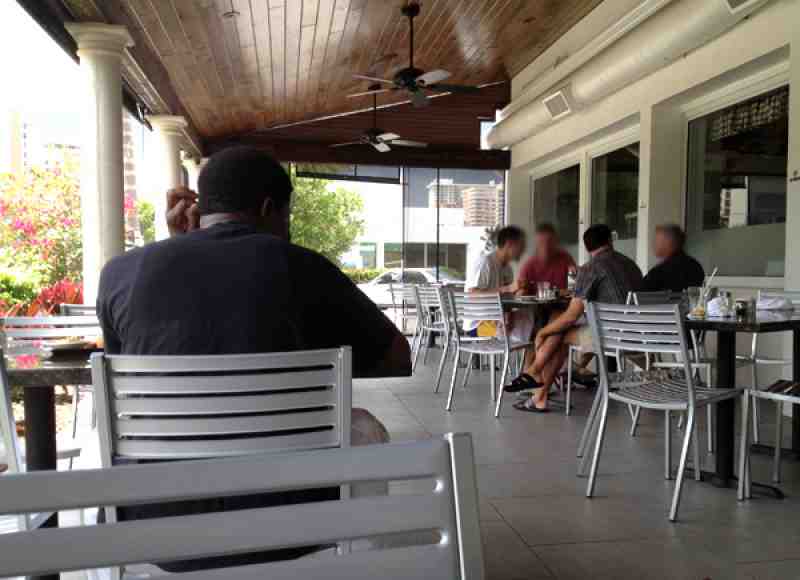 Greek Islands Taverna Patio
I was a little disappointed in the patio. The chairs look cool but they're not very comfortable. It's also open-air, so on a real hot day I'd rather have air conditioning than fans. They have A/C vents; I'm not sure how well A/C works for an outdoor patio. It's also REALLY noisy; you're about 10 feet from A1A, so walls would be better.jump-->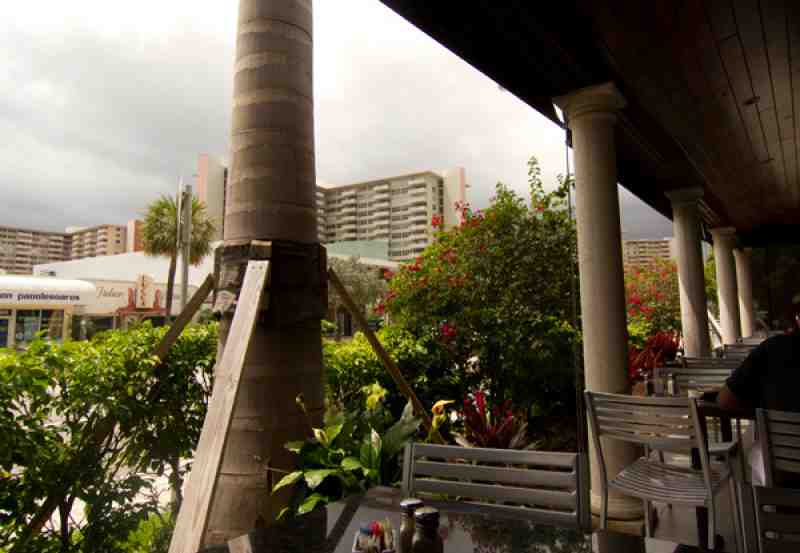 This is a very popular lunch place; on a Friday at 2pm the parking lot was 80% full. I don't like the inside of this place; there's a bar area and a small dining room; you're either sitting near the bar, right in front of the entrance or in front of the kitchen/server area. They have a lunch menu that isn't such a great deal; but better than their regular menu. A GYRO with rice for $9 isn't a draw to me, and their 1/2 chicken lunch is the same price as their 1/2 chicken dinner. I asked about the Greek Salad with Chicken Breast, hoping that they were separate, but my server indicated that it was thrown on top. It's not really what I wanted, but I ordered it anyway.
While I was waiting I got some bread with hummus. The hummus was really good. There were 2 kinds of bread; regular white italian bread and some sort of whole wheat version. I ended up eating all of the bread; something I rarely do.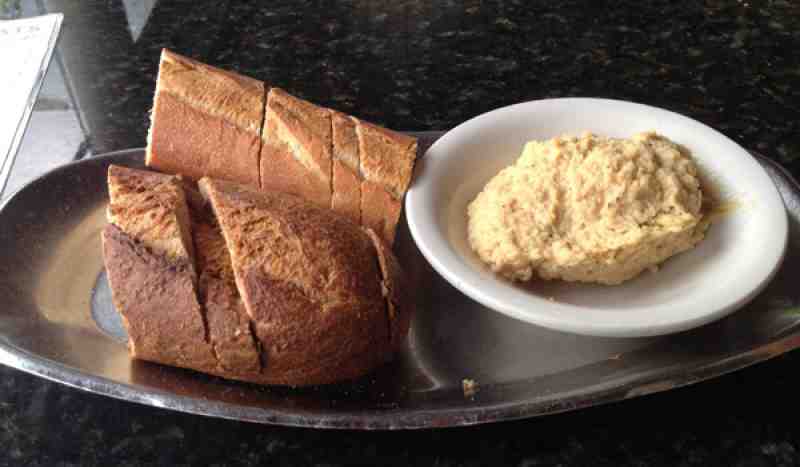 Greek Islands Taverna Bread and Hummus
In between the sounds of speeding vehicles, real Greek music fills the air. Nuxtoulouloudo, Th' Afisei Epoxi. Better than house music. Finally my server dumps the plate on my table.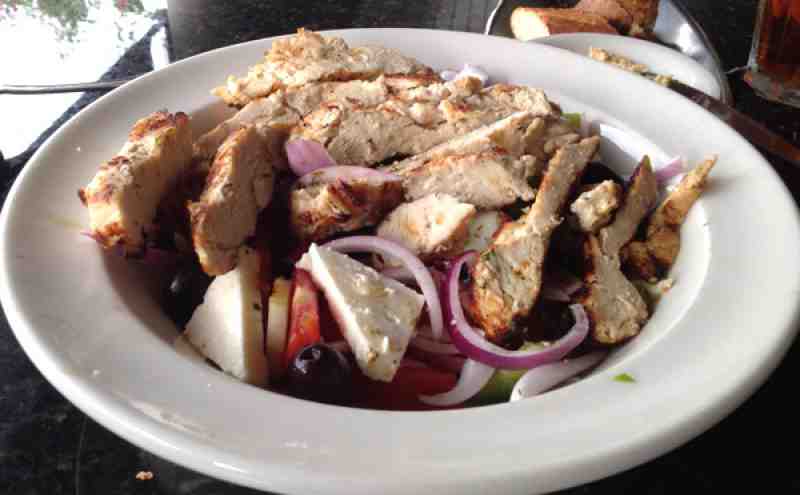 Greek Islands Taverna Lunch Greek Salad w/Chicken
It was a big salad and a good sized piece of chicken; a horiatiki salad which was somewhat unexpected. Without lettuce and with only 3 small triangles of cheese, the salad was awkward; chicken just doesn't work well with this kind of salad. The chicken had no flavor itself; salt was badly needed; the dressing on the salad was weak. While they claim that they make their Horiatiki salad with olive oil; this was more like a bottled italian. After all of the bread and hummus, I ended up taking 1/2 of the "salad" home.
I'd had the 1/4 chicken lunch previously with the ladoregano potatoes and green beans.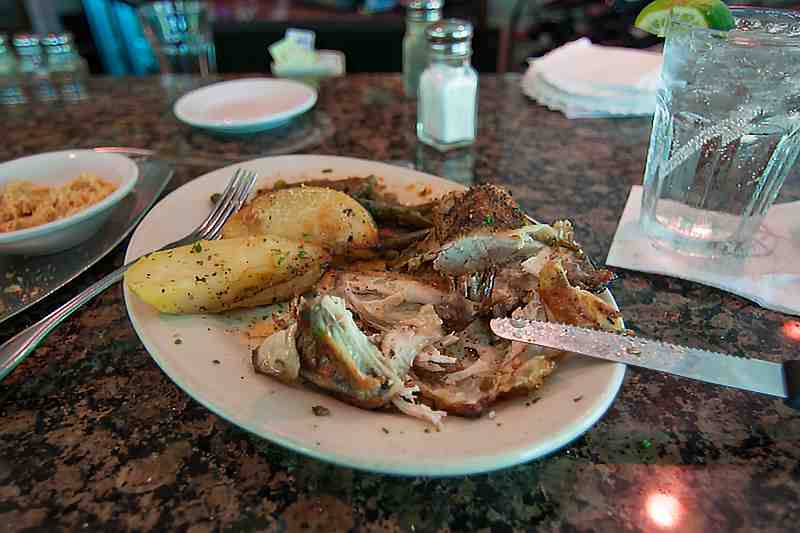 Greek Islands 1/4 Chicken Lunch
The chicken is a 1/2 of a breast and a wing. Most of the "greek" seasoning was left on the skin, so if you don't eat the skin you'll miss it. The beans were a limp dissappointment; way overcooked, with some peas, celery and equally overcooked squash included. There's no point in eating vegetables that have all of the nutrients cooked out. The potatoes were reminiscent of my Mom's broiled potatoes; while there was physical evidence of seasoning there was no particular flavoring other than potatoes; salt and pepper dressed them up fine; but it wasn't the lemon/oregano seasoning I was hoping for.
Service here is sub-par; my server didn't check on me once to ask if everything was ok; she grabbed my glass once for a refill of iced tea, but when I was ready to leave she walked by my table 5 times without even glancing my way. As I asked for my check she noticed the empty glass and asked if I wanted more, but it was too late.
I wonder how much of the fascination with this place is the general lack of sit-down greek restaurants in Fort Lauderdale, because I'm not particularly impressed by it. We're going to find out very shortly, as Thasos Island is close to opening a few steps away.