Critic's Review
Mai-Kai is one of those places that you used to go to before there were better places to go. I'd never been to Mai-Kai before. And if I wasn't working on this site; I would likely never have gone.
It starts out badly, as they have a complimentary valet, but it costs $5 to self park. Why is that? Nobody is giving these guys a $5 tip, are they? So if you don't want to wait for a 1/2 hour for your car, it's going to cost you extra.
Inside, the place is 70s creepy. It's dark with bad yellow lighting and there's a lot of badly dressed asian guys around trying to 'help'. As I entered the bar, a dude asked me if I had a reservation, and then proceeded to point to a particular seat at the bar as if that was my only choice, even though it was half a room away from the music and other people.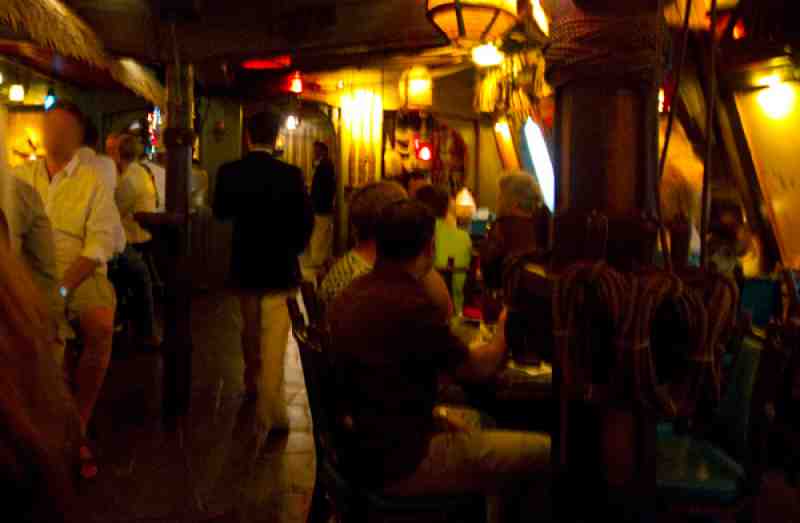 The bartender explained the happy hour; she said that drinks are 1/2 off and appetizers are 40% off (which is contrary to the 50% off that they advertise on their website). They claim to have a happy hour buffet on Wednesday, so I asked the bartender about it. She seemed to be set aback; "oh, there's sushi on the outdoor bar". I didn't much like my seat, and I came to check out the "buffet", so I just went out in search of the outdoor space. There's a lot of ugliness in the place; it's just dark and dreary, probably to cover up the 50 year old wooden decor. I found the outside area where they had the sushi; it didn't look too appealing. There also wasn't a bar outside, so not really a hang-out spot.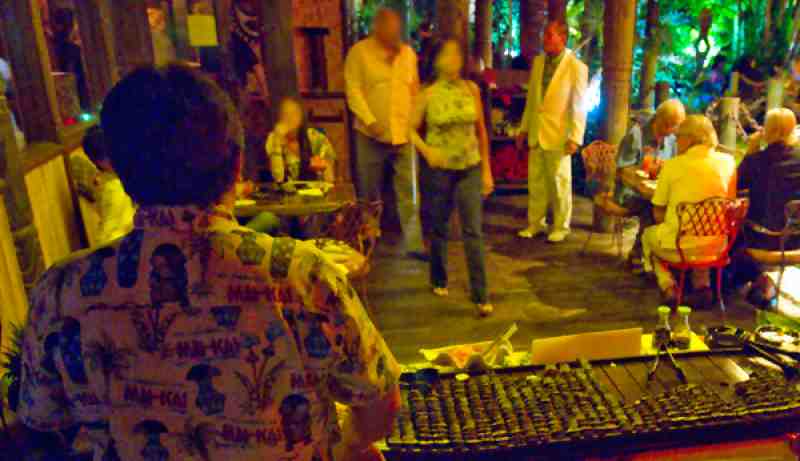 I didn't come here for sushi, so I went back to the bar. I snuck past the greeter dude and sat mid-bar near where there was a "band" playing.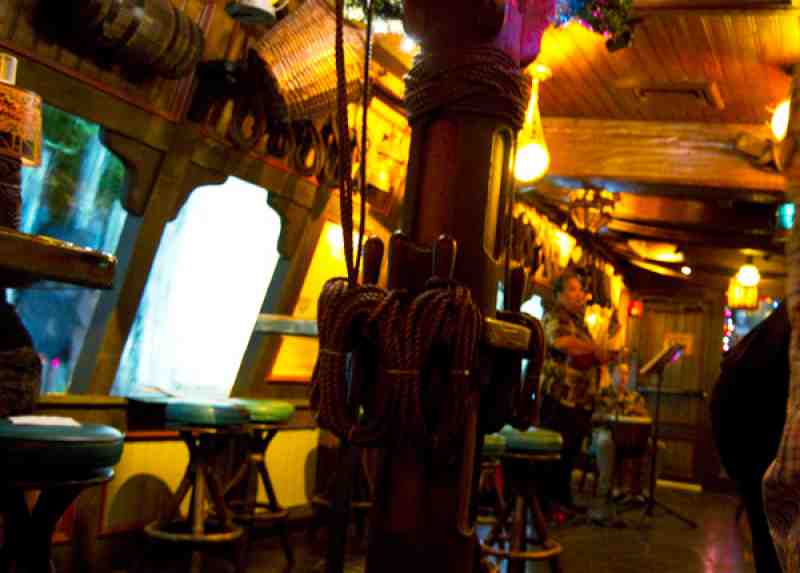 Really just a guy with a ukulele; better than house music but only barely. A different bartender served me this time; she made no mention of happy hour, buffet or sushi at all. On the bar they have an Appetizer menu with no mention of happy hour. I ordered a beer and the Javanesian Beef, which is marinated sirloin served bite-sized. I settled in an listened to the live entertainment.
They dropped off some dipping sauces, without any explanation of what they are. A few minutes later the beef came; toothpicks are the utensils of choice. I noticed that nobody else had forks or knives with various appetizers.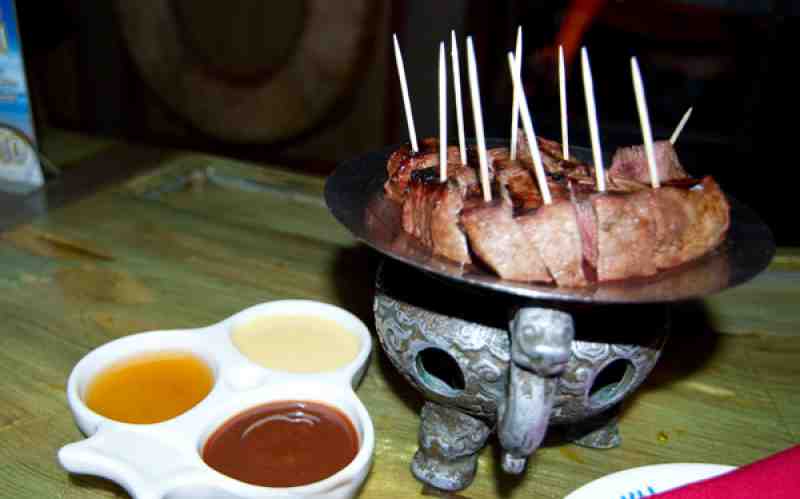 The beef was rough cut; they call it "bite size pieces", but some of the pieces were bigger than that. With no knife, I ate caveman-style, using my teeth to snarl off suitable portions. The steak itself is supposed to be marinated, but it's not marinated for long. It didn't have much taste and it badly needed salt which wasn't readily available. A soy dipping sauce would have been good; but the sauces turned out to be hot mustard, sweet and sour and some sort of asian barbecue sauce; only the sweet and sour worked with the beef. The sirloin was ok and it was cooked properly medium rare.
I asked for the check, because I couldn't wait to get out of this place. The beef was $6.25, which is 49% off the 12.25 regular price. The Ultra was $3; do they really charge $6 normally? Maybe. It's not a bad deal for $9.25.
Since I knew that I'd never be in here again, I decided to take a walk and check out the "gardens". I took that back bar way, and low and behold, there was a buffet set up with dumplings, meats and rice. I checked their web site when I got home and it says "Free Buffet with minimum $10 purchase". No server mentioned the buffet to me (even when I asked about it), and I also thought "do I really need to have 4 beers to enjoy the buffet?".
The gardens are pretty nice, particularly for a place right smack on US1.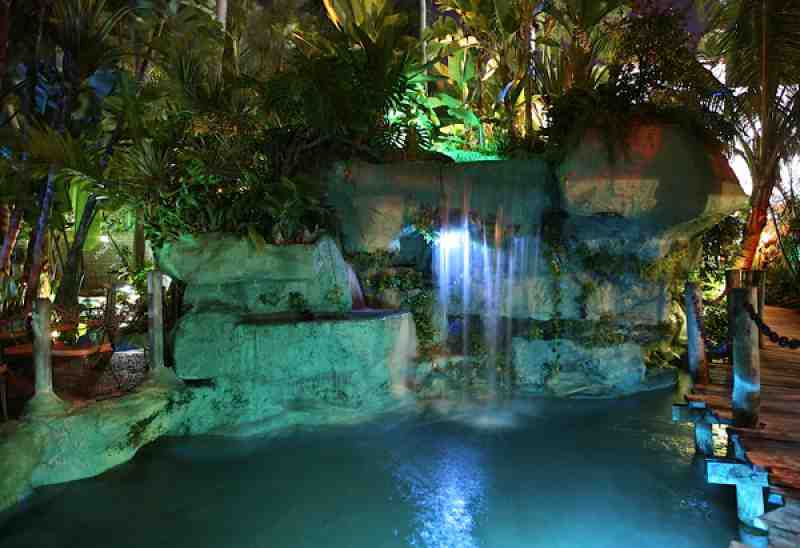 This place is one of those places that used to riddle South Florida; they have specials but they don't want you to know about them; they hope to cater to their regular customers without giving any goodies to the tourists. I can't say if the servers were just patently incompetent or if they made an effort to not tell me about the specials, but it's not good. Considering the creepy ambiance, I guess it doesn't matter. I'm not going back regardless.