Critic's Review
The last few places I've tried have been pretty bad, so I wanted to go for more of a sure thing today. In a part of town where you'll find Olive Garden, Outback and TGI Fridays; Sette Bello practically stands alone.
They have a few tables outside, but when its 95 out inside is a better choice. They have old world decor, with music to match. It's a very pleasant place to dine.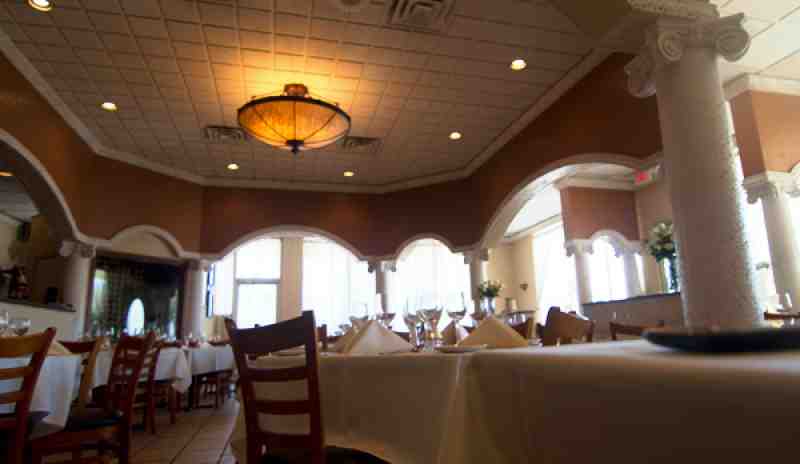 Sette Bello Interior
I asked for a bottle of Pellegrino as I went through the menu; the restaurant web site is down so I couldn't check a current menu. I'd had my eye on their penne with broccoli rabe and sausage. I noticed that they make it with whole wheat pasta, which didn't really excite me. I asked if they could make it with regular pasta and they said they would. jump-->
I fired up my phone and after a minute or two I started thinking about why I didn't have any bread. Usually in a real Italian restaurant you get bread on the table; I had a bread plate; I looked around and nobody else had it either. Just as it was starting to bother me, they brought me a cup of pasta fagioli soup, which was unexpected.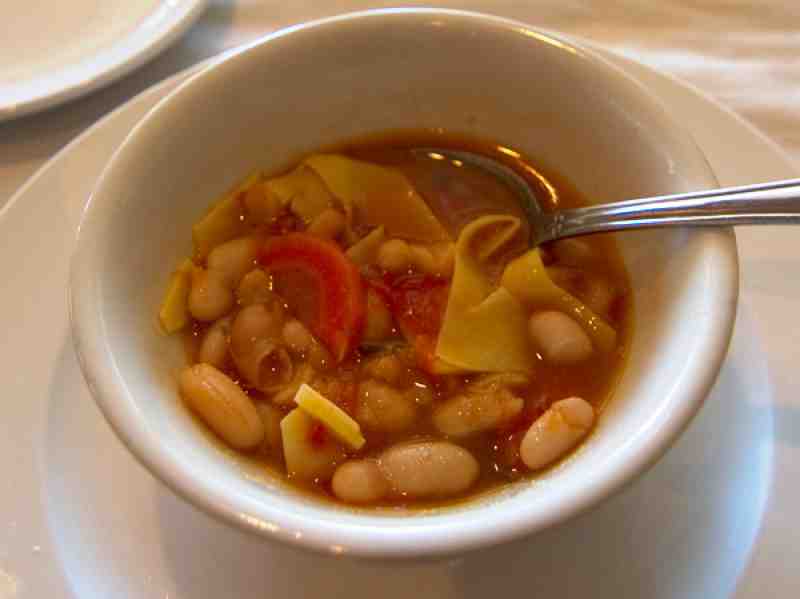 Sette Bello Pasta Fagioli
As I looked at this, I couldn't help but think about the version I'd had at Carlucci's. What a difference. I can't say that this tasted much better, but I'm certain that the ingredients were fresher; and I'm certain that this one didn't come out of a can.
Just as I was finishing the soup, the main entree was served.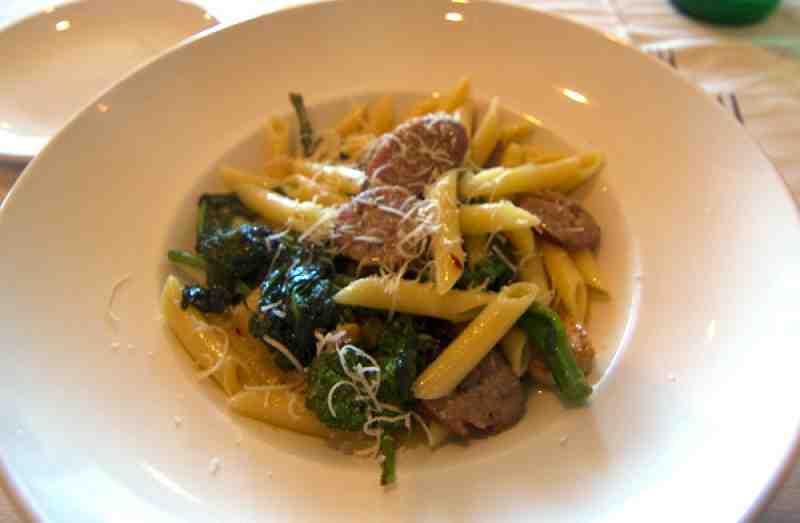 Sette Bello Penne Pasta with Sausage and Rapini
They grated some fresh parmesan on this for me; I prefer Pecorino Romano with this dish but I'm tired of asking for it. The pasta was al dente and there were 2 big garlic cloves sitting in the broth; the rapini was crisp and not stringy; I also prefer hot sausage with this but the sausage was good. The "sauce" was very garlicky; almost buttery; this is one of my favorite dishes when it's made correctly. I really enjoyed this. I was thinking this was a pretty good lunch for $12.
When I got the bill, I noticed that they charge $7 for the 750ml bottle of Pellegrino. It just bothers me when I've paid $12 for soup and an entree and then you get charged $7 for a $2 bottle of water. As I was driving home I was thinking that if they charged $14 for the entree and $5.50 for the water I would have not thought a thing of it; it's interesting how we're used to overpaying for entrees but it bothers us when you get charged $1 more than you expect for coffee or sparkling water.
A bit of bread could have made this near perfect; but all in all, a nice experience and a good meal.
Note that the lunch menu we have here was $2 off on the dish I had, so the prices are likely higher across the board.