Critic's Review
This place is under new ownership, although the place is largely the same, including the lady who used to run it. When I saw the lady I thought about leaving, since I never liked the food here and I just wanted to see if it was different. So I just ordered a Chicago dog to see if it was as bad as it used to be. The place is slightly different than before, but not much.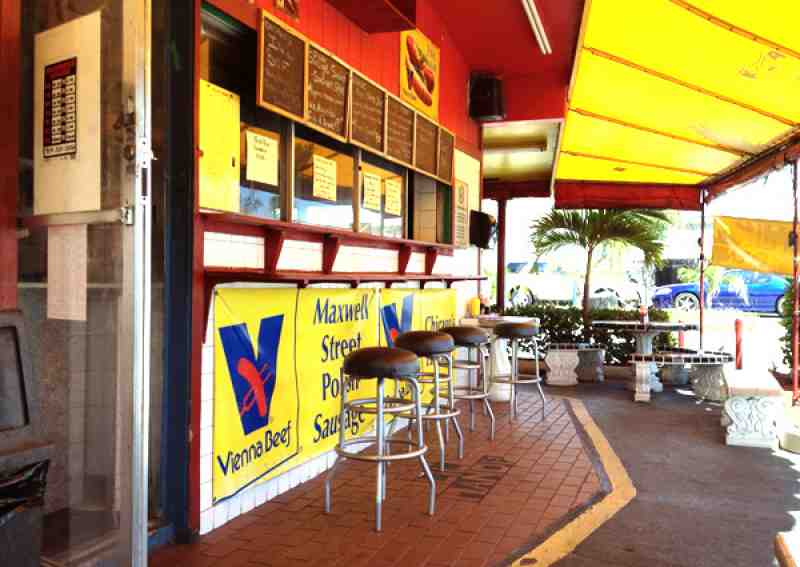 When I opened the hot dog, it was definitely better in terms of assembly. They still used the same relish, but this was much better.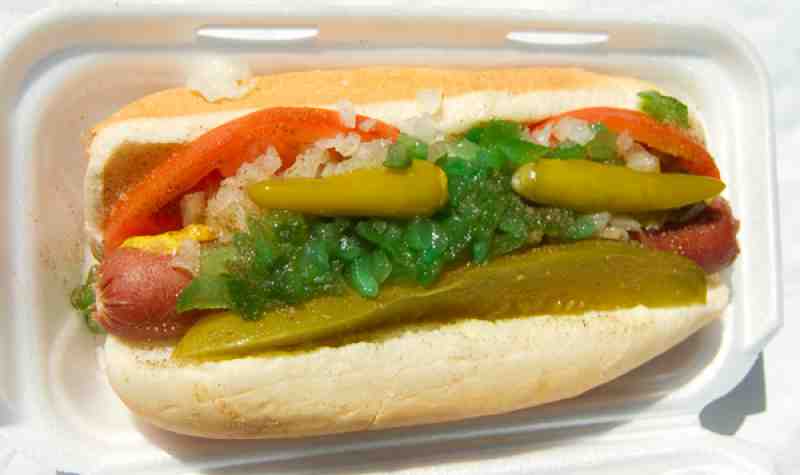 You can see the previous Chicago Dog I got here below.
Review from 5/9/2011:
Big City Dogs is a hot dog stand just east of the railroad on Commercial Blvd. They also serve hamburgers and sausage. They have 12 different hot dogs you can order by number. They also have french fries with or without some combination of cheese or chili. The first time I went here I hadn't gotten into Chicago dogs, and I also wanted to try to their Italian sausage sandwich, which is billed as coming with onions, peppers and mushrooms.
I ordered a #2, dog only and an Italian Sausage sandwich. I sat in the west corner and I noticed that they have a Rat Pack mural on the western wall, which is also where the restrooms are. It's a pretty nice mural compared to the rest of the decor; which is mostly New Times articles for winning their "readers awards", which tells you a lot about their readers.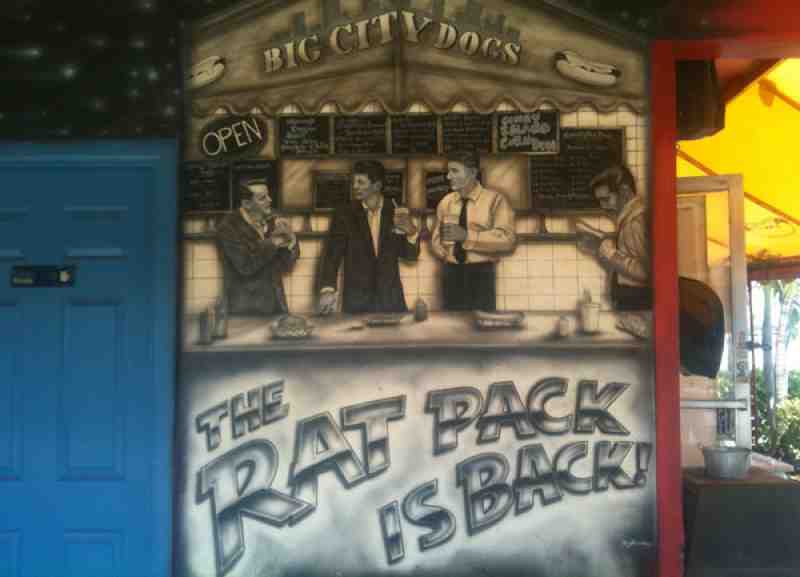 They also have a pretty good sound system for such a little dump; playing rat pack tunes of course. It took quite a long time to make the food; much longer then you'd expect for a hot dog and sausage here. Usually they have the stuff pre-cooked so you're only waiting for assembly. They gave me a package and I headed home.
I opened the hot dog first, and I have to say it looked a lot different then I expected. There was way too much relish on this hot dog; with 2 little sport peppers that were the smallest I can ever remember getting.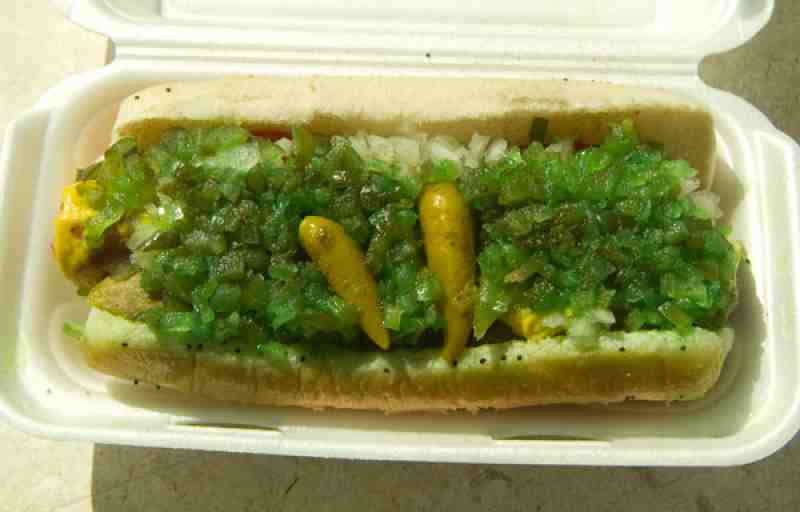 Big City Dogs Commercial Chicago Dog (previous owners)
Next I opened the sausage, and my first impression was that it was a really overstuffed sandwich. Then I noticed the relish. OMG, what did they do to my sandwich?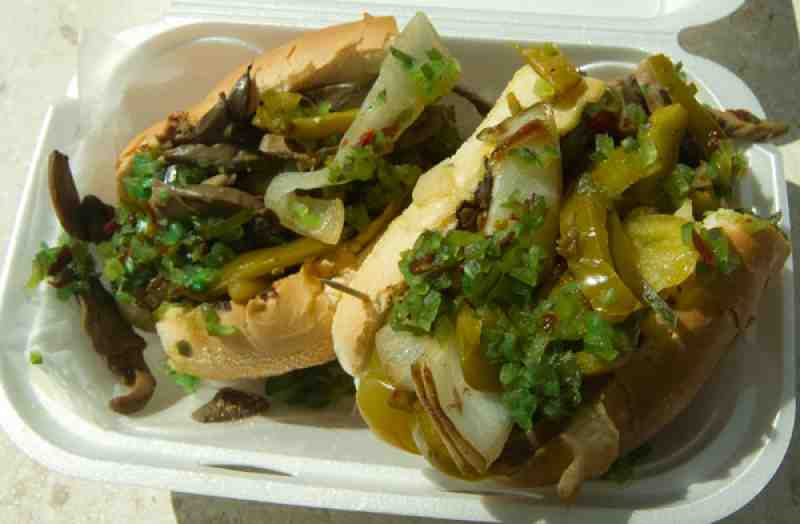 Big City Dogs Commercial Sausage (previous owners)
Sitting right next to the Chicago dog, it was clear that this was the same "neon" relish that they used on the hot dog. It looks like they threw some peppers in with it, but I tasted both and they were the same. Relish has no place on a sausage and peppers sandwich. I had asked for it loaded, so I checked their menu. It says nothing about relish. I gave them a call and they said that they didn't make a mistake; but that next time I was in the area they'd make me another. I doubt I'll take them up on it; I just needed to know if this is how they normally make it. At least you'll know enough to ask them to leave it off.
The hot dog was generally disappointing. The reason that a Chicago dog is made a certain way is so that you get all of the flavors with each bite. The overuse of relish (and failure to drain it) turned the bun a bit green; there was a very small tomato and the peppers were too small. It just didn't taste like a Chicago dog. It was just a wannabe Chicago Dog.
As for the Sausage, the big problem with the sandwich is that you just can't eat it like a sandwich. There was too much stuff in it; the sausage wasn't flat against the bun; it was cut and stacked, so I couldn't wrap the bread around it. There were too many papery end pieces of onions. I prefer red peppers with sausage; I'm not sure how green peppers and pickle relish are supposed to go together. It didn't work well for me.
I'd gotten a chili dog here a while back, and I wasn't overly impressed; this is just a typical hot dog stand. When you see all of the "awards" they've won from New Times, you realize how little the New Times awards have to do with anything real.
***Note that they may close early if the weather is bad so you might want to call if you're going out of your way to get here.
Photo Gallery