Critic's Review
The Aruba Beach Cafe is the only place in Lauderdale By The Sea that is actually on the Beach. It looks like a small house from the outside, but its really quite large. There are 3 bars; 2 upfront for casual dining and a more formal one in the rear. There are tables throughout as well.
I'd been to Aruba a few times before, usually just for appetizers and a beer. They have live music after 4pm although sometimes there's a steel drum guy earlier; My favorite app here are the Jerk Wings.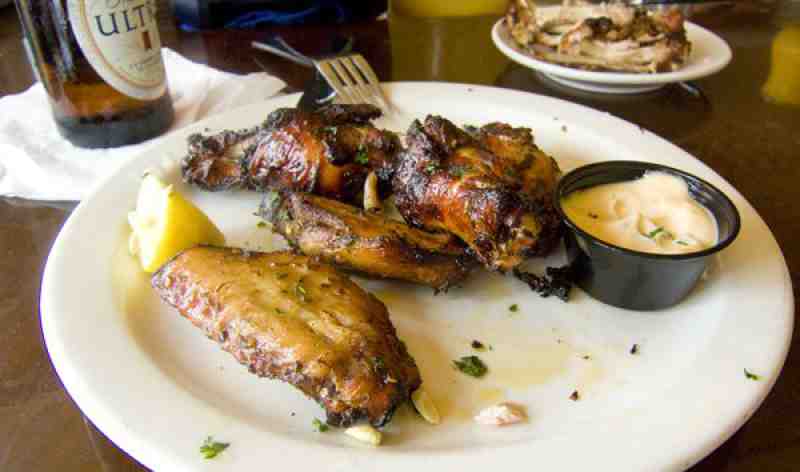 Aruba Beach Cafe Jerk Wings
Unfortunately the wings are served with some sort of caribbean mayo which doesn't work with the tangy wings. If I order them again I'll ask for a ranch or blue cheese dressing.jump-->
One Sunday I decided to try their "Breakfast by the Sea", and I'm sorry that I did. You can read the full writeup on it here. It was the kind of disaster that made me vow never to return.
But time heals all, and I heard that they have a 1/2 off lunch special. It's your typical old florida kind of deal; murky in it's implementation and completely unadvertised. If you're not a local or regular you'll know nothing about it. It's something like 1/2 off up to $13 or something; they take $6.50 off of your bill if you have more.
I usually sit at the front bar were you can watch the people at the beach, but this time I decided to sit in the back. It was hot outside and the A/C felt good. The restaurant was fairly busy at 2:30; mostly vacationers and retirees taking advantage of the cheep prices.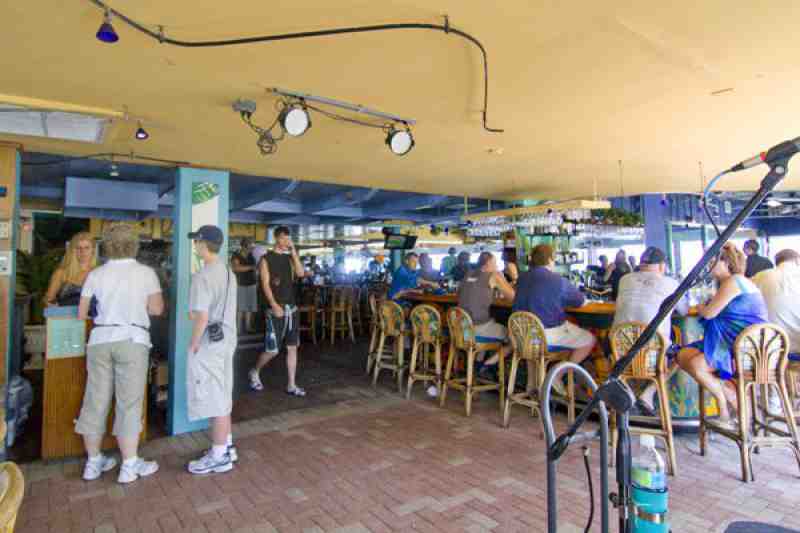 The have a lot of TVs but they're mostly at bad angles; none of them were on CNBC or the news. This is not a high-brow crowd.
I wanted to try the conch chowder, so I ordered that and a "Rumaki" special they had. The chowder was $5.95.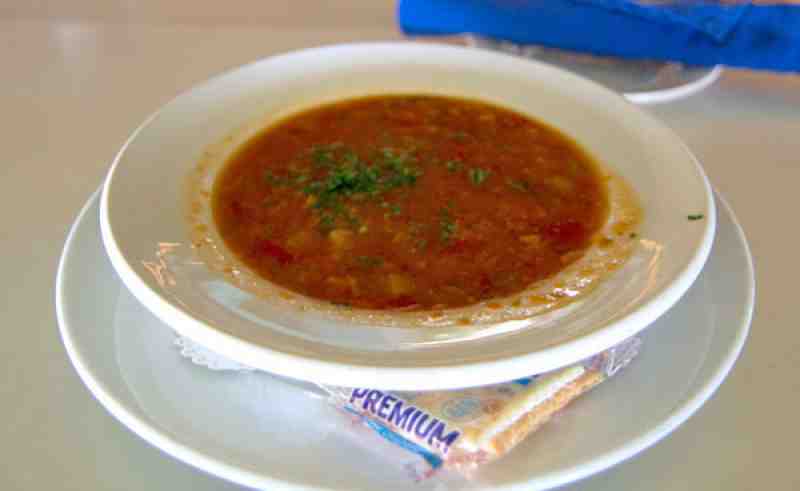 Aruba Beach Cafe Conch Chowder
The chowder was actually very good; not as spicy as I'd hoped but a venerable offering. The potatoes were a small dice and it had just enough conch to be a nice soup and not a sloppy mess. They also threw some fresh parsley on it that added a nice, clean contrast. I liked the soup.
The Rumaki, which is usually chicken livers wrapped in bacon but often replaced by scallops, was a scallop version that was served with an "Asian Slaw" and a spicy teriyaki.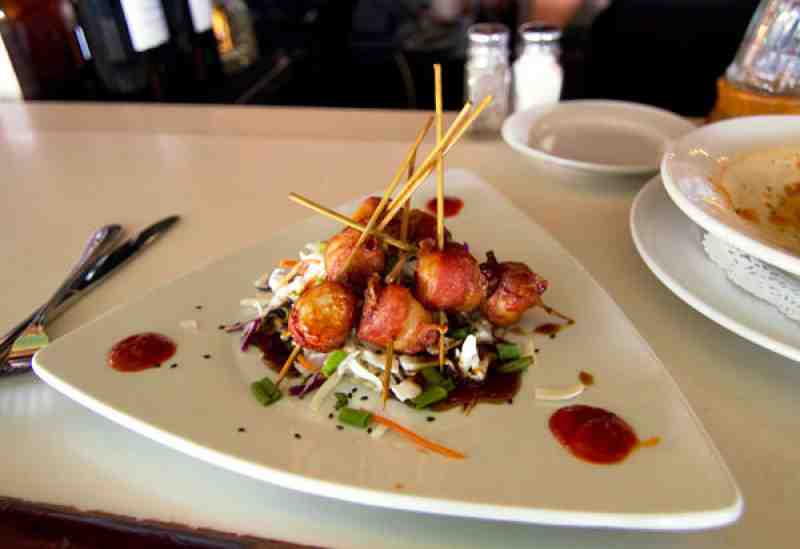 Aruba Beach Cafe Rumaki Special
The scallops were pretty good; the teriyaki was indeed spicy; more like a hot sauce. The slaw was incompetently made; just raw cabbage with dressing thrown on it. Un-marinated slaw should not be served to or eaten by humans.
They have valet parking for $5 and you can get "VIP" parking for $10. I'm not sure what that is; maybe you don't have to wait as long for your car?
Photo Gallery