Critic's Review
Panaretto Pizzeria, formerly Trattoria Pizzeria Panaretto, is one of the few "pizzerias" that doesn't claim to be NY Style; it's also a place where you can't get a slice. You know these "authentic Italian" places; shortly after they open reviews begin appearing by people who were "transported to Naples". I don't usually like the authentic Italian pizzas, and I like a big pie when I eat pizza, so I've just never had a chance to try this place. They have some pretty interesting stuff for their lunch deal, so I decided to stop in.
Inside, the place is a big room with table and chairs, no booths, and a counter towards the rear. There's a TV mounted on one end, and a small alcove in the rear where I settled in.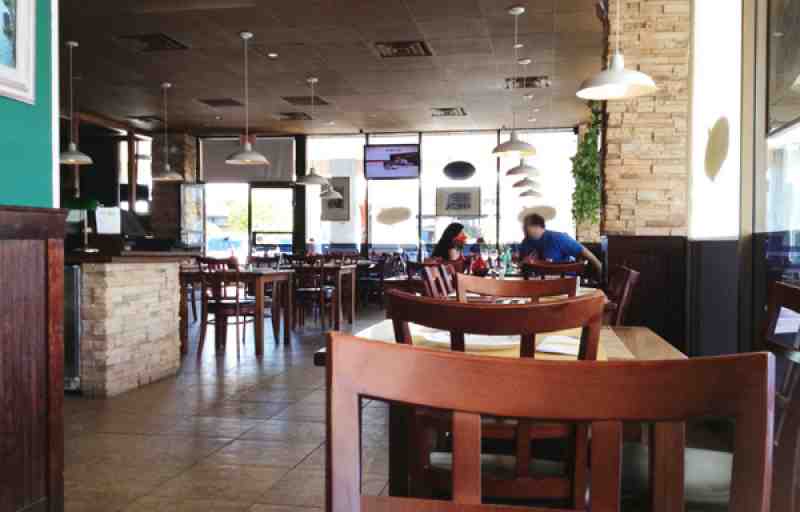 One thing that I thought was strange is that there was dark tinting on the windows that was only on the bottom 4 feet of the windows; which is exactly the opposite of what's needed. The afternoon sun beats in on the dining room and the tinting would have been more effective on the top since I was more interested in cutting the glare from my eyes rather than my knees.
They give you a knife and fork in a paper bag with the restaurant's logo on it with a green paper napkin; it kind of keeps the place from feeling like a restaurant. I asked if they had a small Pellegrino and my server said "yes" and proceeded to bring me a large Fararelle Mineral Water. It was only $3.70, so it wasn't worth complaining about.
The lunch menu they have on their website (and that we have here) is out of date; the price is still $8.80 but they have a few extra dishes now. I opted for the chicken pesto sandwich, which comes with a choice of soup or salad. The carrot soup of the day didn't appeal to me, so I got a caesar salad.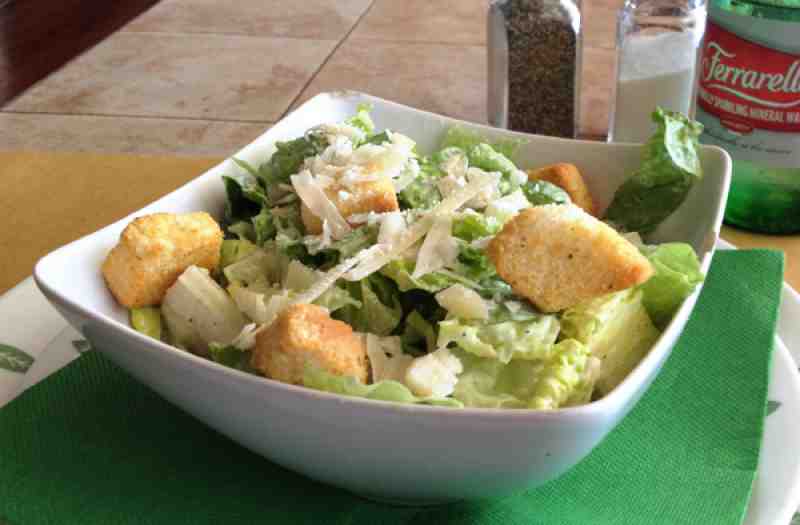 Panaretto Pizzeria Caesar Salad
The 2 big chips in the dish not-withstanding, the salad was ok. Nothing unusually good or bad about it. The sandwich came out and it was bigger than I expected.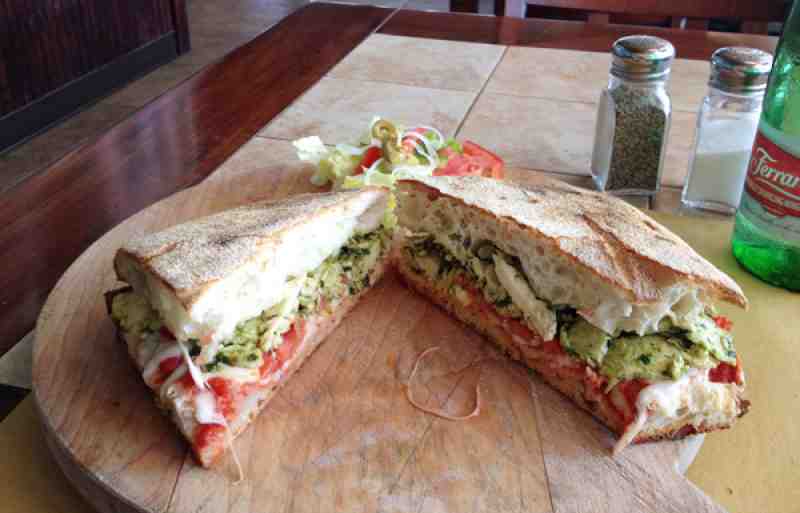 Panaretto Pizzeria Chicken Pesto Sandwich
It really looked good, but I'd have to say that I was disappointed in it; there wasn't anything particularly tasty about it. I can't explain why. The bread had no taste, and the pesto didn't have the burst of flavor that pesto sometimes has. With Mozzarella and Pesto you shouldn't want to salt the chicken; I didn't but I thought about it.
They have a very large menu on their web site that's been the same for 4 years, and from other reviews I've read they seem to have changed their policies and prices since. They also have a twitter link but they haven't tweeted since November. I wouldn't rely on anything on the web site.
Three years ago I wondered why they didn't sell slices at this location. I still wonder the same thing.