Critic's Review
I didn't plan on going to Dave and Busters, but on a windy rainy day, the parking lot at my other choice was packed and I didn't feel like dealing with a crowd. Dave and Busters is a place that generates interest with families more than foodies, but they do serve a full menu. I was on my cheat day, so anything goes, so I'd be able to find something to eat.
If you've never been to a Dave and Busters (or Jillian's) before, they're huge places with a restaurant and billiards room on one side and a big game room on the other. The idea is that you can release your kids into the game room and then hang out with adults at the bar or friends in the restaurant. There was a Jillian's on Long Island when I was still there; Jillian's was a copycat that went out of business and Dave and Buster's acquired most of them.
On a rainy Monday, the place was dead-empty, with 3 people in the bar, one table in the dining room and about 8 people in the game room. The bar here is starkly separate from the restaurant, and I have to say that I don't like the layout as much as the Jillian's on Long Island. Jillian's had a closed bar area with big flat screens on the wall, and booths in the bar area. Here there are no booths, just a rectangular bar and small tables all around. I prefer to sit in a booth than a small table. Here the restaurant , where all of the booths are, is off to the side and away from the TVs. Jillian's also had big TVs all around the dining room, but you won't be watching the games in the dining room here.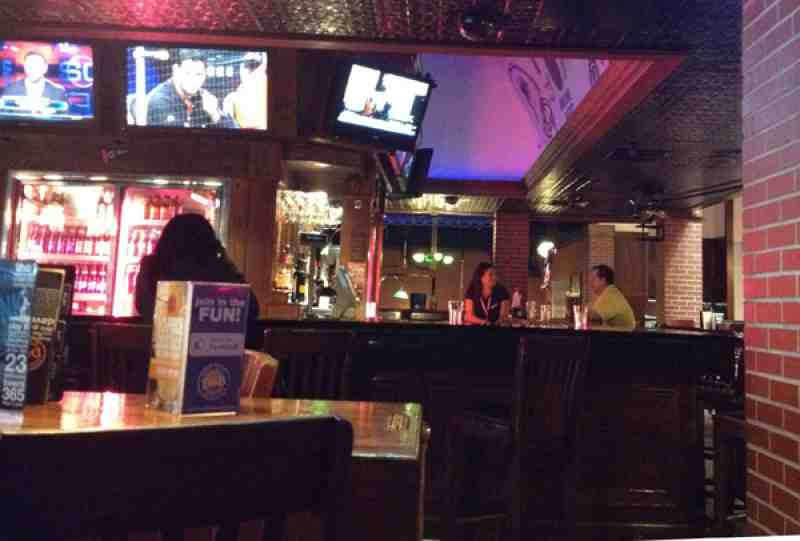 Likewise, the pool tables are across the aisle, away from the restaurant., without BIG TVs, so watching the NFL while spending the day playing pool isn't happening here either.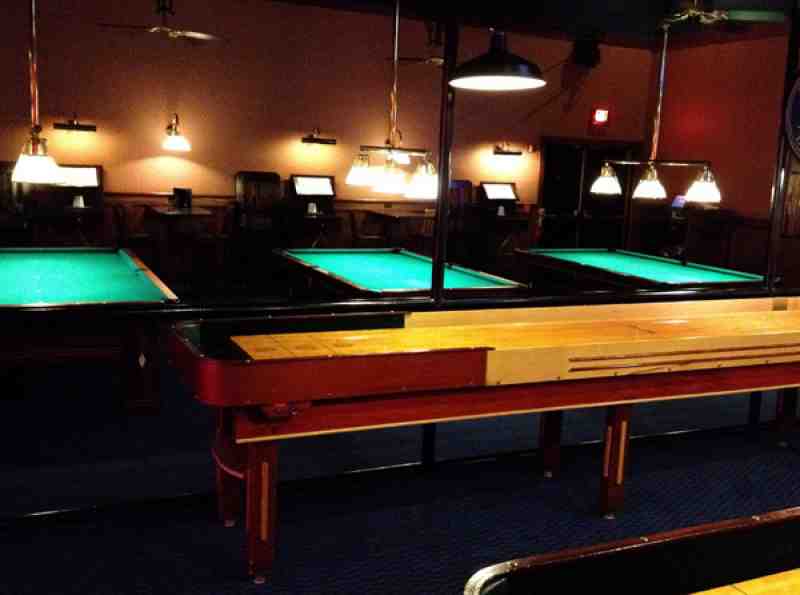 Game Rooms have changed in the 7 years or so since I was at a place like this; I don't remember it being so loud and noisy. The "talking" machines were the most annoying; like out of control parrots that never stop screeching the same lines over and over. The game room is huge with a lot of big, interactive games and the dinging is reminiscent of vegas slot machines; but much louder.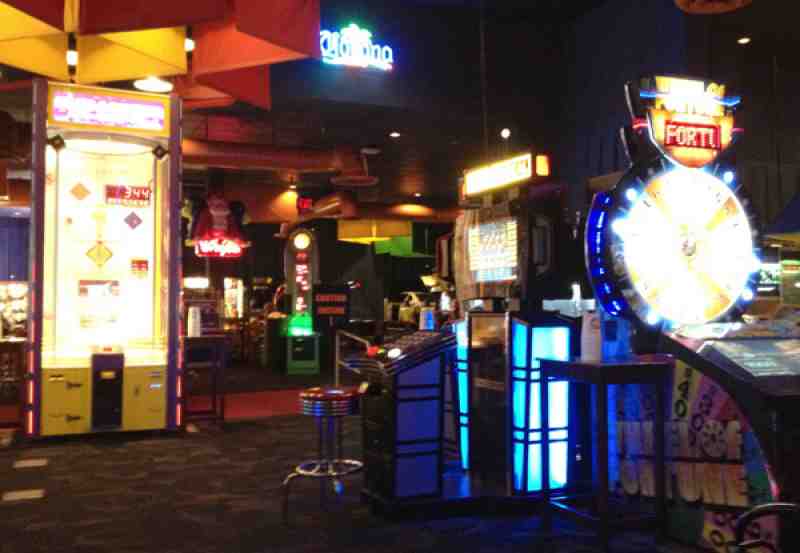 I started looking at the menu, and there's a lot of sports-watching stuff here like nachos with all sorts of pilings; I definitely didn't want anything like that. They also have steaks and salmon, and I wasn't ordering anything like that here. Then I saw the lunch menu, and I decided to sit down. They have a 50's diner-style set up in the middle of the game room, so that parents with young kids who need more supervision can dine while keeping an eye on them. You can see the TVs from the booths, although there wasn't anything on that I wanted to watch.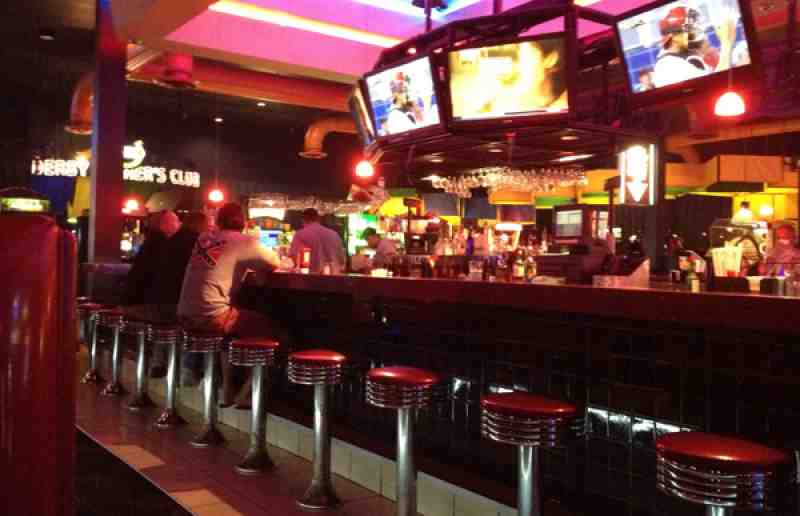 I'd decided on the Philly Cheesesteak, because my cheat day is the only time I can have a greasy, cheesy sandwich. The bartender is also the server at booths, but with only one other booth and 2 people at the bar it wasn't the usual annoyance of such a setup. I ordered an iced tea and the cheesesteak.
A major annoyance is that there is no wireless at Dave and Busters, which seems ridiculous considering that the place is probably filled with teenagers on weekends who rely on their cell phones to the point of psychosis. 3G also didn't work in the cavernous game room, so my cell phone was reduced to an extremely high resolution iPOD. I don't have music on my phone, so it was actually completely useless. This is another place that has locked wireless for employees but not for customers, so it's a choice they've freely made. One star reduction in service for this alone.
After about 10 minutes the food arrived.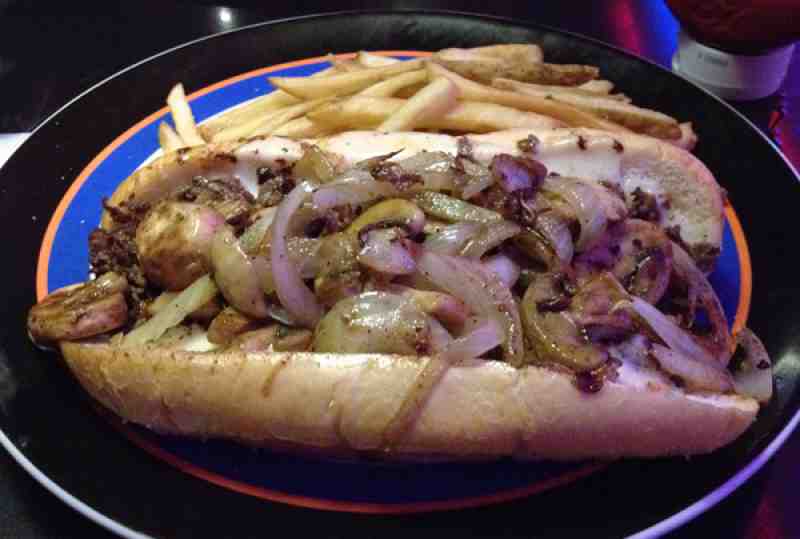 It's pretty dark in this place, so getting a decent photo wasn't easy. I didn't want to bring my good camera in to a place like this; I nibbled on the french fries as I took a few shots; the fries were as pedestrian as fries can be. Not freshly made (ie barely warm), no seasoning. Just dipping sticks for ketchup.
The cheesesteak, on the other hand, was excellent. A nice soft roll, lots of nicely sauteed onions and mushrooms and good cheese. It's the best cheesesteak I've had since Mr Nick's. Worthy of note is that while it was very tasty, it wasn't like the description or the picture on the menu. It's described as "thinly sliced", but this was chopped to a mince. At $9.89, not a bad deal for a sit down place with fries. Eating in these type of places before, these menus are hit or miss. I used to eat a lot of wings at Jillian's. It's not great, but better than what you might expect.
They add a 16% service charge to the menu, but I give them credit for marking it on the receipt so that you notice the charge.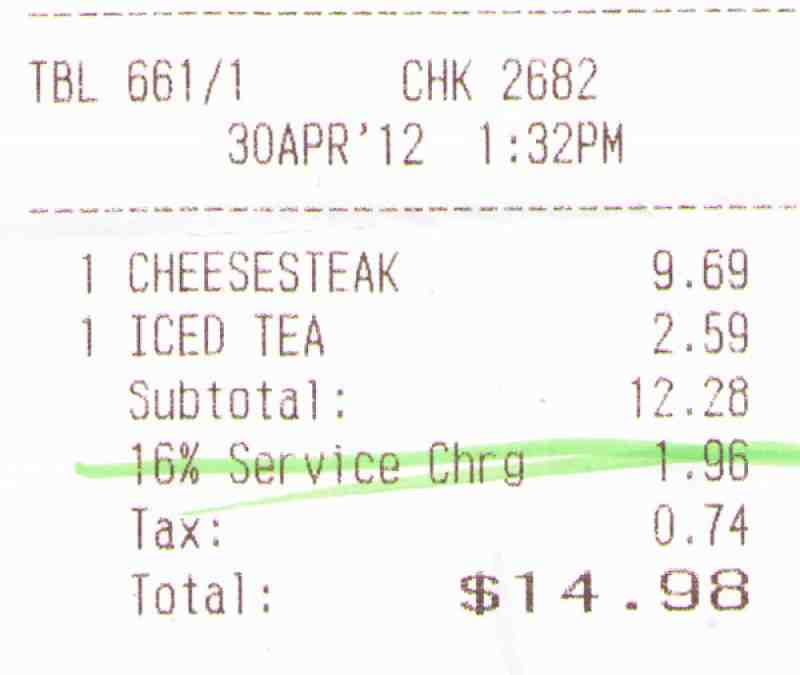 I don't usually like forced tips, but I always leave more than 16% normally, particularly on a small check, so it's no more than I'd usually leave in this case.
I also got a free appetizer (with entree purchase) coupon on my receipt, and an offer to get free food or game play for doing a survey. I'll do the survey and see what I get. If it's good enough, maybe they'll convince me to go back at night and play some games.
My favorite game, the "Derby", is a lot fun; you roll balls into holes and your horsey moves along; you race against other players. But it's not much fun without anyone else playing.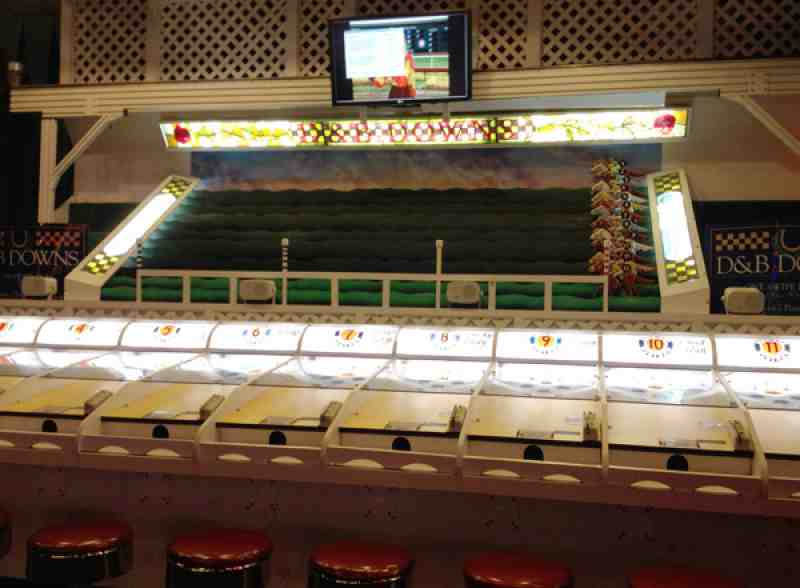 Dave and Buster's is a completely different experience during the week as it is at night or on weekends; it's not really a place you'd come just to eat. But to watch some games and have some greasy food, particularly if you have small or teenage children, it's a place you can go, unload the kids into the game room, and spend some adult time in the lounge or dining room.