Critic's Review
First, lets get something out of the way. I wouldn't take my Mother here for her birthday, nor would I take a date here. At least not one that I had an interest in seeing again. The Rustic Inn Crabhouse fits its name perfectly; its Rustic; old, gray and dreary. The outside is like an old boatyard, with an unpaved parking lot. Inside the lights are dim, the furniture is old and the bar has pieces missing.
If you didn't already know, the Crabhouse is one of those places where you wear a bib and smash crabs with a mallet. So maybe its a good thing that they don't have good furniture; it would just get ruined by the butter and crab juice all over the place. On weekends you may have trouble getting in as it gets quite crowded. Its pretty cheap; which means that it attracts a crusty crowd from all over. They have an obnoxious loud speaker system where they call out your name when your table is ready.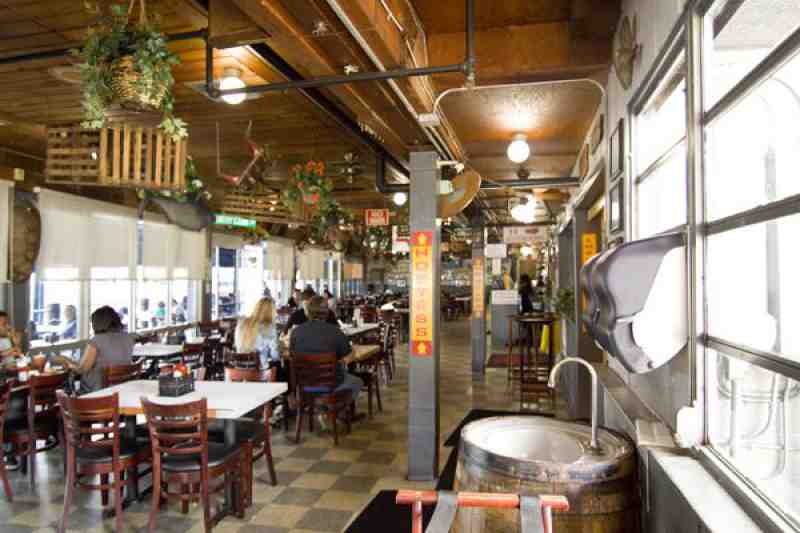 Rustic Inn Crabhouse Interior
The place is huge, with a main dining room and a "patio", with a large bar area in the back. The main dining room is closed at lunchtime; you'll have to sit at a table for crab. No crab smashing at the bar. They have a variety of crab types and samplers so you can just order whatever you want. If you come in a group you can try everything and have a smashingly good time making a mess. They have lunch specials listed on their web site that end at 2:30pm.
If you don't feel like crab or you wear clothes that didn't anticipate the smashing, they have plenty of other things on the menu. You can get a hoagie or chicken or even a steak. One standout is the broiled flounder; a massive portion served with rice, potatoes and vegetables. The veggies are junk (mine were cold). They put some sort of bread mixture on it that has mild onions (maybe leeks) and it comes with a very good tartar sauce. Its not great but for $11.50 you'd be hard pressed to get a fillet this big elsewhere. I recommend skipping the lousy new england clam chowder.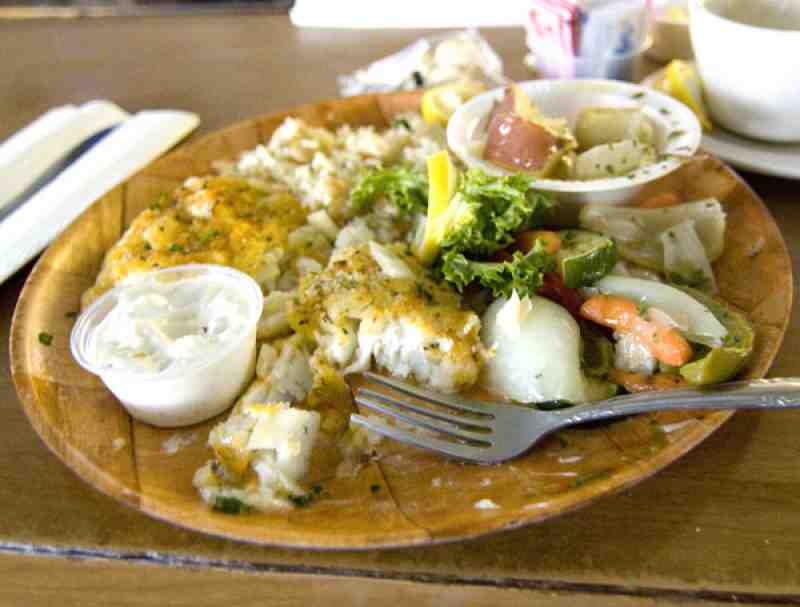 Rustic Inn Crabhouse Flounder
The clowns at New Times gave this place an award for the best conch chowder, so I had to give it a try. As usual, it's just mis-information. Everything in the chowder is tiny; little bits of conch, potatoes and carrots, and it's just too salty.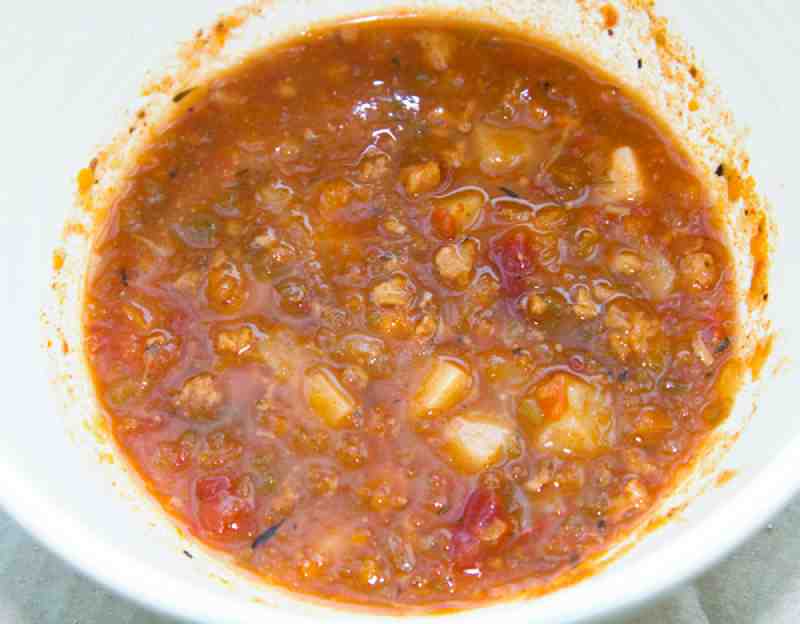 Rustic Inn Islamorada Conch Chowder
It also had a vinegary taste; maybe too much sherry or something, but I couldn't even eat it. It's so dark in the place that I couldn't get a focus without a flash, so I took it out to get a shot of it. I recommend skipping the soup course in this place altogether.
If you must smash crabs and you're looking to save a bit of money this is about your only choice. Just don't wear anything you might want to wear again. Note that their address says "Ravenswood" but most maps have it as Anglers Rd. It's called Ravenswood for a stretch of the road; the signs on the road have both names on them.
Photo Gallery