Critic's Review
The Field is a real Irish Pub located off the beaten path with live music Tuesday through Saturday. There's a large outdoor area and a big room indoors with a center bar and a stage in the rear.
The crowd is older here; there are a lot of long-time regulars. You won't be meeting any bleach-blondes with leopard pumps in this place.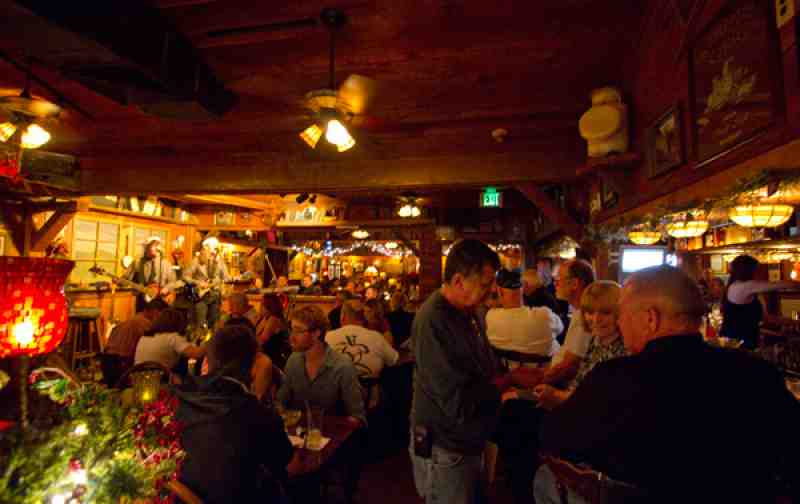 The Field Irish Pub Interior with 2ofUs Band Playing
The Field is easy enough to get to; it's about 2 miles west of Route 95 on Griffin Road. Parking, however, is another matter. On a Tuesday or Weekend night, you'll likely not be able to park in the main lot. Luckily they have some sort of deal with a meeting hall about a block awayjump-->, so you can usually find parking there. Even that lot can fill up on a Tuesday or busy weekend night. It's a nice walk from there, but if you don't need or want the exercise they have a stretch limo golf cart that makes regular passes to the lot and you can hitch a ride to the Pub. I'm not sure if you're supposed to tip the driver or not; they just seem like a bunch of young guys that seem happy to be driving a golf cart.
During the week, Tuesday is the biggest night, with a Beatles tribute cranking out familiar tunes all night long. The duet is really quite good.
In many ways, The Field is the opposite of Las Olas; it's laid back, casual with folksy music and best of all, you get a full meal when you order an entree. They have a full menu and I admit being skeptical of eating at the place the first time I went. But big places located in remote areas don't stay around for decades just by chance.
They have a full menu and also a full page of daily specials; I'd had my eye on the prime rib because there's just a shortage of good, affordable prime rib in this town. I was going to order the small cut; but I decided to go for the big one. And I'm glad I did.
Service at the bar can seem choppy, not because it isn't good service but because the bartenders are doing so many things and pouring so many Guinness pints. Entrees come with a potato, vegetable and salad; something that most new-fangled restaurants have stripped down.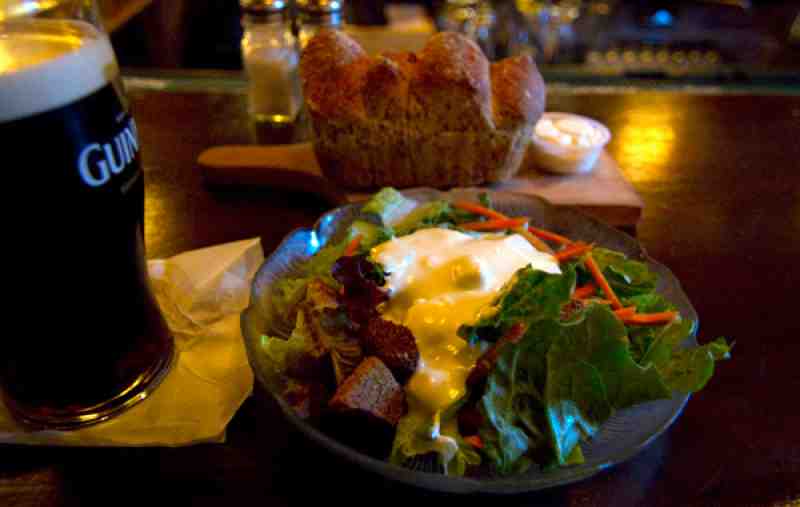 The Field Irish Pub Salad and Bread
At the Field, you not only get a dinner salad but also a whole loaf of bread. The bread was some sort of wheat nut bread; I ordered the salad with blue cheese. The salad was just lettuce, croutons and carrots; the blue cheese was pretty good; not the best I've ever had but a venerable offering.
When they bought out the prime rib I knew that I'd made the right choice.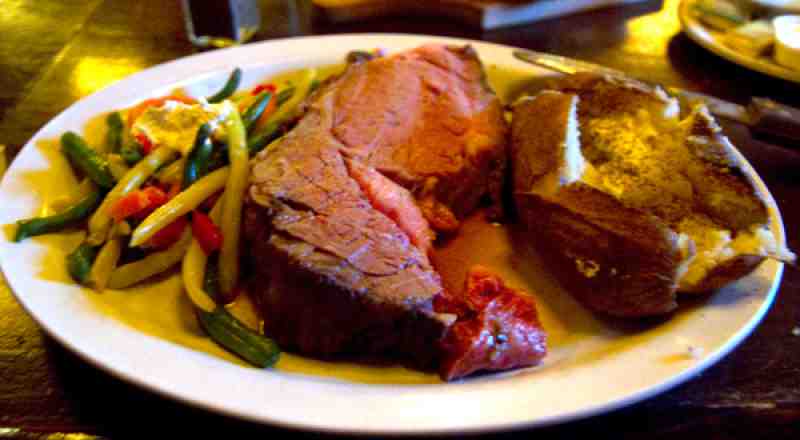 The Field 16oz Prime Rib
Someone at a nearby table had ordered the smaller cut, and the difference seemed like a lot more than just 4 ounces. This was a massive cut, and it was nice and juicy (unlike the too-lean cuts you get at the J restaurants). It came with a nice bean medley with peppers (when was the last time you had wax beans?), a big baked potato, butter, sour cream and a delicious horseradish cream sauce.
Everything here was competently made; they don't have second rate cooks working the line here. This was one of the best Prime Ribs I've had in South Florida; with all things considered; the bread, salad, well-prepared vegetables and the big potato; easily the best overall prime rib dinner I've had in a very long time. At $26.95 it's a very good deal.
With live music playing, free parking and cold, creamy Guiness, this place is worth going a bit out of your way. Nestled in-between the bright lights of Las Olas and The Seminole Hard Rock Casino is a little bit of yesterday. And the memories are good ones.