Critic's Review
Of all of the Mexican fast-food joints here in town, only Hot Tomatos is worse than Baja Fresh. The big problem that I have with this place is that it doesn't live up to the name. It implies that there's something healthy about the food, but it's all very unhealthy, and not very fresh.
The place is a real assembly line, with the authentic look of a fast food restaurant.
A new menu item brought me in for my first visit. They had "Primo Tacos", which are special tacos with either blackened shrimp, beef (fajitas), lobster or blackened Mahi. For $7.95 you get 2 tacos, rice and your choice of beans.
Baja Fresh Primo Tacos
The rice was useless to me; sort of globby with some sort of spice but not real mexican rice, and black beans are what they are. But I was disappointed in the tacos. The shrimp are much smaller than in the advertisement photo. There's guacamole and a verde sauce which is pretty good, until I bit into some stalky vegetables. It was in both tacos, so its not just a lettuce core than found its way in. Its some thick,tough tasteless stalk that just ruins the taco.
One peeve I have is that the menu they have on their web site isn't the menu in the restaurant. On another visit, I was going to get a grilled veggie burrito bowl, but they don't have that here. They also have a variation of the Diablo without the shrimp; I ordered it because it didn't say that it had rice. But of course it did.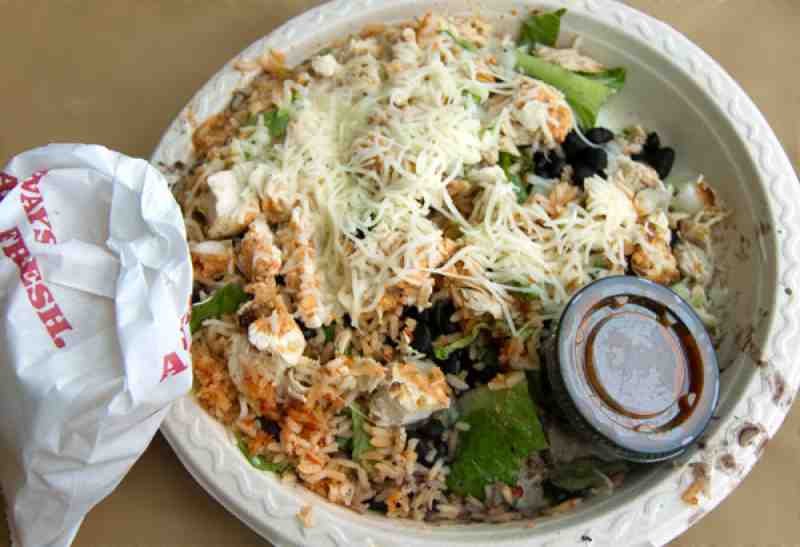 Baja Fresh Burrito Bowl
This dish was 80% rice, which was disappointing. There was a very small amount of chicken. You'd think a "bowl" would be loaded with veggies (or at least fresh lettuce), but this not only didn't have much lettuce, the lettuce was old and brown. At least with the tacos the beans were seperate; in this case I couldn't even eat the bean without eating a lot of unwanted rice.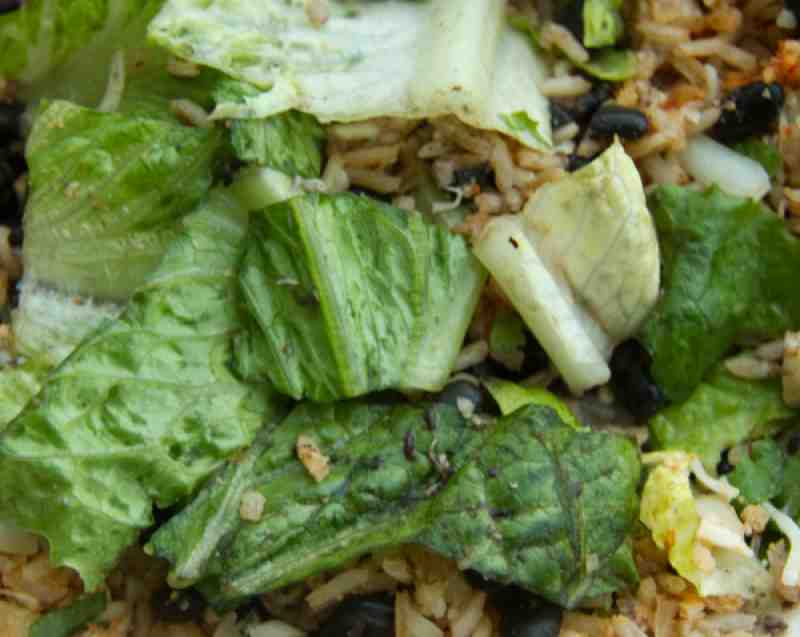 Baja 'fresh' brown lettuce
Because of all of the rice and bad lettuce, there wasn't much to eat. A waste of $8.
They boast no freezers or microwaves, but what good is it if you're serving old lettuce and mostly white rice?