Critic's Review
You know this place. You've passed it on your way to the Hard Rock. I've heard this described as being in the middle of nowhere; I'd also heard it was very authentic.
I scheduled a lunch meeting at the place; there aren't too many places for lunch around here and they do a pretty good business at lunch. It was way too hot to eat on the outdoor deck; inside there's a long room with a bar up front and tables with blue tablecloths and wicker chairs all along the wall. They were seating everyone right next to one another in the center of the room; so even though the place was half empty we had diners on all sides of us.
I'd checked out their menu on their web site so I had a pretty good idea of what I was going to order. When we were seated, we were only given an "express lunch" menu, which has a fraction of the menu listed on their site. I had to ask to get a full menu, which is also available. Our server brought us full menus, and a plate of hummus was put on the table with a basket of italian bread. I thought pita would be more "authentic", but the bread was pretty good,as was the hummus.
I ended up ordering Shrimp Saganaki, one of my favorites, and then a lunch size version of their chicken ladoregano. I ordered a Pelligrino; they only have the big bottle, but my lunch mate just wanted regular water. She ordered a chicken pita, tzatziki on the side.
When they brought out the shrimp, something seemed a bit wrong;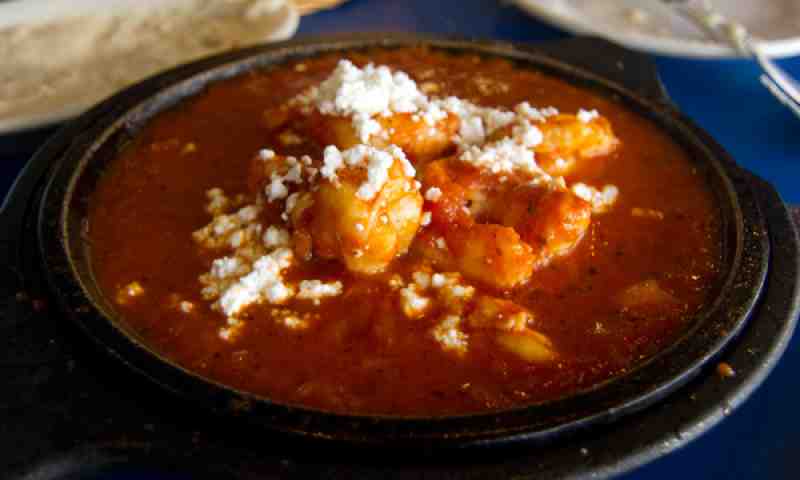 This dish was a fraud; this is supposed to be shrimp baked with tomatoes, olive oil, garlic, herbs and cheese. This was an assembled version; my guess is that the shrimp were boiled as they had no taste at all, and then rolled in some tomato sauce and topped with cheese. This should be baked until the cheese is all bubbly, with the shrimp cooking in the garlicky tomato sauce. The plate wasn't even hot and the shrimp was undercooked. This was a waste of $13.
A runner brought out the main course, but didn't seem interested in taking the obviously empty dishes from the shrimp; leaving them on the table. They forgot the Tzatziki.
The chicken dish was disappointing without even tasting it; half of the plate was salad, there was one sliver of potato and a spoonful of peas. The salad wasn't even a greek salad; just lettuce tomatoes and feta cheese with some onions and a bland oil dressing.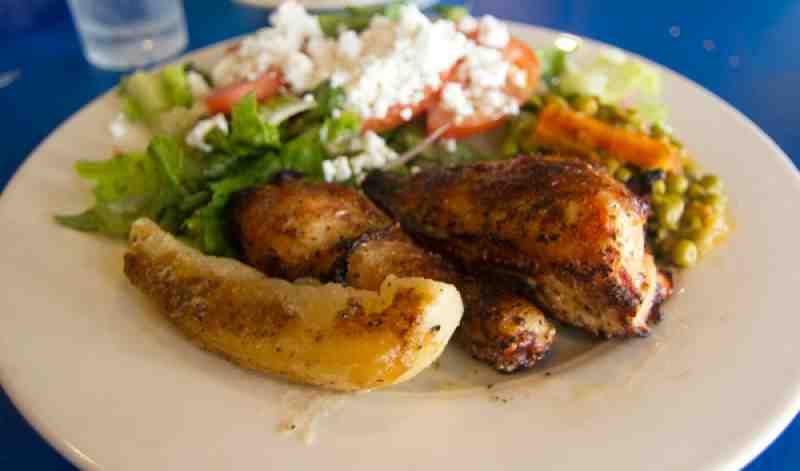 The potato was just a potato; no oregano or lemon or garlic flavor. And the chicken was just really dry with very little lemon flavor. I'm wondering if they ran out of lemons and garlic. There were some hideously overdone peas and carrots (which are how they are supposed to be) that I've never really cared for.
My lunch mate has one of those jobs where if you take 63 minutes for lunch you get a good lashing; and I wasn't nearly done, so I sent her off while I finished. I flagged down the server and after a bit of confusion she presented me with 2 checks; I'm not sure why as there was no obvious reason for ordering the shrimp and Pelligrino separately. I gave her my card and when I was computing the tip I thought that the total was a bit high. I noticed that there was a charge for $2 for "fountain soda". I just looked at it in wonderment for a moment, and then I realized that they had charged me for the water. I really didn't feel like inquiring about it; I just deducted $2 from the tip I was going to leave.
I'd heard that this place was good, but I saw no evidence of that today. Bad service and food that wasn't very good. I really have nothing good to say about it. You'd also expect a place in this neck of the woods to be inexpensive, but their prices are just about the same as Greek Islands Taverna.
On weekends they have entertainment. Maybe they have better food. I won't be finding out.