Critic's Review
On Long Island, TGI Friday's was my default hangout. It was on my way home from work, and I dated a bartender for awhile so I knew most of the regulars. For that reason alone, I've never been to a TGI Friday's in South Florida. I came here for a change. And a Friday's without the camaraderie didn't have much appeal.
They remodeled all of their restaurants just after I moved here, maybe 5 years ago, and frankly I liked the place before better. They obviously hired some wacky designer and the place just seems like a game room without the games. The decorations used previously were a Gay 90's theme with tiffany lamps, brass railings and faux antiques, stuff like old football equipment and big, wooden canoes. Now they've moved on to modern plastic, with stuff on the wall from the 60s.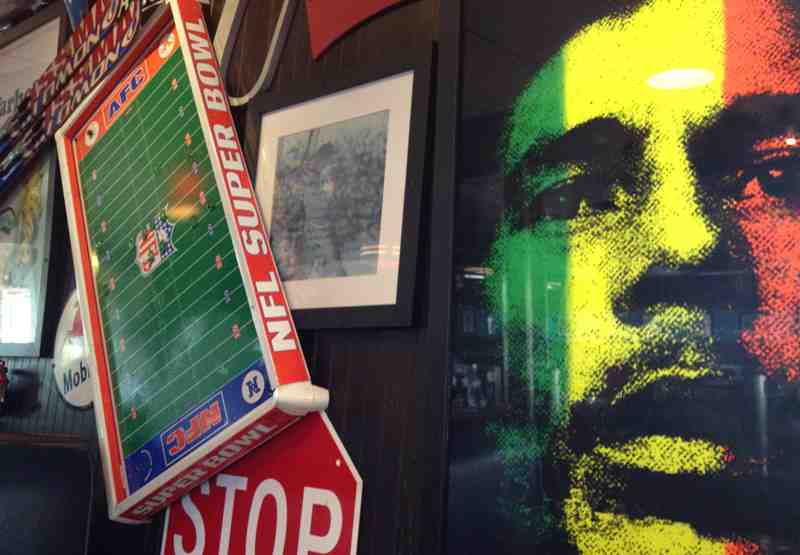 TGI Friday's Wall Decorations
The first time I went to a TGI Friday's was when my older brother took me to the original location on the corner of 63rd and 1st in NYC. The location was famously featured in the movie "Cocktail" in 1988. Before Carlson turned them into a corporate chain, this was one of the coolest places in the coolest city in the world. At 2am, you could get these little char-grilled burgers on english muffins that were just heaven to a teenager after day in the city. In the 70s, Friday's was the first really affordable place to eat dinner in a city where nothing is inexpensive, at a time when the economy was crushing the middle class in a way that those under 30 can't possibly understand.
I used to eat exclusively at the bar, so that was my first idea here. But when I went to the bar, I wasn't happy with the layout. One thing about TGI Friday's is that they all have largely the same layout; but this location has the worst bar layout I've ever encountered. First, they have old Tube TVs that are positioned in a way that you can't see them very well from any seat at the bar. They have stupid, uncomfortable stools with no backs; sadly this place has been ruined by some designer who only cared about form without regard to function. Adding insult to injury was that soccer was on every set; on a day when the supreme court ruled on health care reform and the congress found the Attorney General of the US in criminal contempt; soccer was the focus. I decided to get a table.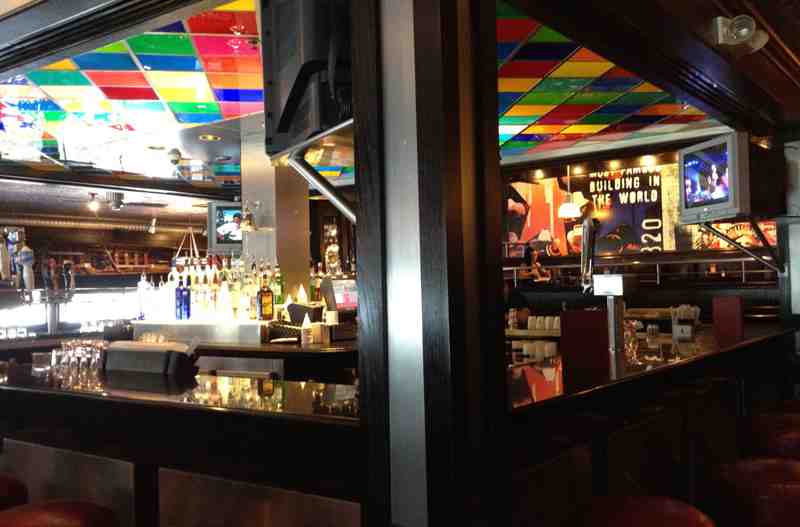 TGI Friday's Fort Lauderdale Bar Area
I landed a booth. one of the advantages of dining after 2pm. No TV in view, which was fine. Soccer isn't my thing.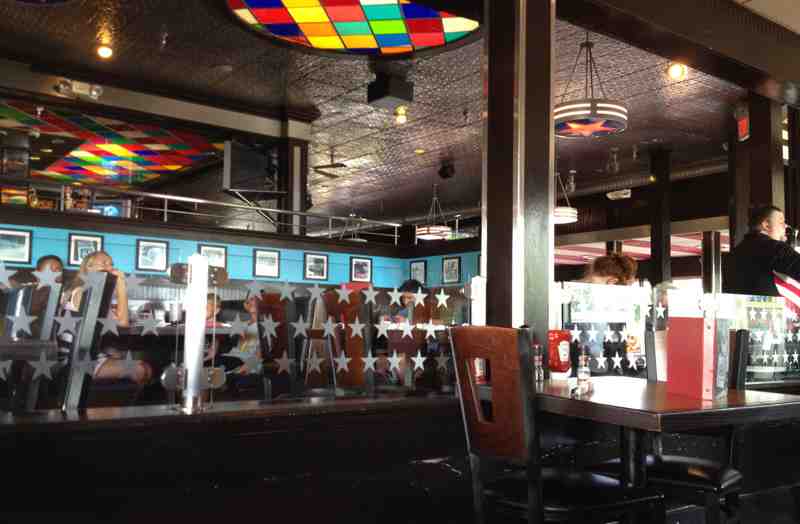 TGI Friday's Fort Lauderdale Interior
Servers here are more mature; 30s and 40s and some older. No kids running around this place. They drop a notebook with drinks and a large menu in front of me; I was thinking of ribs. They have a new carribbean rib entree, as well as their "signature" Jack Danials. Regular is what I'd order. But then I noticed another item; parmesan crusted Flounder. Now one of my favorite lines to use when someone complains about food in a place like this is "You don't order the Salmon at TGI Fridays", mainly because we know that their "chefs" are a bunch of non english speaking guys with backwards baseball caps. But I really like flounder, so I thought I'd give it a try.
My experience with Fridays, and I ate many a dinner at the Huntington Long Island location, was that there are some good things on the menu as well as some very, very ill conceived items. The whole Jack Daniel's thing seemed contrived to me; a marketing deal that had more to do with money than recipe. I really like their caesar salad; the trick was to order it with the cajun fried chicken rather than the regular grilled chicken. Crazy good stuff. My favorite app was the Tostado Nachos; too much for 1 so it was a good thing to share. The cajun chicken pasta was a favorite before my metabolism slowed down. But it's a LOT of calories. Even the fish is listed at 950 calories here. You don't come here for health food.
There's no bread or crudites at Friday's, so you're sitting at an empty table for 10 minutes waiting for an entree. They want you to order apps, but that takes time also. Eventually, the food came out.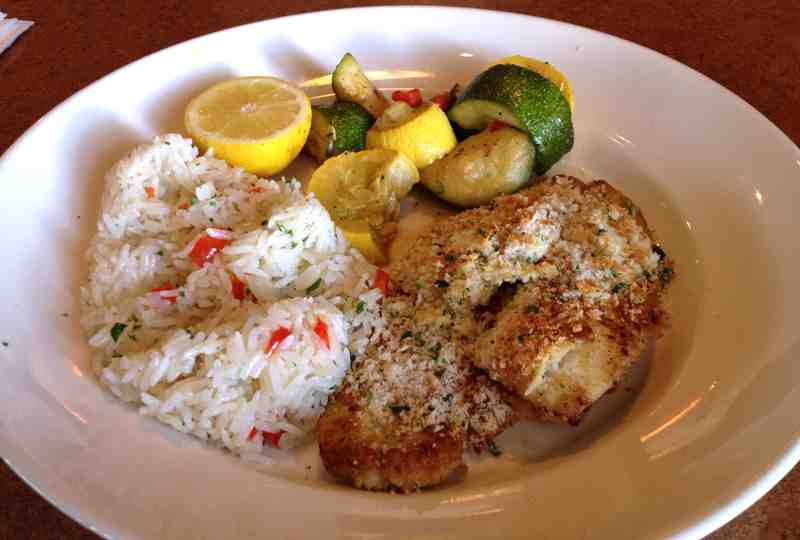 TGI Fridays Parmesan Crusted Flounder
Clearly the fish was overcooked, but again, this ain't Johnny V's. As delivered this dish was largely inedible. Nothing that couldn't be fixed with some butter. I asked for some, and one great thing about Friday's is that they bring you an ice cream sized scoop of butter. Adding butter to the veggies and rice and a lemon butter sauce for the fish transformed this in a pretty tasty lunch.
Service here is adequate if not mechanical. They actually get yelled out if they screw up so there's a little more urgency than some South Florida venues. Because of the crappy bar, I can say for certain that I'd never come here to hang out or watch a game. It just seems ridiculous to remodel the entire store and to leave the 1995 TVs.
Photo Gallery