Critic's Review
Those of you who read this site regularly know that I'm no fan of Anthony's Coal Fired Pizza. The wings are another matter, but I decided to try the Eggplant today.
The location in Pompano is a big room with big TVs, a bar in the center and loud music playing the Rolling Stones and Sting. If you wonder where all of the Goombahs eat; they eat here.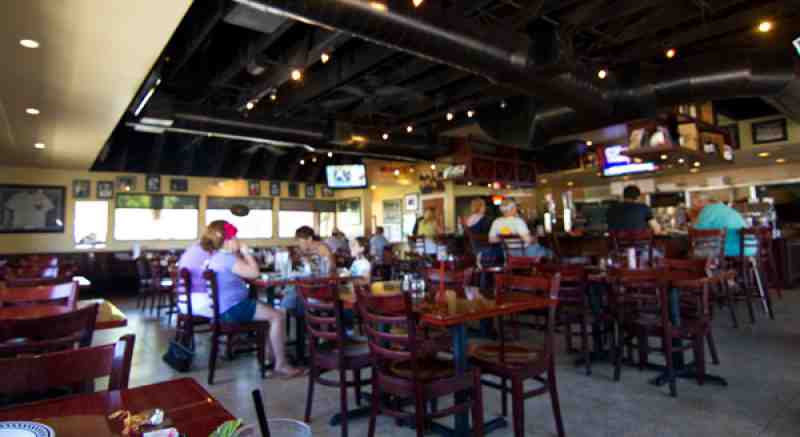 Anthony's Coal Fired Pizza Pompano Beach Interior
After taking the picture, real live stereotypes took the table next to me. Guys with gold chains, 2 kids, with one guy verbally brutalizing one of the kids continuously. I really wanted to record it, but thought I might end up sleeping with the fishes, so I didn't.
Apparently, Dan Marino is a big fan of Anthony's eggplant, because the dish is named after him. Better Dan than LeBron. They call it a stack, and they also consider it a side. I'm not sure what it's a side for, since they don't really have any main dish entrees here. Just pizza, wings and a few "sides". I think they call it a side so they don't have to give you any soup or salad with it.
I ordered an unsweetened iced tea, and they don't brew their own tea here; it comes in a bottle. Not bad tea, but not fresh brewed either; and obviously no refills. Service at Anthony's is not professional; little bits of paper from the sugar and tea cap remain on the table for the entire meal. There's no checking on me or asking if I want anything else. It's pizzeria dining; better than a pizzeria; like a really nice pizzeria.
Also, their web site has a "Lunch Specials" menu served from 11:30-3pm, but I received no such menu at 2:30.
Everything is fast at Anthony's, the food came out in minutes.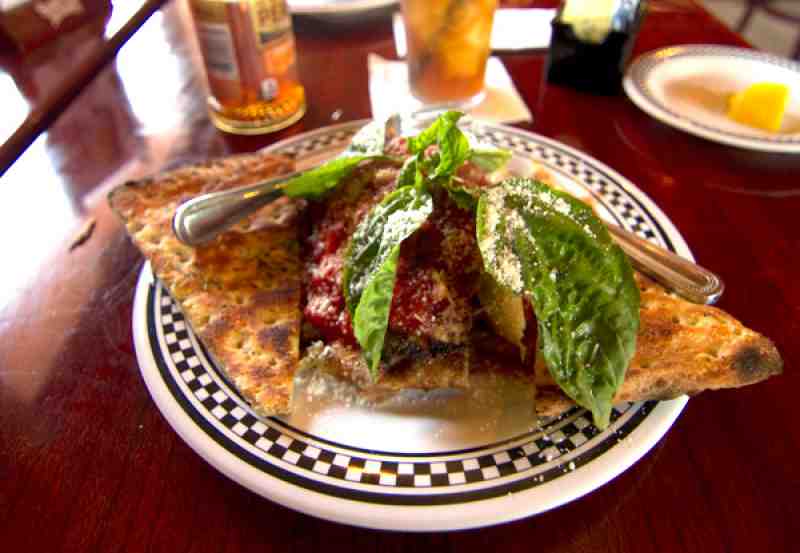 Anthony's Coal Fired Pizza Eggplant
So now we know why they call it Eggplant Marino rather than Eggplant Parmesan; there's no cheese. No Mozzarella anyway. There's a small amount of parmesan cheese and a basic sauce. The eggplant is excellent; with a better sauce and some Mozzarella this would be fantastic. But alas, everything at Anthony's is half-assed. The sauce is slapped together. This is $10.95 and not as much food as you get at Frankie and Johnny's for $9. A pretty good lunch, but it could easily be better.
Photo Gallery