I had some late night business in Western Pompano, so at about 11:30 I thought I'd see what was going on at Cheetah in Pompano. It's a little tricky to get to from the North, my Garmin tried to put me on the Florida Turnpike which would have cost me a buck or 2 and would have been wholly unnecessary. I can find it from Atlantic, which was slightly out of my way but saved me from ending up in some unlit cul-de-sac.
$2 to park and a $5 cover, which kind of sucks on a Tuesday. There were seats at the bar, a "zoftig" latino on the bar stage, and nothing going on at the main stage. There were a bunch of girls doing the cheapo dances in chairs in the main room; I couldn't see any more than butts and hair so I couldn't initially assess the talent.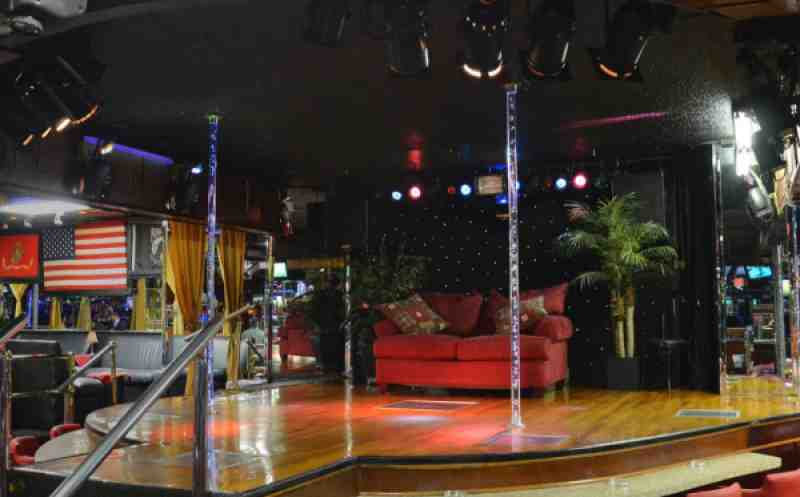 I ordered a water; $5 which is outrageous and reasonable at the same time. I don't drink when I go to strip clubs; I also don't go with too much in my wallet and never use my CC.
I went to the bathroom as I'd been out for a few hours; they have one of those attendents that follows you around with the soap dispenser trying to get a blog onto your hands so you feel obligated to tip him. He reminded me of the guy at Dicey Rileys, but I can be sure. The bathroom is kind of dumpy. It's a pretty old club.
Unlike my last visit, the girls tonight were sub-par. Again, the opposite of what you'd expect; the girls on Las Olas are all skinny with fake boobs and the strippers here could use a nutri-system subscription and are A and B cups. Another shift, another set of chicks I wouldn't talk to in a bar. There was one in-shape chick on the bar stage that a drunk guy kept ranting about; She had a really nice rear end but she also had a BUT (Big Ugly Tattoo); something I'm not a fan of. I waited one more shift; a Russian chick took the stage and displayed some amazing flexibility; headstands and splits; but she wasn't my type. As I was about to leave, the girl who was on the bar came over and started saying the kind of things women say when they want to get into your wallet. She was the best one in the place; so I figured I'd go in the back for a couple of songs.
Not a very good lap dancer. I have to remember that I'm not in NY, where if you touch a girl with your hands a bouncer will beat the pulp out of you. Down here it's anything goes; that is whatever the dancer says is ok. A waste of cash, as it turns out, not unlike the lunch I had earlier at Tijuana Taxi.
A disappointing experience. I don't know how these strip clubs survive without any hot babes; but it does explain why the place was dead empty at 12:30 on a Tuesday night.
Review 11/14/11
Cheetah Pompano has been around a long time. The decor has been the same forever; with leopard spotted upholstery and a reddish glow that seemed to be the thing in yesteryear. Despite the age, the club is clean and comfortable. In fact it's one of the most inviting clubs in terms of casual ambiance north of Miami. It's a little bit smaller than the others, which can be a good thing; particularly on the slower nights.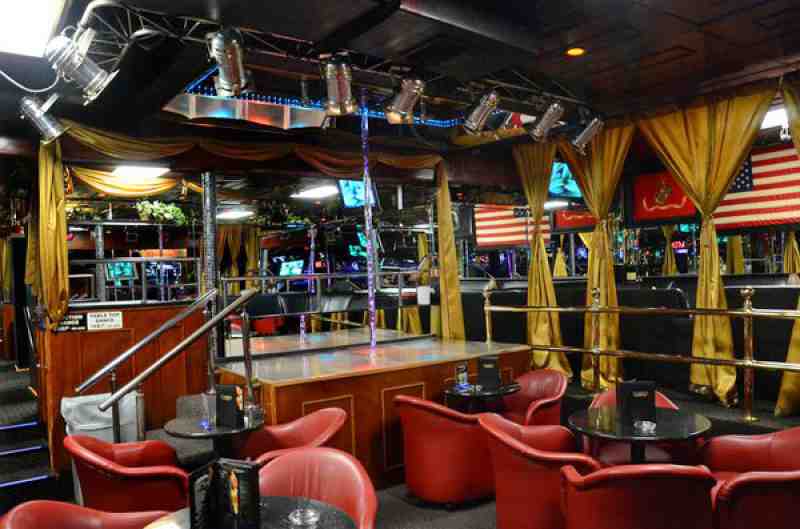 The evening starts out with an annoyance as they charge you $2 to self-park in an empty lot. As you can see in the picture, there were empty spots on the main road and I just pulled into one of them. There's a guy at the door who mutters "$2 please" as you try to enter the club. It's the easiest job in South Florida.
The cover is $5 on a Monday; $10 on weekends. I think it's free before 6pm.
Inside, there's a bar up front, a "VIP" area in the back and a stage in the center. There are 3 girls dancing. Unlike some of the other clubs which seem to only be partially operating on weeknights; Cheetah Pompano is in full bloom. There are a lot of smokers in the place; your clothes will stink when you leave.
The first thing that struck me was the quality of the girls. Mostly all of the girls were attractive, not all my type, but no fat chicks or girls that should consider a career in nuclear physics. All of the staff was attractive also; the waitresses, the masseuse and the bartenders; in fact I bought a dance from the cutie masseuse, who was a dancer on injury leave. Be aware that the "staff" can't take off their clothes, even in the back room.
There were a lot of pretty, skinny girls with B cups, and there's nothing wrong with that. No playboy models, although the one I decided on for a lap dance could have been one with a boob job.
I can't remember her name; Abby or Annie; who cares really? She was a girl who really got it. With a beautiful face, great rear end and a perky B cup, she was friendly and sexy without making me feel like she had one hand on my wallet. She offered me a table dance but I suggested we just go right to the back. No need to make a $10 investment to check out this one.
One thing I didn't like about the back room was that every single "station" had an ashtray. Maybe they could have a non-smoking section?
From a mechanical standpoint, it wasn't the best lap dance I've ever had. But her attitude was spot on. I usually never do more than 2, but she seemed to be genuinely enjoying herself rather than being the typical wind-up doll who turns into a toy soldier when the music stops. While intellectually you know that they're just making some money for themselves, girls that "get" the fantasy are the ones you want; the point of strip clubs is to make guys feel better about themselves, if only for a short time.
There were a few other girls in the place that I wouldn't have minded checking out if I had an unlimited budget. This was easily the best place I've been at this time in the evening.