Critic's Review
Jimmy John's rocks, and I mean that literally. You walk in, and rock and roll from several eras fill the air. A big counter with big signs dominate the place, with black tables and chairs suitable for comfortably dining in.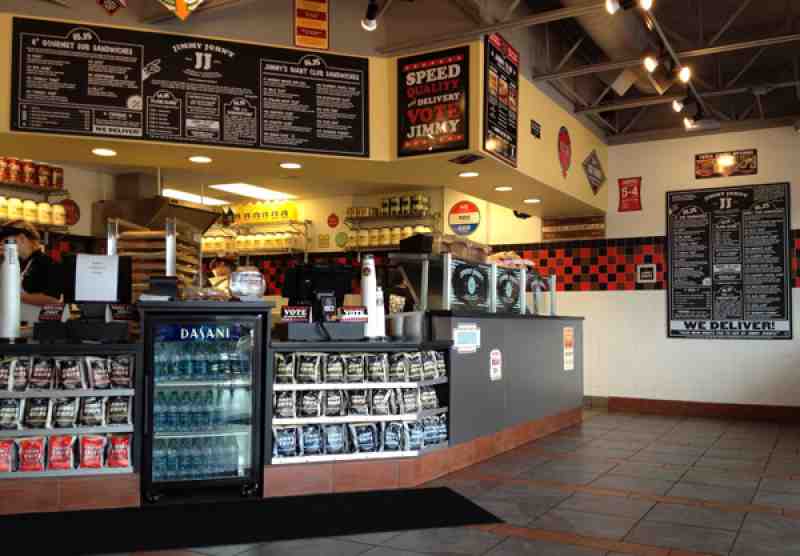 Jimmy John's Fort Lauderdale Interior
One thing I like about Jimmy John's is that the prices haven't changed in over 2 years; Their menu has 8" subs for $5.25, 'Giant' Clubs for $6.25 which are double stuffed, and a massive Gargantuan which is some sort of Dagwood type sandwich for $8.25. You can order it "as you like it" stacked with any combination of meats and cheese that you want. They charge extra for pickles, and you can also get cookies or Jimmy John branded potato chips, also for an extra charge.
I've had the regular tuna and vegetarian subs on previous visits, and they were both pretty good sandwiches. I thought I'd try the "Giant" Club Sandwich this time, so I ordered an "Italian Night Club", with mustard and peppers on the side. They charge extra for the peppers; they don't have sandwich pickles or banana peppers at all, and you can pay extra for a whole or half pickle. I guess I could get a pickle and slice it up, but I didn't.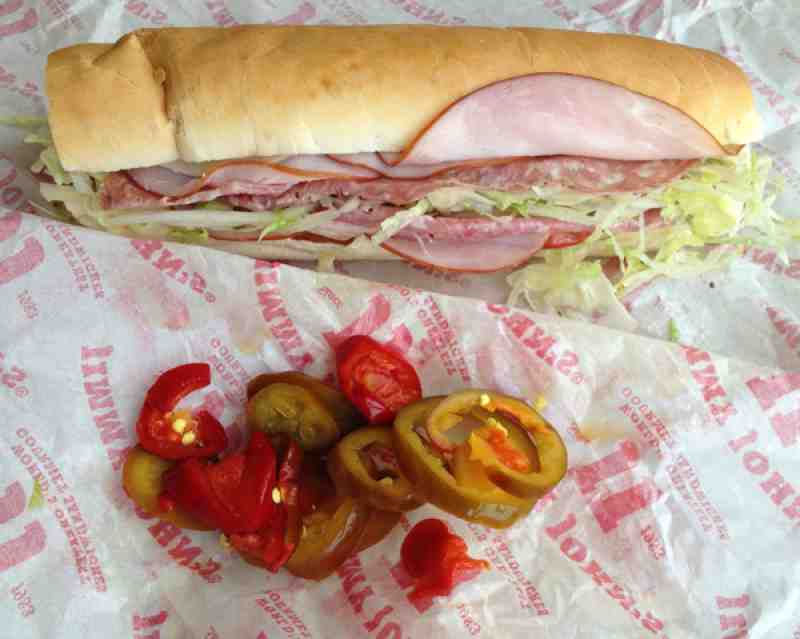 Jimmy John's Italian Night Club w/Hot Peppers
They just gave me the peppers wrapped in paper which was kind of messy; I guess they don't have any little plastic containers. This sandwich certainly isn't "Giant", so their marketing is a bit ambitious. I cut it in half to see what was going on inside.
Jimmy John's Italian Night Club Cross Section
Certainly not overstuffed, but not a skinny sandwich either. I had some banana peppers in the fridge; the nutritional info says that this is a 950 calorie sandwich, so I had half of it for lunch. The bread doesn't look very good and it feels a little stiff, but I always enjoy Jimmy John's sandwiches. They use good ingredients and for $6.50 you can't go wrong.
There are a few things I don't like about Jimmy John's. The servers are somewhat mechanical and not very friendly. They don't cut the sandwich in half. You have to bag it yourself; they just hand you the sandwich and then they have the bags and napkins at a station where you can bag your own.
Very modern mechanical. But the sandwiches are cheap and consistently good.
Photo Gallery