Critic's Review
When one of the biggest dive bars in town opens a seafood grill, you have to wonder what they were thinking.
The first thing wrong with this place is that the name is way too long. I went to this place when they first opened, and the experience was just terrible. Bad food, bad service, bad ambiance. Their menu has expanded since then, and some of the dishes sounded pretty good; I was thinking of a revisit. A reviewer on Urbanspoon suggested that I give it another try; so I did.
The crustiness factor hasn't changed much; there are more flags now than before. There's a screeching parrot. The hightop tables are splintered and in disrepair.
The place is literally located in a marina, with an entrance to the venue in the marina itself. As you walk in there's a pool; not a pool I'd want to swim in, but its there. The bar andjump-->restaurant are on a dock with a nice view of the marina and the new river. Physically, the only positive is the view; too bad about the rusty bridge.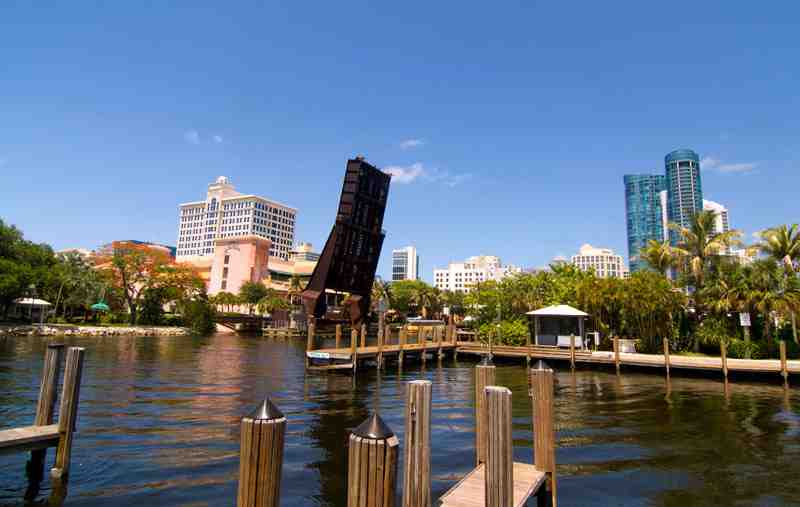 Service is better than it was before, but not exactly white glove. Iced tea is served in a plastic cup with a tiny slice of lemon; the roll-up is a cocktail napkin. Their menu has no correlation to the physical place. It has all sorts of fancy dishes, including pictures. There is no lunch menu; my server points me to the back of the menu book where the sandwiches and burgers are; but I came here for some seafood. The seafood entrees are $24 and up; I didn't have that kind of confidence in the place. They have some mussels and clams dishes, but they're too expensive. I'm not paying $15-18 for what amounts to an appetizer.
I decided on the Portuguese chicken, chorizo and clam stew. My server asked if I wanted it spicy; yes of course.
Now another thing that sets a place like this apart from a real restaurant is the nothingness while you're waiting for your food. No bread, no crudites. Just a wait at an empty table. When you're charging $15-25 for lunch entrees there should be something. Finally the food is served.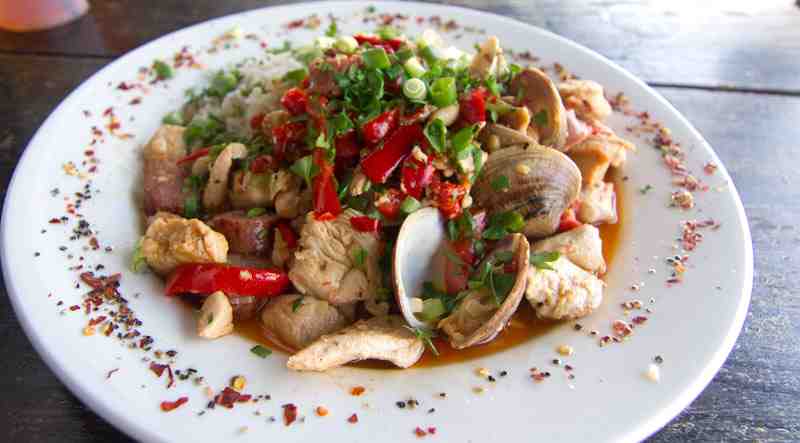 Looks beautiful, right? At first glance, I notice the presentation but it doesn't much look like the portuguese dish I expected. If you didn't have any idea what to expect, which I suspect is the case with the usual clientelle here, you might eat this and think it wasn't half bad. But it was all wrong. First; it's not a stew. Stews simmer and have a rich, flavorful gravy. This dish should be made with paprika-laden dark meat; legs and thighs, this was unseasoned, unbraised breast meat. There were no potatoes at all; no garlic. They didn't use Spanish or Portuguese chorizo, which is dark red and spiced with spanish paprika. In fact, the chorizo was closer to a hot dog than anything else; you can't make this dish without good, spicy chorizo. I'm not sure why she asked if I wanted it spicy; the only heat in this dish was the red pepper garnish around the rim of the dish.
So if you like chicken breast, hot dogs and clams, this would be fine. But they shouldn't call it "authentic", considering that they not only don't use authentic ingredients, but they leave some key ingredients out altogether.
Now the dish wasn't terrible; I'll give it a C. It wasn't anything I was hoping for, but then again, I should have known better given the surroundings.
Photo Gallery
How to Get There