Critic's Review
Peter Pan diner is a busy place mostly frequented by locals. There's a "lounge" area and a "diner". They are open 24 hours and serve everything under the sun.
The diner area has a modest decor with a counter up front and some rows of table and booths.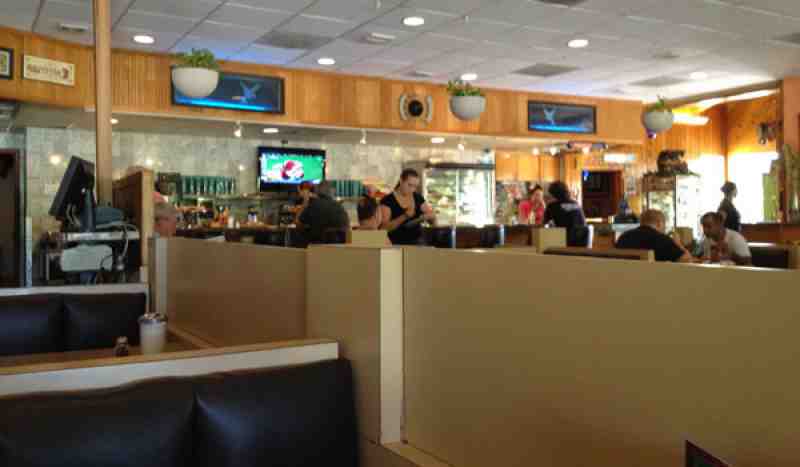 Peter Pan Inside
With a fairly empty dining room, the hostess tried to seat me right next to a baby carriage; I just shook my head and said "how about over there", as I pointed to a empty row of booths. Note to Hostesses: Don't seat people next to babies or big groups in a largely empty restaurant. Use your head please.
I opened their fairly extensive menu to find a smallish breakfast menu, which was surprising for a 24 hour restaurant (the menu we have here is a bit out of date). A server didn't come over for awhile; usually in a diner they ask what you want to drink as soon as you sit down, but here I didn't have coffee until after I'd ordered. Eventually the coffee, water and ketchup came out in 3 separate visits from my server.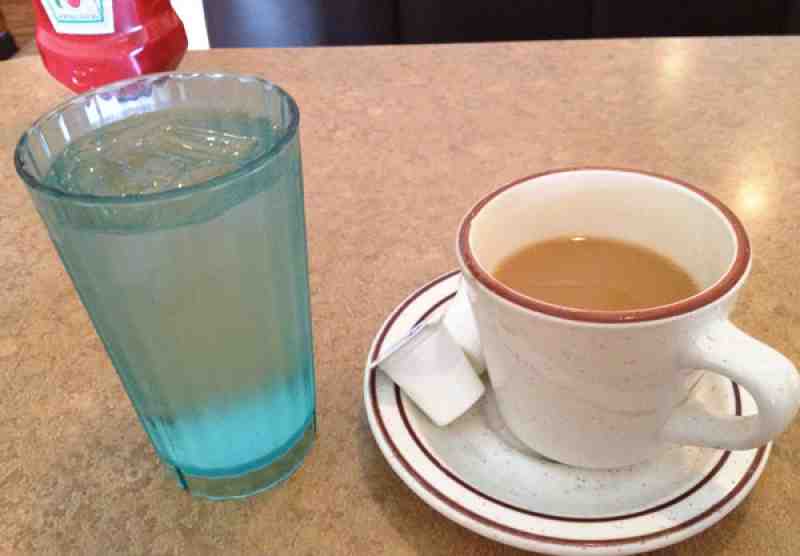 Peter Pan Coffe
Standard industrial cups and plastic drinkware. This place is the topper; that is they come by every few minutes to top off your coffee, which required that I continuously re-sugar my coffee. You have to ask for sweet and low if that's your thing.
The eggs came out within minutes.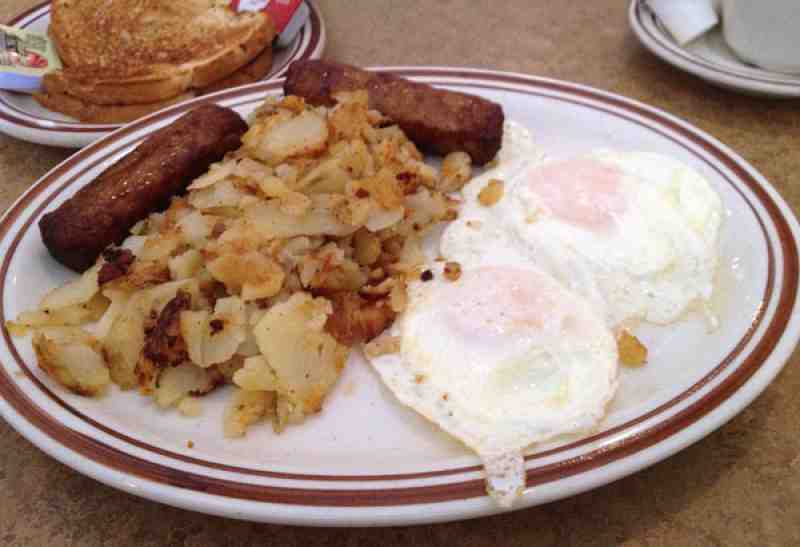 Peter Pan 2 eggs with Sausage
It was a pretty good sized pile of food. The eggs looked a bit strange and small; why don't diners charge 10 cents more and use extra large eggs? But eggs are eggs as long as they're not burnt. The had better sausage than the last time I was here; the big plump ones, overdone from sitting around but good nonetheless. And the potatoes were excellent; they had buttery flavor that was a welcome change from the bland plain potatoes that you get at most places.
Service was clunky; the wait for coffee, the dropping stuff off at the edge of the table and then scampering away, and the check was left on the table with the eggs. It's a true "diner" dining experience.
The damage for all of this? $6.88. before tip. The last time I was here about 3 years ago this same breakfast was $1 less. But this was a lot better. If you can tolerate the uneven service; this place is a really good value.