Critic's Review
The actual name of the business is "Pita Paradise Cafe"; the sign says "Pita Cafe", so I guess the Paradise didn't fit. It also doesn't fit the place. Inside, it's a small place with a few tables. It's a bit different than it used to be; they've put the hookahs up on a shelf and removed the costumes that used to clutter the place. It's no paradise, but you could eat a sandwich in here if you had no other choices.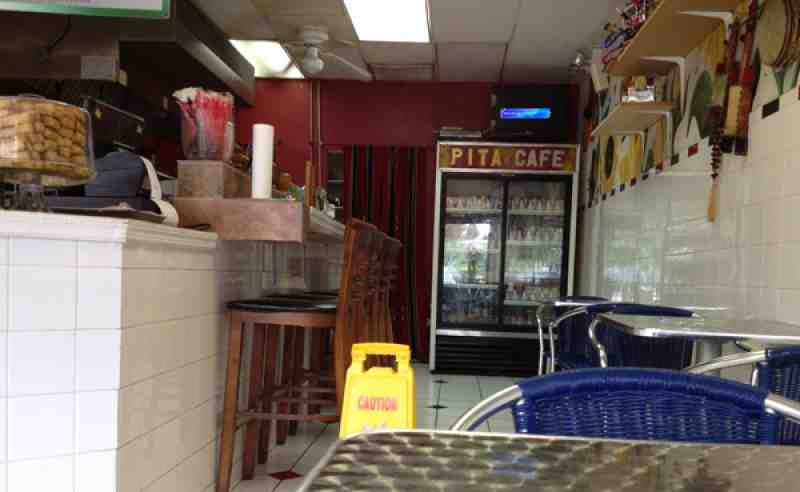 They have a sign up claiming to be under new management; the guys that work here have heavy accents and they'll try to sell you on their specials and soups. But I was just having a Gyro. I asked for "a Gyro pita, sauce on the side". He asked if I wanted it spicy, which I just didn't understand. A gyro is a gyro. There's no spicy. So he showed me some reddish powder and I just say "No, give me a regular one".
They advertise "Free Internet", but their wireless is locked. I suppose they'll give you the password, but I'm not sure why such a small place has to have it locked. It's a pain to ask for passwords.
When the Gyro was ready, the counter dude showed it to me before putting it into a bag, and he told me he didn't charge me for the sauce. Well that's good, because I didn't ask for extra sauce, I just wanted it on the side.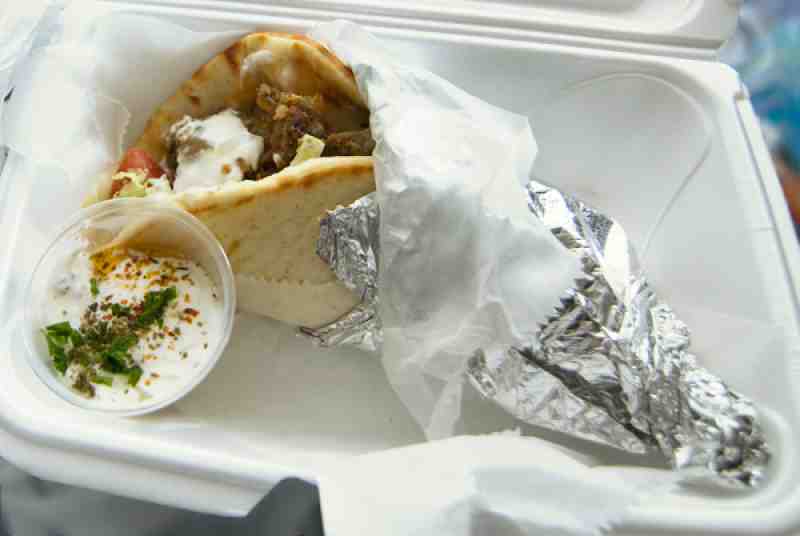 Pita Paradise Gyro
He'd put some on they Gyro as well as some on the side. No matter, he didn't put much on. The stuff in the Tzatziki concerned me. I took a bite of the Gyro and I knew this wasn't a standard Gyro. The meat wasn't the typical stuff cut from a spit. It was like chunks of seasoned meat. There were cucumbers and feta cheese and even a potato. The Tzatziki wasn't garlicky; it was a different kind of yogurt sauce.
When I looked at the menu, the description of the Gyro is "Lamb with a Greek Salad", so I guess I got what the menu says, but it wasn't what I expected. It wasn't a bad sandwich, but just be aware that this isn't your typical Greek Gyro.