Critic's Review
Chen's garden is one of many dumpy chinese takeouts west of US1; while there are some tables and you could eat here; it's really a take-out place.
The way they answer the phone, you have no idea if you have the right number or not. Just say "I'd like to place an order" and if they ask "pick up or delivery", you're golden.
I hadn't been to Chen's in a long time so I'd forgotten any specifics, so I ordered the BBQ spare ribs, steamed dumplings and a small pork fried rice.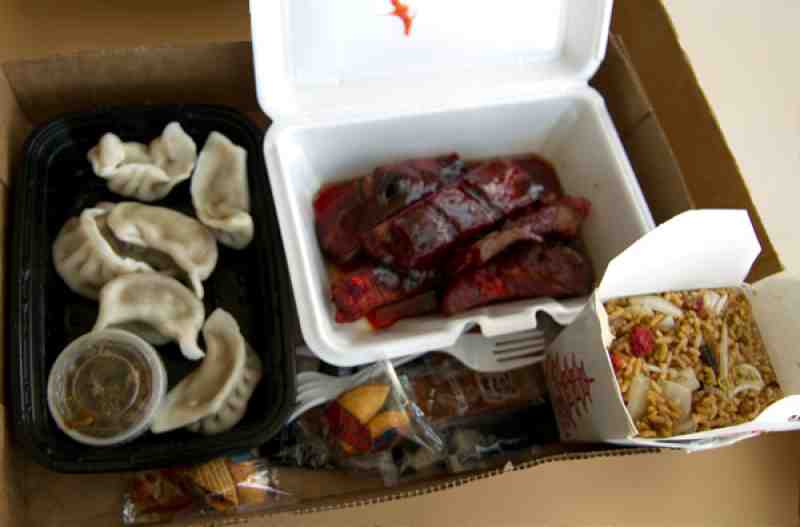 Chen's Garden BBQ Ribs, Steamed dumplings and Pork Fried Rice
The first annoyance came when I unpacked the box at home. I'm out of practice ordering chinese food (I used to have it at least twice a month before I started this site) and I didn't ask for specific condiments. They gave me 6 soy sauce packets and 4 duck sauce. No mustard; mustard is the only one I want. It's a good thing I had some in the fridge. Has mustard gotten expensive or something? They all usually give you 2 packets of each. And why do they all give you soy sauce? Nobody puts soy sauce on ribs. How am I going to use 6 packets of soy on what I got here? If they had someone with a brain working in these places they might consider what you've ordered when they decide what condiments to give you. If you order a salad or a shake at McDonald's they don't give you ketchup. Or maybe they should just ask?
I'd forgotten how bad Chen's dumplings are; these were terrible. The dough is so thick that it ruins any chance of tasting what's inside. The ribs would be better with less sauce; it's pretty sweet and sticky and I really don't need them so heavily sauced. The rice is very good; Chen's has always had good rice, with lots of stuff in it.
The food is always ready on time, and they deliver downtown.