Critic's Review
Blue Moon Fish Company is a seafood restaurant that offers waterfront dining just east of the Commercial Blvd bridge. Its sort of a fancy place, and you get a mix of people who are dressed up and the very casual who wander in from the nearby beach community. One thing you get here at lunch is a lot of people drinking alcohol; in this neck of the woods, this restaurant is very high end. At lunch they have 2 for 1 entrees and appetizers, and even if you come buy yourself they'll take off the lower cost item if you have 2 apps or an app and an entree.
There are a handful of metered spots available, but its most likely that you'll have to valet. Just about all of the spots by the restaurant are reserved for valet parking. I don't like this sort of setup, as I have electronics in my car and while they want you to use the valetjump-->, they don't want to be responsible for anything that comes up missing. Its most annoying when half of the valet reserved spots are empty and there are no others. Its one of the reasons I avoid the forced valet places (hello Benihana).
Its a pretty nice place, with a snazzy bar in the back with a few tables, a waterfront dining area, and an inside dining room with valuted ceilings and etched glass partitions. The service here isn't terrific; the servers seem busy socializing and doing things other than worrying about their customers. There's usually a wait at peak hour, even for lunch. Its just one of those places.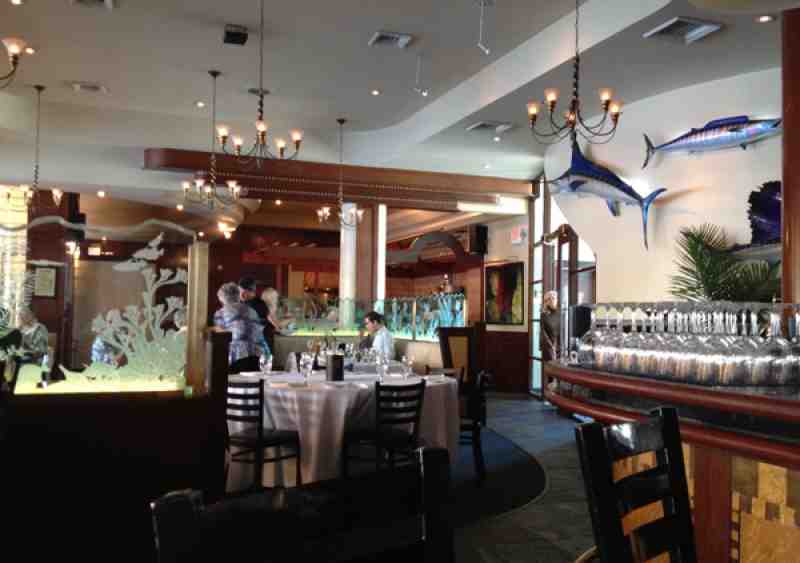 Blue Moon Fish Co Dining Room
The first time I had the gumbo here I left the place crying; but they've since abandoned the spice in almost everything on the menu. The gumbo I had today was fair at best; not thickened properly and I can't say that I noticed any andouille sausage or okra at all. Blue Moon still lists Brian Cantrell as their Executive Chef, but he's left to run the kitchen at Thasos.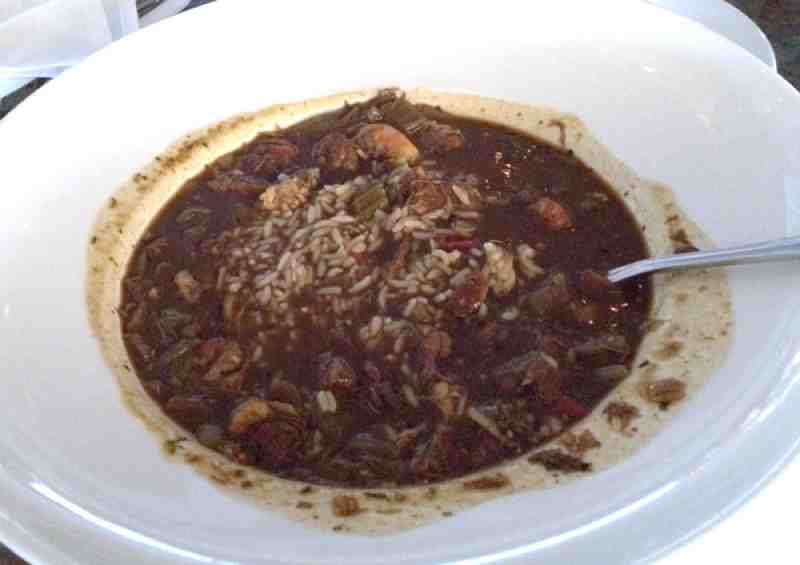 Blue Moon Fish Company Gumbo (2012)
A sad remnant of what used to be a great bowl of soup.
I also ordered the mussels; a pound and a half of well-steamed PEI bi-valves, in a broth that he menu claims includes white wine, pancetta, rosemary, lemon and butter.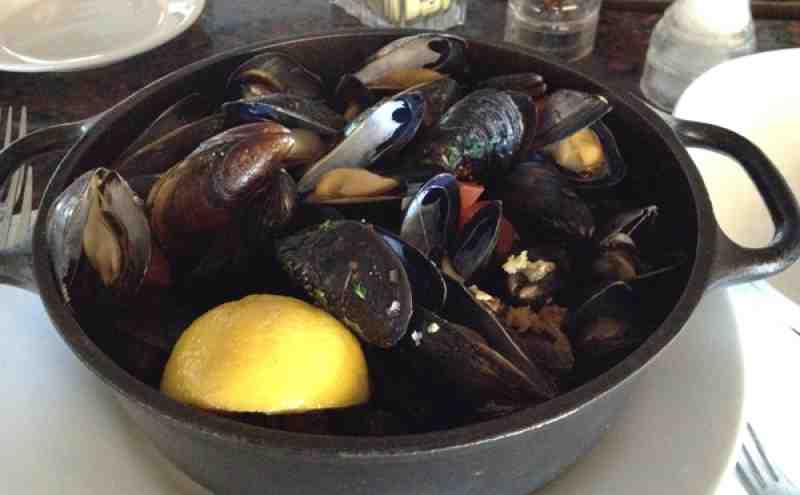 Blue Moon Fish Co Mussels
The mussels themselves are great, with only one unopened. The broth was particularly bland, however, and there were tomatoes in the broth and no hint of rosemary or butter. The broth had no dipping value at all.
I've had the crabcake here, which is very good. It has crawfish in it as well, but it's kind of small for $14. The "firecracker" oysters have absolutely no heat at all; just breaded oysters.
Something new at the Blue Moon is an 18% tip, which they add BEFORE deducting the 2 for 1s. You can look at this 2 ways; either it's a forced 30% tip, or you're really only getting an 82% discount on the second item. Good for servers, but bad policy.
While they've kicked-down the spice in their food, they've kicked up the price of their Sunday brunch from $29.95 to $48.95 per person. It's the ultimate in high end, with a raw bar, carving stations, entree from the kitchen and unlimited bloody marys or mimosas as well as desserts. It's the opposite of value-adding, which seems backwards in a bad economy. Like the $55 brunch at the Hard Rock; you have to be really, really hungry to get your money's worth at this one.
All in all, a nice place with decent food that used to be better. Lunch is a good deal; but like many places in this town; bad policies and bland food blunt the overall experience.
Photo Gallery