Critic's Review
There was a time when the Bimini Boatyard was THE place to be, particularly on Friday nights. They have a nice patio on the water, and it's still a nice place to go on weekend afternoons and happy hour, but the crowd is nowhere near the same as it once was. There were fewer choices back then, and more people who were born locals rather than transplants.
I'd had lunch at Bimini before; I got the simply grilled fish and it was a very small portion. It was before I had this site fully figured out. But I wasn't all that impressed. They've had a change in the kitchen since then, and although their menu is largely the same, there are a lot of compelling choices. Their jerk wings are one of the few I hadn't tried, so I thought I'd give it a try.jump-->
While the bar and patio are the big pull of this place, I opt'ed to eat in the dining room to get the full experience. They have a lot of booths with big, squishy cushions and big throw pillows that serve only as decorations; a bit too squishy for me. The dining room is busy even though there are few customers; there are people flying all over. It's hard to get a picture without them.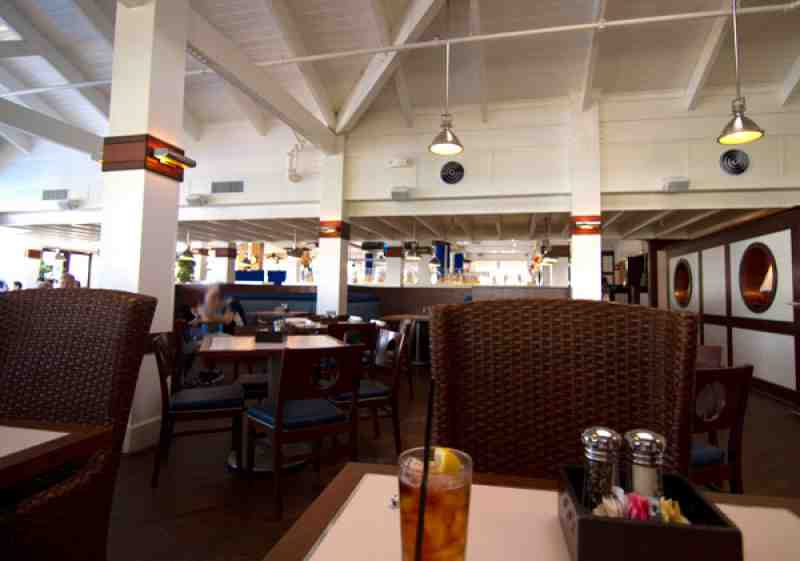 Bimini Boatyard DiningRoom
I knew that I was ordering wings; I could take them home for a snack if I didn't eat them all, so I needed something else. While this place isn't all that inexpensive (they have no lunch menu, so you're paying dinner prices), they do offer a dozen oysters for $10, which is less than a buck a pop. Some places offer oysters for $1.50 apiece as a special, so this a good deal. A real low-carb lunch.
While all of the runners are teenage kids, servers are professional. Little bits of paper on the table disappeared whenever she stopped by. Iced tea was filled before it was empty.
The oysters and the wings came out at the same time. I usually order 1/2 dozen oysters; this was a pretty big plate.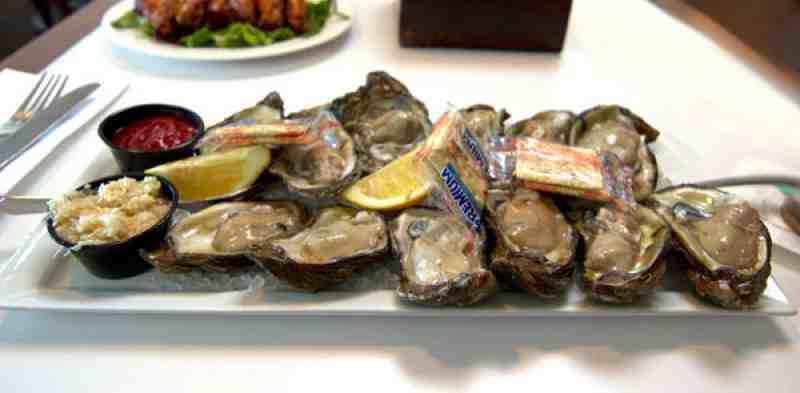 Bimini Boatyard Oysters
They give you a mild cocktail sauce and plenty of horseradish to kick it up. Enough lemons, and the oysters were nicely shucked. Only a few bits of shell in the whole lot. The oysters are a winner; a great deal for $10. too.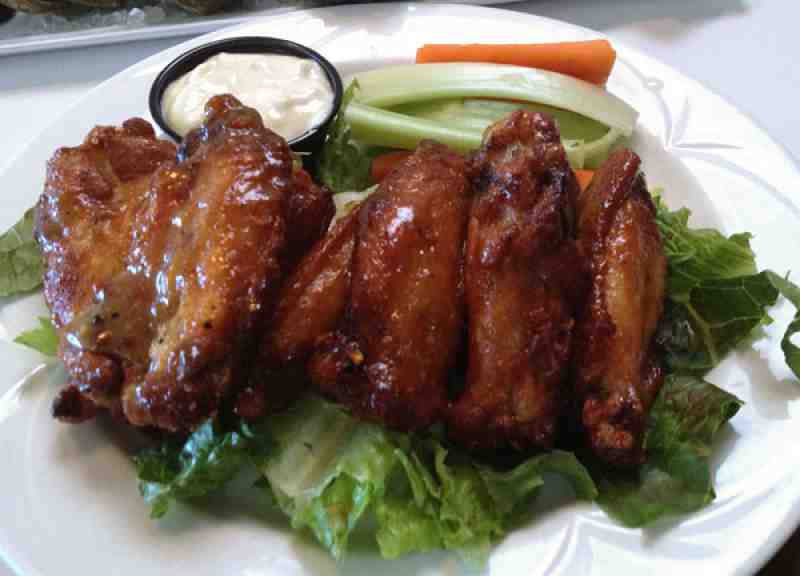 Bimini Boatyard Jerk Chicken Wings
The wings, however were disappointing. The disappointing part was that they had no spice at all. They were more sweet than spicy, with a clear, sticky sauce. This is certainly not close to the standard Jerk with fresh thyme, scallions and scotch bonnet peppers. To make matters worse, the sauce included was terrible. If it was supposed to be blue cheese, it was the worst I can remember having. After eating 3 wings I decided to bring the rest home, where I could at least have the wings with a good blue cheese dressing. They also shouldn't serve them on the lettuce, which was sticking to the sticky wings and I constantly had to pick it off.
I'd have to say that this is an ok lunch place; the wings weren't bad; they just weren't what I was hoping for. They have some other interesting dishes that you can't get elsewhere, and prices are moderate. They didn't charge me for the iced tea, either.
Photo Gallery