Critic's Review
In Plantation, J Alexander's may very well be the best restaurant in town. There's no Capital Grille or Morton's, not even a Houston's. it's a town riddled by small mom and pops and lower end chains like Chilis and Olive Garden. I shouldn't have been surprised at how crowded it was at lunch time mid-week.
The restaurants are all pretty much the same; they have a clubby feel; they're nice restaurants. Cool jazz fills the air.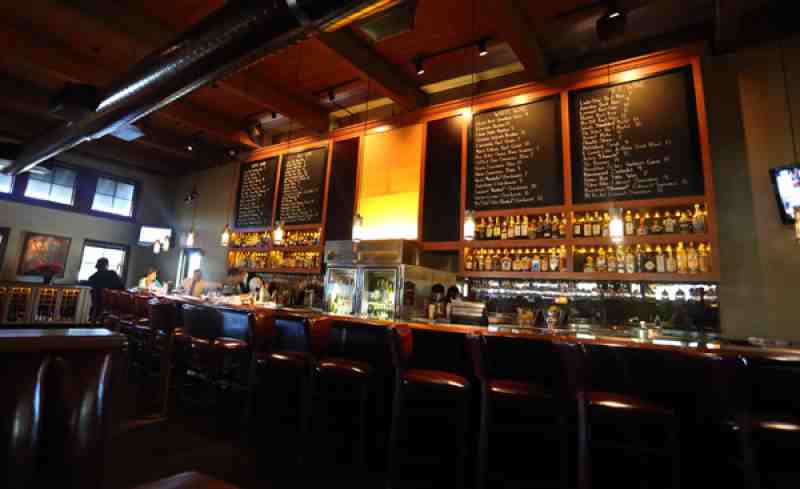 J Alexander's Plantation Interior
The bars are too high at J Alexander's; if you're under 6 feet you'll feel uncomfortable eating at the bar. I opted for a small booth in the bar area. They're well organized here; the hostess told me the soup and fish of the day when she seated me, one server took my drink orderjump--> and handed off the duties for food service to a second server. The prices here keep going up; $13 for a cheeseburger. I noticed some changes also; they no longer have their prime rib sandwich; I'm guessing that people were ordering it and taking it off the bread instead of ordering the bigger cut. They also no longer say that they use serve Certified Angus Beef. The menu now says that they serve "Choice or above", which is exactly the same as what you get at Publix.
The soup of the day was New England Clam Chowder; I ordered that with the 1/2 Rotisserie chicken,substituting cole slaw for mashed potatos. I expected a small cup of soup for $6, but it was a decent sized bowl.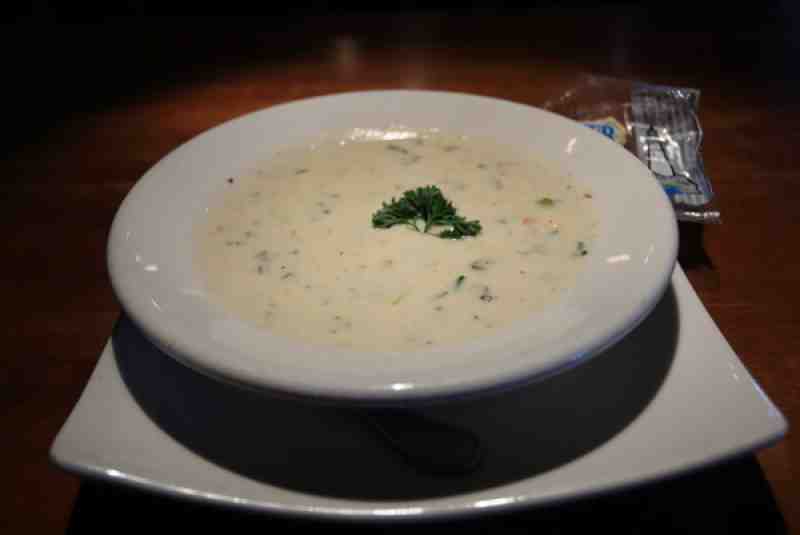 J Alexanders's Clam Chowder
On first taste, I was impressed with the soup. It had a nice flavor; more like a bisque than a clam chowder, but good. It was a strange version; there were very few clams, the potatoes were cut in to a very small dice and there were big chunks of celery and fresh thyme. It was a good soup, but it needed more clams to be called clam chowder.
The time in-between courses was a bit too long for lunch; it was 10 minutes after I finished the soup before the chicken emerged.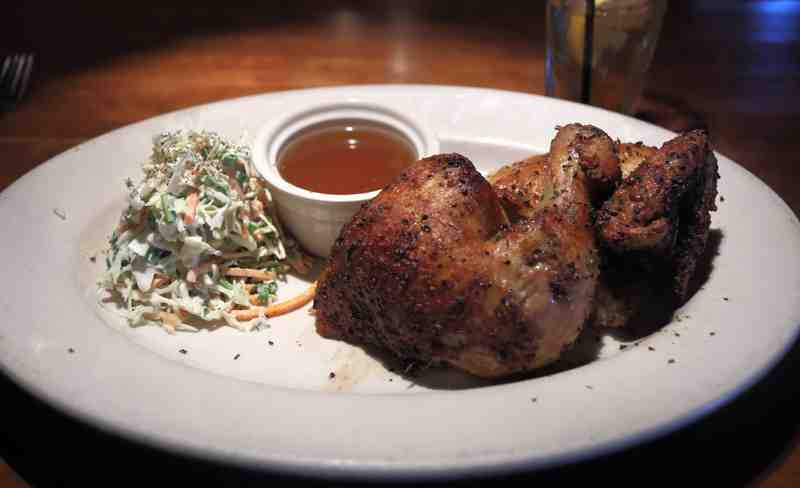 J Alexander's Rotisserie Chicken
The chicken comes au jus, which I really don't need with chicken. the chicken is pre-cut into 2 quarters, which is convenient since I was only eating half of this. It made it easy to take the leg and thigh home. The chicken was great; not fall off the bone moist like some rotisserie chicken can be; it was more like a roast chicken with a very savory skin. The cole slaw was fresh and had a good dressing but I would have liked it better if it didn't have so many carrots. I don't really want carrots in my cole slaw.
Service at J Alexanders is very professional; the overall ambiance of this place is one of the best in the county; Morton's plays bad music with a similar decor. To me, J Alexanders is what Houston's used to be like before they got overly arrogant. Prices are a tad more reasonable than Houston's, but overall they have a better menu and better service.
Consistently good. Sometimes you just need a sure thing.
Photo Gallery