Critic's Review
A lot of people really like Houston's, but I'm not really one of them. If you're used to hanging out at TGI Fridays or the Ale House, you'll think this is really upscale dining. But to me, Houston's defines overpriced chain restaurant dining. I decided to revisit this location, even though it's not nearly as nice as the location in Pompano.
It's located on "executive center circle", which is an annoying road that meanders parallel to Glades that has Stephane's, Season's 52 and Romano's Macaroni Grill on it as well. Houston's is way in the rear. On my last visit I'd sat at the bar, and that was a big mistake. It's not a very nice bar area, and a couple of loudmouths ruined the experience. This time I decided to get a table. They have nice booths for 2 and 4 here, so you're pretty sure to get a booth.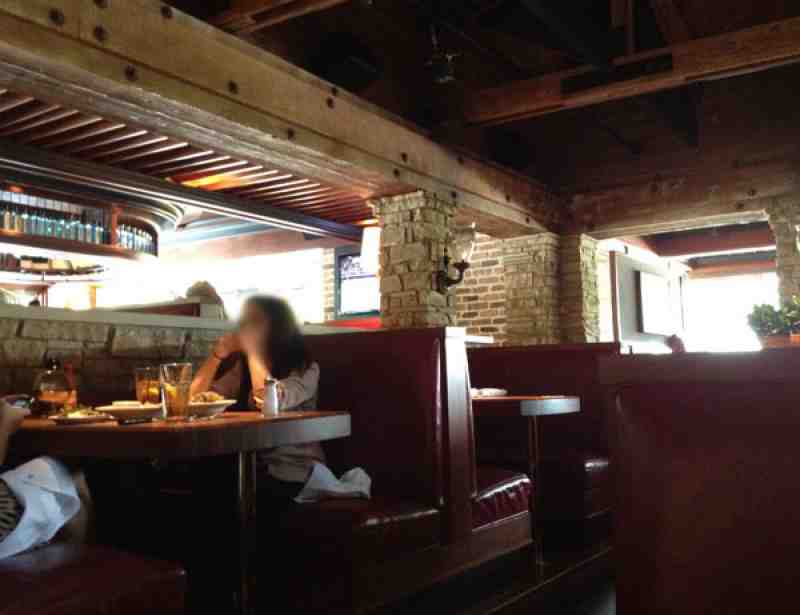 Houston's Boca
In my previous review, I joked about the $13 cheeseburger and the $17 French Dip. Now the burger is $15 and the French Dip is $19. I was actually shocked at the prices; apparently hard times are not a concern to Houston's. $31 for prime rib, for lunch. I'd had the soup, chili and "eggless" caesar salad on previous visits to Houston's and I didn't like any of them. I didn't really want a sandwich. I asked the server about specials, and as she was rattling them off, I almost broke out into laughter. YOLO is such a Houston's rip-off I didn't even realize it. The 'simply grilled swordfish' got me; I just though of Ben Crandell regularly referring to YOLO owners as "visionaries". Sure, some vision. They envisioned a Houston's on Las Olas.
I felt like splurging and Houston's is just an even more expensive J Alexanders, so I went for the Prime Rib. I figured I was going to get ripped off no matter what I ordered, so why not go for something good. I asked if I could sub out the fries for a vegetable, and unlike YOLO, they have some edible green vegetables; I ordered the brocolli. I asked for Iced Tea for a change, and it came quickly.
Now for $31 for a lunch entree you'd figure you'd get some bread, but there's no bread at Houston's. There's also no wireless, and I barely had a 3G signal. I was really getting ticked, trying to figure out why anyone would go to this place, as I watched the 2 women at the table next to me get their $15 cheeseburgers. And then they brought out my food.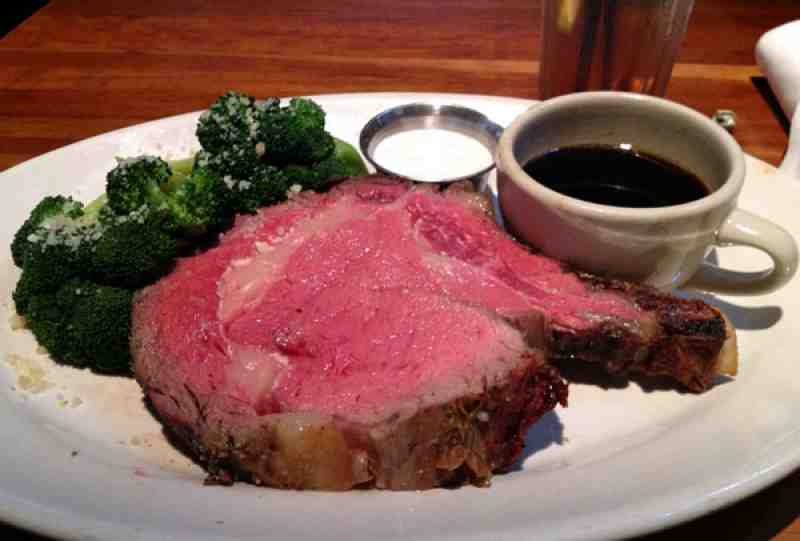 Houston's Prime Rib
Well at least I was getting a man-sized meal. The only thing worse than paying $42 for a lunch with no alcohol is when they roll out a miniature portion, but this was a nice piece of meat. I asked for butter for the broccoli, the cheese that was on it didn't work for me, and they brought me out a big tub of nice soft butter. This was as good a prime rib as I've had in quite some time; as good as the one I had at Copper Canyon, but this one was bigger. I usually don't like the Au Jus, but this was very tasty without being too salty. The horseradish cream sauce was smooth and slightly hot; I alternated between between eating plain salted beef and dipping in the au jus and the horseradish.
Service was excellent until I needed my check; Iced teas were brought out before I'd finished the previous one, and even servers who aren't your server will bring you something if you ask them, unlike a lot of other restaurants.
One of the issues I have with places like Houston's is that they are purely profit driven. A consumer oriented restaurant has a lunch menu with smaller portions and smaller prices. Now if I came in here on a Saturday night for dinner the prices here are easier to absorb, but even though this was very good, it was as expensive a lunch as I've had in South Florida, including some of the best restaurants.
At this particular location, I'd recommend against sitting at the bar. It's not very elegant and eating a $15 burger there wouldn't seem worth it to me. Interestingly, the menu that Hillstone has on their website for Boca Raton is priced higher than the one at the restaurant, so I don't know if they have a different one for lunch, or if they have the wrong one up.
Photo Gallery