Critic's Review
I heard that they had remodeled, and after checking out nearby Gimme a Burger, I thought I'd see what was new. If you remember the previous exterior photo we had here; from the outside the place looks pretty much the same. The door is painted blue, but it still doesn't quite fit. Inside, it's still pretty much a dump. They have a counter in the rear now, and the cheap vinyl tablecloths are gone and they have some nicer tables and chairs. There's a couple of seats at a stainless steel bar.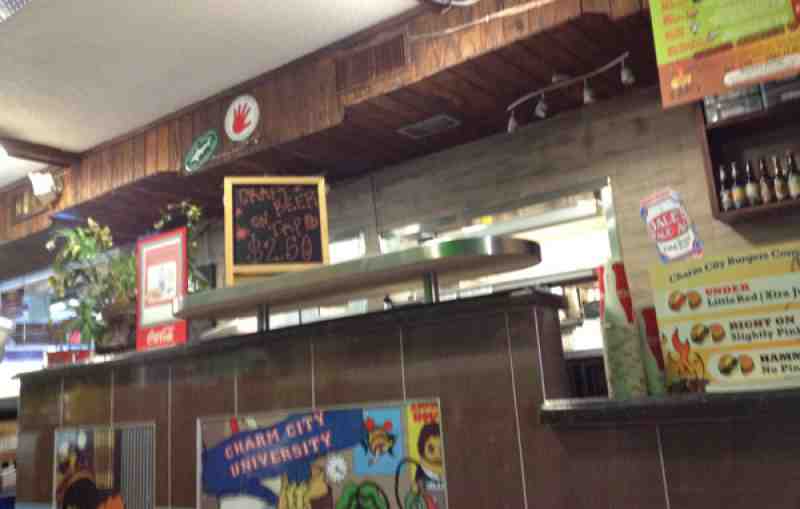 They've raised their prices a little, and they sell craft beers. I'd gotten a really good burger here before; and I'd just had a burger, or at least part of a burger, so I decided to try their jump-->new chicken sandwiches. I ordered an El Diablo; you can get the chicken grilled or buttermilk battered and fried; I opted for grilled.
They give you a number and you wait. They have a bunch of chairs in front of the counter. The wait was ridiculous. At 3:30pm and not much of a crowd, it shouldn't take over 20 minutes to grill a piece of chicken. Adding insult to injury, the counter people weren't really paying attention. A dude was on the phone for 10 minutes, and the girls were busy eating and socializing while my order sat ready to be wrapped. Then they brought it out on a tray, even though "Take Out" was written prominently on the ticket. They shoved the sandwich in a bag and gave it to me with no napkins; it's a good thing I had some napkins in the car.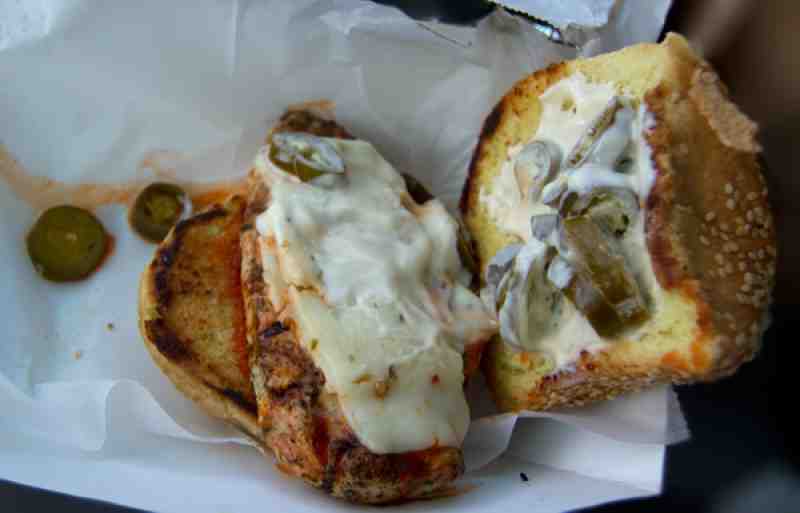 Charm City El Diablo Grilled Chicken Sandwich
Now Charm City (the same owners as El Jefe Lucador) tout their chef-worthiness, but this was hardly culinary genius. A handful of jalapeno's, some hot sauce and some white sauce on a bun. They don't seem to believe in melting the cheese in this place; you'd think in 20 minutes that the cheese might have melted. This sandwich was "ok"; no better. It's not something I couldn't make at home, and for the size of the cutlet for $6.50 it should come with something.
One thing of note is that this is a Kid's operation; run by kids, staffed with kids and marketed to kids. It's no place for adults or a family.
Photo Gallery